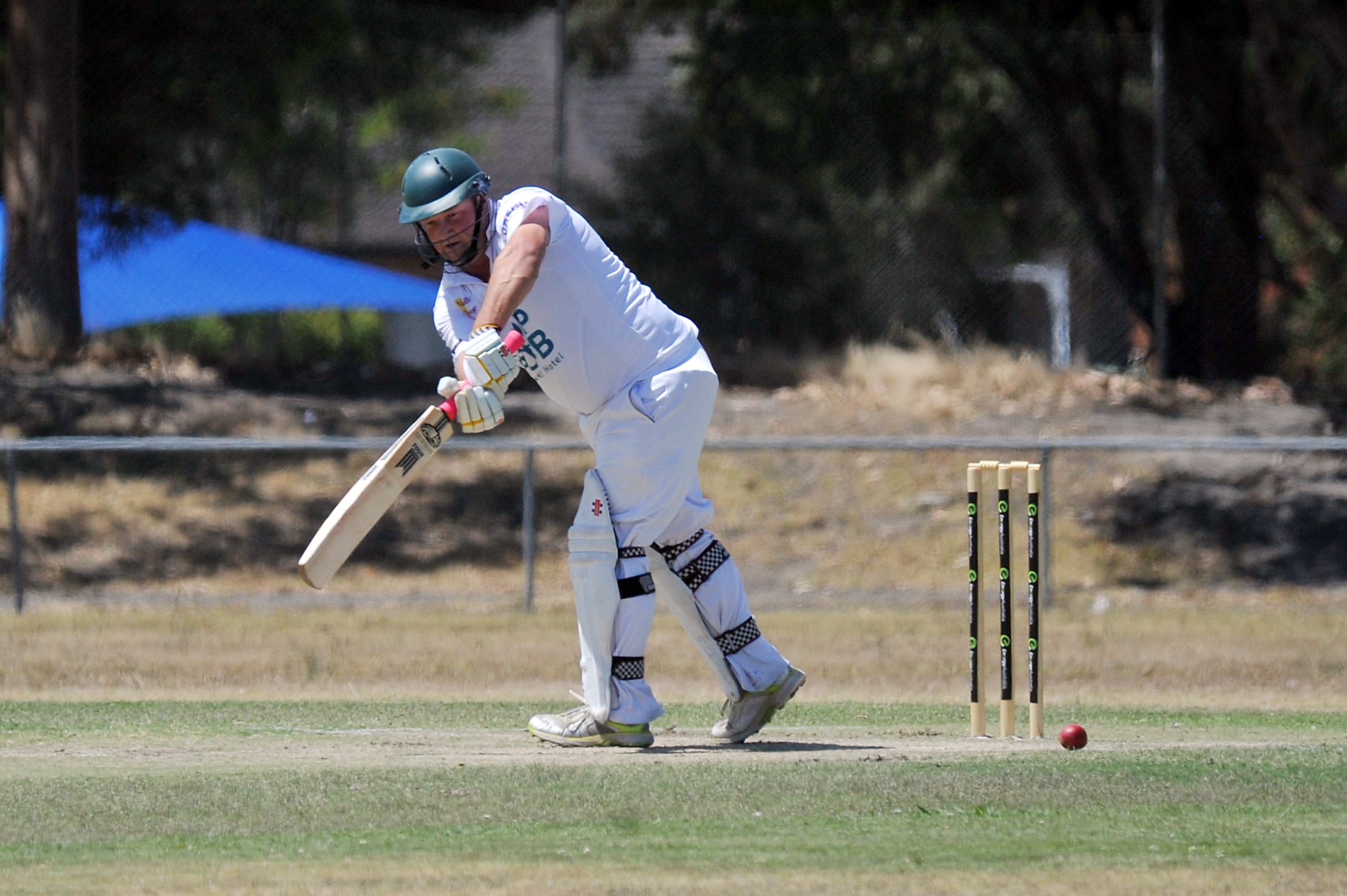 CRICKET
CGCA
THE playoff for third place on the Central Gippsland cricket ladder hangs in the balance with Morwell in serious trouble at 5/65 chasing Yallourn North's 168.
The Tigers have some cause for optimism with Brendan Brincat still at the crease, and with youngster Glen Bone for company they are not out of this match yet. Brincat is an aggressive batsman and if the Bombers are unable to remove him Morwell could storm home in a hurry, but he needs partners to hold up the other end.
Bone has experience opening the batting, which will come in handy, while Dylan Day, Tim Dowe, Roger Henry and Brandon McDonald are all capable of hanging in.
Brandon Bailey is shaping up as the key bowler for Yallourn North, having picked up two wickets already.
Latrobe v Moe
MOE captain Andrew Philip is the primary threat to Latrobe's 264, and his face off against the Sharks' pace attack of Brendan Evans and Ash Halkett is the key battleground.
Moe has struggled to score quickly in recent times, even with big contributions from Philip, and Latrobe's disciplined line and length should make things difficult for the Lions.
Sean Spiteri and Paul Cake have been the only other bats to show good form of late.
Change bowlers Michael Duncan and Matt Brewer displayed both accuracy and economy last game, while the spin of Patrick Farrant may leave the lower order swinging at shadows.
Barring a miracle, Moe's hopes of a ninth consecutive first grade flag have all but evaporated, but the Lions will be out to preserve their pride.
Mirboo North v Trafalgar
TRAFALGAR has precious little chance of chasing Mirboo North's 351 unless captain Rhys Holdsworth produces an extremely special knock.
Aiden George and Chris Robinson must get the Ships off to a good start, while Hugh Cheatley, John Asmussen and Mark Wynne will all want to end their season with prolific performances.
The Ships have a long tail and could be tempted to promote Jackson Noonan, who has enough ability to bat higher in the order and build an innings.
The Tigers will look to Liam Smit to lead the way with the new ball while Brad Grima and Josh Taylor attack from the other end.
Under 16 semi-finals – Moe v Thorpdale
MOE won the toss and batted first, losing Ryan Sim early before knocks from Noah Kane (19), Nathan Lee (14), Joel Mitchell (20) and Jai Massesse (39) revived the innings and helped the Lions to a total of 143 all out.
Travis Pickering (3/31) and Nathan Hammond (3/35) were Thorpdale's key performers with the ball.
In reply the Blues crashed to 82 all out with only Travis (28) and Nathan (42) offering any resistance.
Toongabbie v Latrobe
SAM Harbridge's 32 enabled Toongabbie to reach 8/151 as Harrison Law (2/31), Jack Aitken (2/27) and Zac Brown (2/2) bowled well to restrict the Rams.
The Sharks then looked to have the game in the bag at 1/87 thanks to a superb 56 from Jack, but Shannon Cogan's 4/20 triggered a middle order collapse as Latrobe limped to 147 all out, five runs shy of victory.
Under 14 semi-finals – Moe v Hazelwood North
JOEL Mason (30*) and Patrick Kearns (15) helped Hazelwood North to 7/115 against Moe, after the Lions overcame an early stumble to reel the target in thanks to Jake Redman (30*) and Lachlan Westhorp (29).
Hayden Kimpton took 3/9 while Patrick and Xavier Taylor each picked up two wickets but were unable to earn their side a victory.
Trafalgar Reds v Trafalgar Whites
THE Reds won the toss and sent the Whites in to bat, who went on to reach 3/81 from their 20 overs.
The Reds passed the total and at the halfway point are 3/99 and in the box seat to seal a spot in the grand final on Sunday.
Junior grand finals will be held at the Moe racecourse, with both the under 14 and under 16 games to begin at 11am.