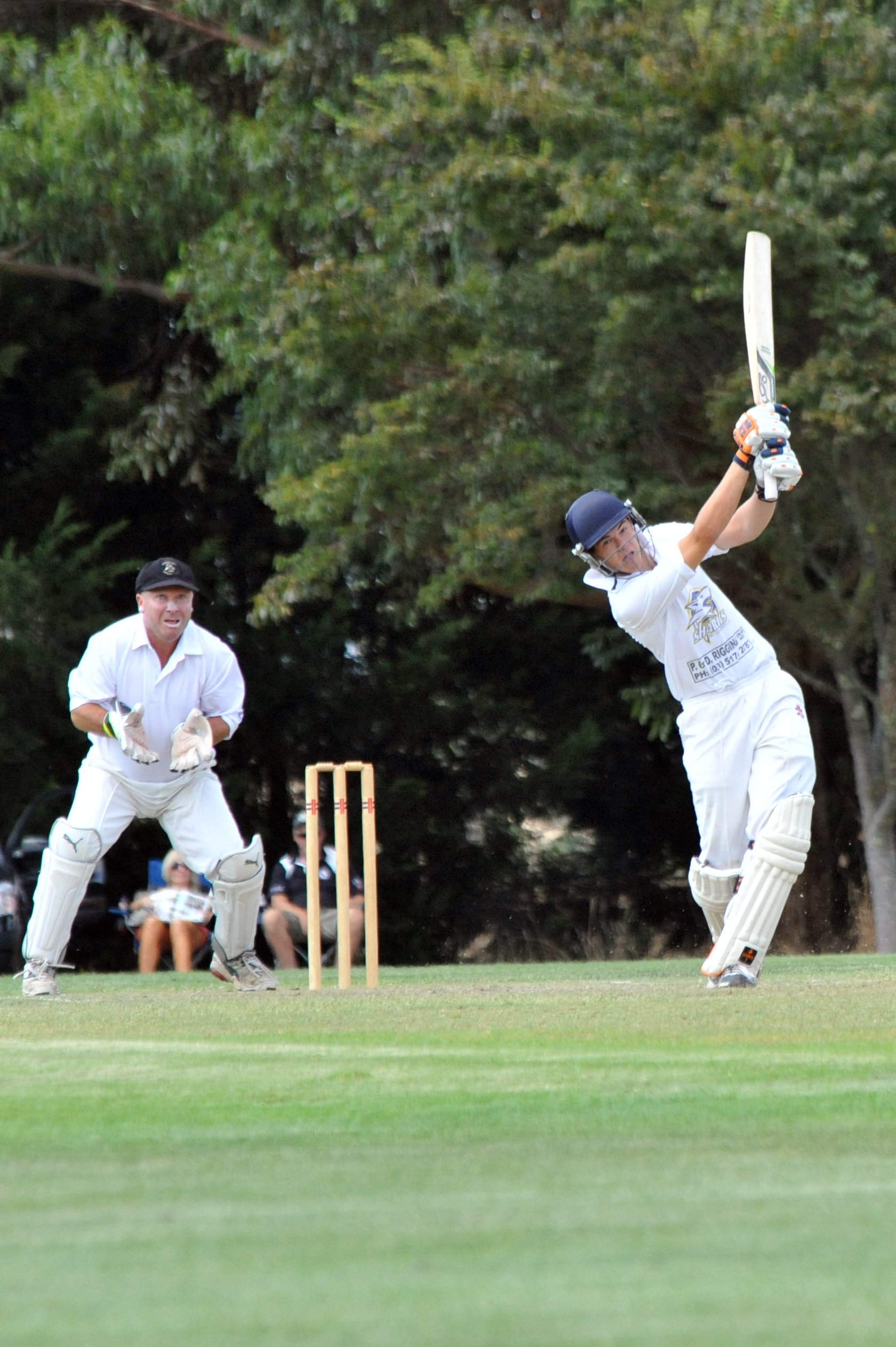 CRICKET
TDCA
GORMANDALE will have its chance at redemption when it faces Ex Students in a replay of last year's Neilson Builders Cup final, after both sides booked their place in the decider with 250 plus totals batting first at the weekend.
Gormandale v Raiders
RAIDERS skipper Brad Knowles fired the first shot when he won the toss and sent Gormandale into bat in bowler-friendly overcast conditions.
The move soon paid dividends as both openers were back in the shed with the score at 17; Grantley Switzer was caught for 11 and Al Jenkin bowled for three.
When Kent Hammond was caught for 12 the Tigers were reeling at 3/39 as Raiders turned up the heat.
Kade Joske (22) and Travis Switzer (30) added 47 for the fourth wicket, but disaster struck when Switzer was out to Kirk Holt and Joske to Ross Whelpdale to leave the Tigers in strife at 5/86.
A 62 run stand saw Stuart Anderson (24) and Adrian Burgiel get Gormandale back in the game.
Batting down the order Burgiel showed all his class and versatility with a magnificent 91 before he was bowled.
Will Cheatley was superb in support with a very handy 36 as the Tigers reached a formidable 258.
Tireless captain Knowles bowled 19 overs to take 1/41.
Also among the wickets were Lee Jensen (1/47), Alex Lawson (1/34), Whelpdale (3/55), Kurt Holt (1/27) and Mick Higgins (2/12).
With five overs left in Saturday's proceedings the Raiders batsmen were left with an uncomfortable survival task, which went awry.
Anderson and Shaun Barbour both claimed a wicket as Chris Stanlake (5) and Jason Macfarlane (0) departed to leave the overnight score at a dismal 2/7.
Day two started well for Raiders as they dug in deep to get through the first hour unscathed with Mark Andrew and Lawson at the crease.
When Lawson went for seven Raiders had reached 3/40.
Andrew continued to defy the Tigers and hit a solid 35 before he was out , but the tide turned well and truly in the Tigers' favour when the prize wicket of Knowles fell for one and Raiders slumped to 5/64.
Liam Maynard was playing a lone hand in keeping with his stellar form and, joined by Tim Darby, set about making a miraculous comeback and put on 62 for the eighth wicket.
When Darby was removed for a hard hitting 38 Raiders' hopes faded and the gallant contender was bowled out for 171.
Maynard remained unbeaten on 52 in a great knock under pressure.
For the Tigers, Anderson bowled 20 overs to take 3/45.
Barbour was tidy with 1/32 in 21 overs, Adam Brady was the chief wicket taker with 4/51 and Cheatley chimed in with 2/17.
Ex Students vs Glengarry
GLENGARRY'S bowlers responded instantly to captain Sam Marks' decision to field and removed Dylan Spence for a duck to start proceedings at Yinnar.
That was to be all the joy the Glengarry had as it chased leather for the rest of the day.
Greg Munro and Jordan Gilmore were superb in a 123 run stand for the second wicket.
Gilmore was in great touch in a hard fought knock of 61, while Munro looked set for a well-deserved century before he was cruelly run out for 79.
Captain Lee Stockdale continued his amazing season with a fantastic 78* to lead his troops to a 8/261 from the allotted 80 overs.
Chris Johnson took 2/43 and Ben Julin bowled 21 overs to take 3/74, while the fielding was on target with three run outs.
Chasing an imposing 261 Glengarry needed to make a bright start but was tied down by some tight bowling from the Sharks.
Ben Julin was dismissed early for one, followed by Sam Marks for 17, Frank Marks for 27 and Paul Henry 22.
Ben Marks top scored with a well made 50 batting at six, but the contributions were too few and far between as the Magpies were bowled out for 164.
In sensational spell Michael Warne bowled 30 overs to take 6/76, while spin partner Stockdale claimed 2/52 off 27.
B Grade
Ex Students v Centrals
CENTRALS won the toss and batted but only Jimmy O'Rourke could handle the pressure and struck a well-made 61.
Chris Dunn made 23 as Centrals were bowled out for 143.
Jack Kerry was superb taking 5/20 off 19 overs, while Luke Henderson picked up 3/50.
Ex Students made a mockery of the chase and passed the target without loss.
Jimmy Pryde went hard to reach an unbeaten 91 and Jackson Beani made 51 not out.
Glengarry v Churchill
BATTING first Glengarry made 168.
Peter Marks top scored with 52, while Mitchell Sharp made 28 to push the total upward.
Steve Warr was the star for Churchill with a commanding 7/33.
The Cobras had some cause for concern in the chase but reached the total seven down.
Steve Warr made 52, Toby Spark 27 and Craig Flanigan 36.
Michael Di Corleto was best for Glengarry with two wickets.
C Grade
Ex Students v Traralgon West
IN a bid to have all Sharks sides make their respective grand final, Ex Students made 241 batting first.
Daniel Churchill was sublime with 64, but Nick O'Brien was top scorer with 89.
In reply Traralgon West managed just 115.
Paul Quinlan made more than half the runs with 67, but Churchill was too good with the ball and claimed a telling 3/22.
Imperials v Centrals
CENTRALS set 200 for Imperials to win on the back of scores from Michael Petersen (70), Steve Hazelman (37) and Rick Goddard (39).
Dean Jones snared 3/25 to restrict the Cobras.
In reply Imperials chased down the target with ease as the in form Sean Boyes made a magnificent 117 and Geoff Walker scored an even 50.
Ron Patterson took 4/25, but the other bowlers failed to make a dent.