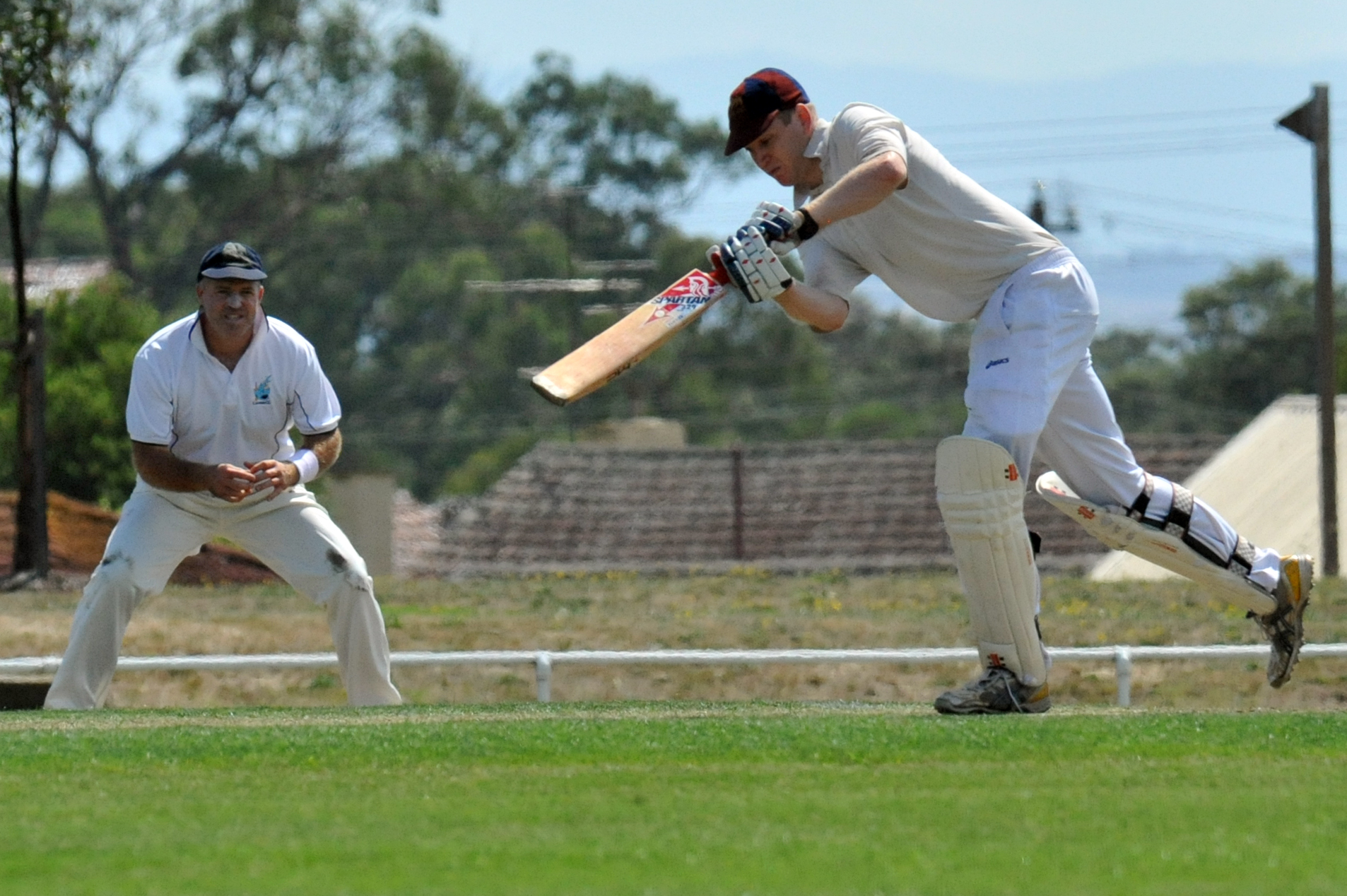 CRICKET
CGCA
Moe v Latrobe
MOE captain Andrew Philip's unbeaten 157 toppled Latrobe from the top of the Central Gippsland cricket tree in the last round of the home and away season.
The Lions reached 7/278 chasing Latrobe's 9/264, but the victory was not enough to secure a top four spot, ending Moe's bid for a ninth consecutive premiership. Philip was dropped just before reaching his half-century and made Latrobe pay dearly for the missed chance as he cantered to a match winning ton.
The Sharks' defence started well when Joel Jacovou was dismissed early without scoring, but Philip dug in and had plenty of support from Sean Spiteri, Justin Mathison, Dale Walshe and Jayden Mathison.
Latrobe's bowlers struggled to gain assistance from the pitch but did not help themselves by straying from the disciplined line and length that has served them well this year.
Brendan Evans and Patrick Farrant were the only bowlers to pick up multiple wickets, with two each, and had to bowl 20 overs apiece in a long day for the Sharks.
Morwell v
Yallourn North
WAYNE Fleming's 62 was not enough to get Morwell over the line against Yallourn North as the Tigers fell six runs short of victory.
Resuming at 5/65 chasing 169 to win and secure third spot, Mark Cukier fell with the score at 86, which saw the experienced Fleming join Glen Bone at the crease.
The pair added 72 and was cruising toward the target until they needed just 11 runs to win with four wickets in hand.
Bone was then run out by Tyler Brown after a mixup, and when Fleming was bowled by Andrew Petrou three runs later, the Tigers began to sweat.
The golden arm of Petrou then dismissed Tim Dowe and Brandon McDonald, both without scoring, to bundle Morwell out for 163 and seal a thrilling win that comes as a huge boost ahead of the finals.
Trafalgar v
Mirboo North
RHYS Holdsworth hit 75 and John Asmussen 52, but Trafalgar never had much hope of chasing down Mirboo North's huge total of 8/351.
The Ships were eventually all out for 226.
Chris Robinson fell early before Holdsworth and Aiden George steadied the innings, a partnership which ended when George was bowled by Dale Banks.
Jackson Noonan was promoted up the order but also fell to the spin of Banks.
The wind also finally went out of the Ships' sails when Asmussen was bowled by Liam Smit.
The recalled opening bowler took 3/31 and gave himself a great chance of being retained in the side for finals, while Banks (2/42) and Jed Alexander (2/27) were the Tigers' other attacking outlets.
Peter Grima, Riley Oddy and Jesse Buxton also picked up a wicket each as Mirboo North pinched top spot from Latrobe.
Mirboo North now plays Morwell in this weekend's first semi-final, while Latrobe will battle Yallourn North in the other.
Second grade
MIRBOO North had a fantastic win over Latrobe to finish a head and shoulders above the rest at the top of the second division table, allowing Jeeralang-Boolarra to leapfrog the Sharks into second place.
Batting first Latrobe started well with a 56 run stand between Shayne Vallance and Michael Zomer, setting the platform for a total of 2/180.
Zomer's unbeaten 97 steered the innings along nicely with contributions from Jamie Kendall (26) and Jamie Coltman (27*).
Jarrod Speed and Brendan McKean were the only wicket-takers for the Tigers.
Clinton Wise made Latrobe suffer after putting down an early chance as he powered his way to 112 not out, recovering the innings after the power duo of Brendan Van Heurck and Matt Snell were dismissed for three and zero respectively.
Mitch Cowell (2/24) and Nathan Nikodemski (2/26) were the Sharks' best as the Mirboo North bats punished opposition captain Jon Hayes, who collected 0/58 from his 10 overs as the home side reached 5/185.
Jeeralang-Boolarra was in early trouble at 3/11 and later 7/78 against Yallourn North as Rowan Kelly (3/28), Ricky Martin (2/20) and Darren Wilkie (2/23) wrecked the Panthers' top order.
An unbeaten 70 from Thomas Beamish enabled the visitors to scramble to 9/185.
Yallourn North lost early wickets and at 7/56 was well out of the contest.
Gavin Pearson (33) and Brendan Rooney (37*) restored some pride before the Bombers were eventually rolled for 105.
Peter Gilpin (3/15), Stan Urbanic (3/27) and Shane Gill (4/33) wrapped up the innings as Yallourn North imploded in just 23.5 overs.
Newborough was routed for 100 by Morwell after Brent Reside's second consecutive five-wicket haul dismantled the Bulldogs' batting lineup.
Reside's 5/20 was the best in a bowling effort that also included contributions of 2/13 by Robert Semmler and 2/21 by Keith Soden.
Steve Bilic then struck an unbeaten 71 as Morwell called a halt after 38 overs.
Robert Blunt and Daniel Farmer each took two wickets for the Bulldogs.
Saint Vincent's won the toss against Thorpdale, choosing to bat before being dismissed for 99.
The Blues then made a gallant effort but were all out for 83 in reply, with Matt Van Loon (3/8) and Gary Larkin (3/25) doing the damage for the Saints.
Third grade
Latrobe was squeezed out of the top four after losing to Willow Grove.
The Sharks were leapfrogged by Hazelwood North and Morwell, who both had wins.
Batting first, the Sharks reached 5/179 with Peter Mooney (58) and Kirk Jergens (49*) both playing solid knocks.
In reply Willow Grove posted 2/191 as Brody Hams hit an aggressive half-century.
Marc Nikodemski gave Latrobe a sniff with two quick wickets, but Simon Noy's unbeaten 90 piloted Willow Grove home with no hiccups.
Robert Sim scored a century batting at seven as Moe got back to their winning ways against Newborough.
Sim's unbeaten 107 came in an unbroken 168 run partnership with Jai Masesse, who hit 53*.
John Parker was the only bowler to have much success with 3/31 while Troy Oakley picked up 2/36.
In reply, the Bulldogs were dismissed for 165; Brooke Forrester was the best with 27 while Oakley and Ron Whitney both got starts.
Zac Rendell was Moe's most menacing trundler with 3/28.
Mirboo North posted 9/145 against Hazelwood North, with Mohammad Shakeel (3/16) and Robert Byrne (3/36) doing the major damage to the Tigers' total.
The Razorbacks were in deep trouble at 7/90, but the club's two talented under 14 batsmen came to the rescue, with Joel Mason (57*) and Hayden Kimpton (23*) steadying the ship and bringing the total to 7/160 to seal third spot.
Mark Smith's 105 saw Morwell accumulate 6/178 against Jeeralang-Boolarra, while Matt Allan (2/28), Paul McGrath (2/24) and Paul Howes (2/19) did their best to keep the Panthers in the contest.
Jeeralang's long tail was then exposed by Kevin Toseland who took 5/19 to bundle the home side out for 45 as the Tigers finished fourth on the ladder.
Saint Vincent's intra-club match was an eight-a-side affair as the Greens took on the Whites.
Batting first the Greens made 109, with Zayne Dowdell's 48 largely to thank as his teammates succumbed to Justin Blair (3/33) and Norm Evans (3/13).
Glen Hebbard then struck an unbeaten 53 for the Whites as they closed at 4/114, the whole game taking just 46.2 overs to complete.