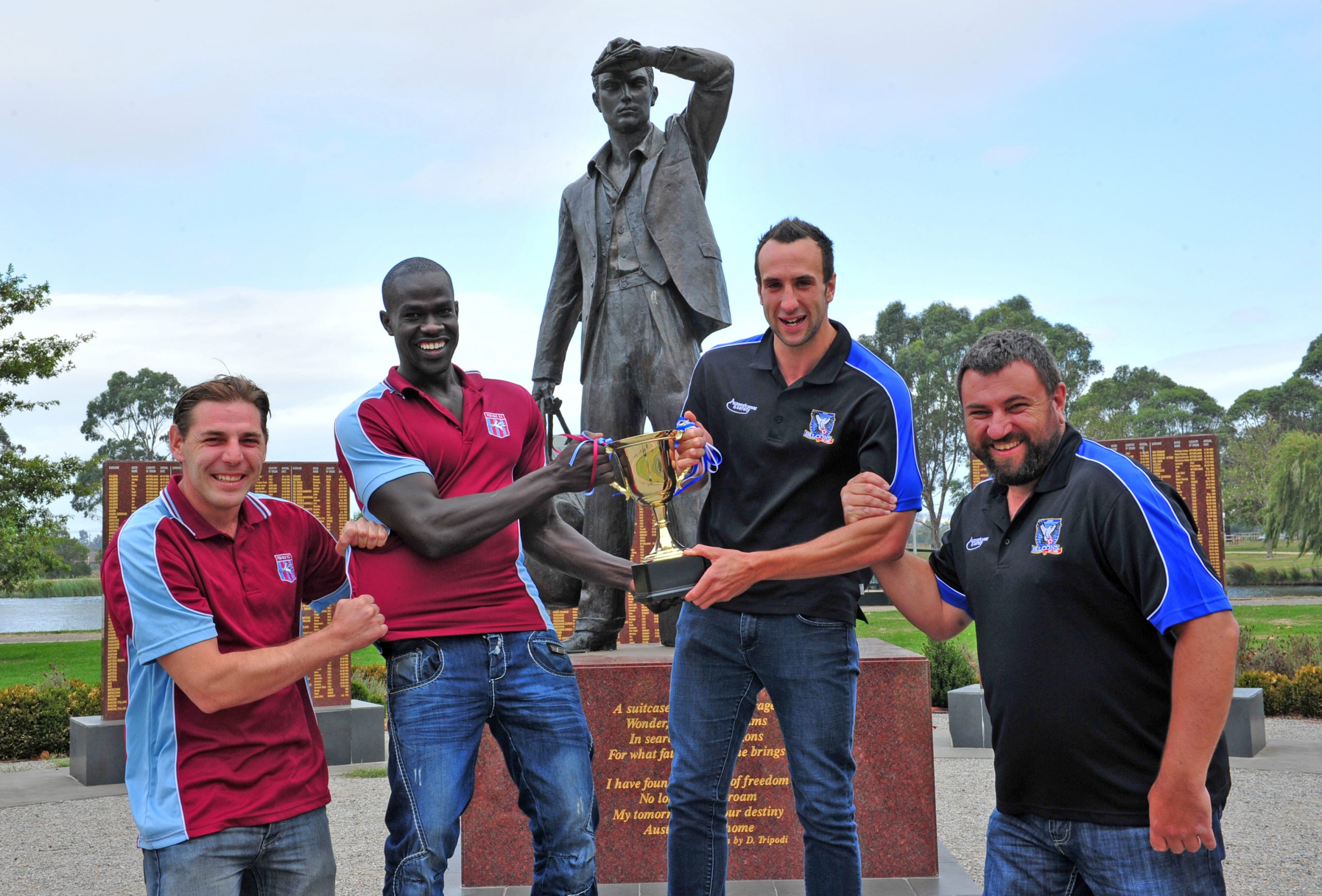 SOCCER
By SAMUEL DARROCH
A NEW trophy will be up for grabs between old nemeses when Morwell Pegasus tackles Falcons 2000 in round one of the Gippsland Soccer League central division this Saturday.
The Immigration Wall Cup, recognising the contribution of migrants to the sport in Gippsland, will be played over two legs in rounds one and 12, with the best player over both matches to be awarded the Hutchinson medal.
Both clubs have a significant multicultural base, and Morwell Pegasus' first Sudanese youth coach Salah Eliaser is eager to celebrate the football community's diversity through the tie.
"Soccer is the only language everybody can speak, so it will be wonderful for us as Sudanese and other multicultural people to play for that cup," he said.
As the first generation of his Italian family born in Australia, Falcons 2000 coach Nick D'Alessandro was all for the concept.
D'Alessandro, along with his assistant Conor Clarke and a number of others at the club, have strong multicultural ties, adding incentive to an already heavily anticipated fixture.
"I think stuff like this should be brought into the soccer community around here… a lot of the guys playing have that background of cultural difference so it's something good to play for that all the boys are proud of," D'Alessandro said.
"I can understand the significance of (the migrant community) – certainly guys I've played with in the last couple of years, they appreciate and understand it (too)."
The match itself will be a barometer for a rebuilding Pegasus side, fielding its first central top division side in years.
Having contested no formal practice matches outside of intra-club games, Pegasus is currently an unknown quantity.
"I like that there's a new team coming in and respect that it's going to be hard for those guys, so I think the more we can go back to doing those different things (like having a cup tie) the better," D'Alessandro said.
"We understand they're a side that's going to be rebuilding so it's going to be a bit of a surprise packet for everyone."
Cup instigator and Horsemen senior coach Ben Cassar has quiet confidence in his squad, and is eager to build hype around the club's return to the league.
"It's round one derby day, enemies on the park but friends off it," he said.
"Both clubs, Pegs and Falcons, have a big rivalry we just want to play for a cup, and recognise multiculturalism and migrants, just to make the community aware that soccer is big in the community, every different nationality plays the game.
"Soccer is big in Morwell, it always has been."
The Hutchinson medal is named for former Morwell Falcons national league player and current Central Coast Mariners captain John Hutchinson, and Pegasus director of coaching Paul Hutchinson.
The first leg of the Immigration Wall Cup will be played at Ronald Reserve, Morwell, from 3pm on Saturday.