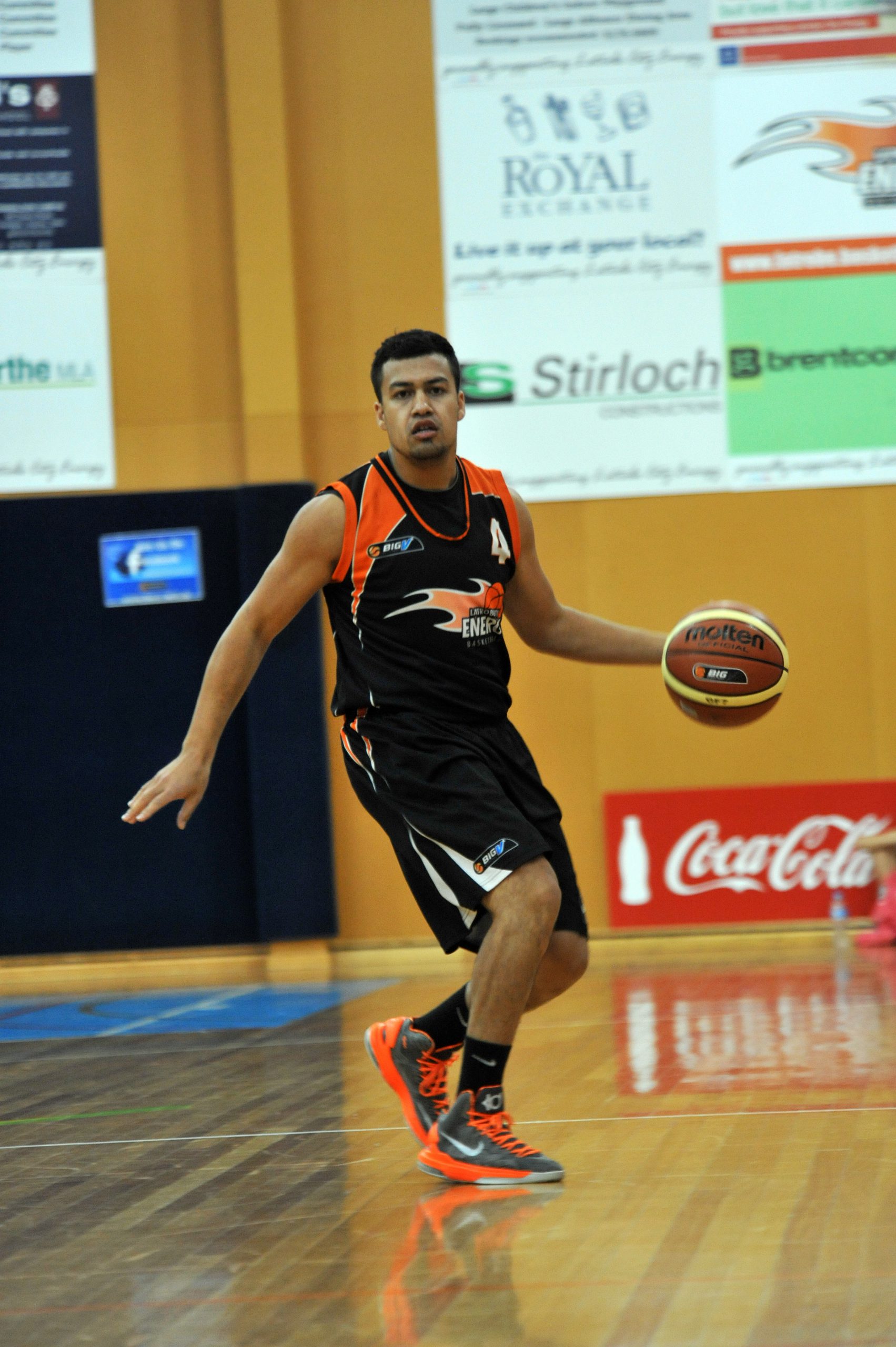 ENERGY MEN
A HUGE second quarter and a rampant Jordan Canovan helped Latrobe City Energy sneak by competition favourites Chelsea Gulls 85-82 on Saturday night in Traralgon.
Energy trailed by as many as eight in the final term but made some huge plays down the stretch on the back of dogged defence to snatch a last gasp victory.
As the buzzer threatened to derail Energy's challenge, American import Ashton Pitts found space after a turnover to put the home side ahead with just eight seconds left on the clock.
Coach Les Stothard said the clutch victory was an encouraging indicator of his team's mental mettle against the big teams.
"There was probably a couple of times in the last quarter we looked down and out but to the guys' credit they fought it out to the end," he said.
"There was certainly some positives in that sense – making some plays when we needed to and getting over what was a really good Chelsea side.
"We made a few big plays which is going to create belief in those close games."
Star Chelsea import Corey Standerfer stood tall with 25 points, but Stothard said Energy contained him well throughout the contest.
"To do the job that we did on him… every shot was contested and we played him really well," Stothard said.
"The focus was to try and (force) someone else to beat us and we achieved that."
The Gulls came out firing early with their most accurate quarter for the match, which included three of five from outside the perimeter, to build a six-point buffer at the short change.
Missing Vashon Weaver, Energy regrouped and posted a mammoth 28-19 second quarter to lead by three at half-time after dominating the boards through the term.
Despite shooting a dismal 28.6 per cent from the field in the third quarter, Energy kept the Gulls from breaking away and scores were tied by the final break.
A last term rally saw Energy over the line by three in a bruising encounter.
"When we finally got our momentum going we were able to keep it close, we sort of hung in there," Stothard said.
"At times we looked like we were going to run away with the game… and then we had a couple of guys get into foul trouble and we lost our momentum at crucial stages."
Canovan returned to his lethal best with 27 points, eight rebounds and four assists.
United State import Ashton Pitts showed his all round class to rack up solid numbers across the court.
His 13 points were complemented by nine rebounds – six on the offensive end – four blocks three assists and three steals in a sharp 27 minute performance.
The reliable Calvin Rees was again immense with 12 points and seven rebounds.
The win moved Energy to fourth on the BigV division one ladder with a game in hand on third placed Sunbury Jets.
The undefeated Southern Peninsula Sharks and Blackburn Vikings head the table after four matches each.
Energy heads to Warrandyte this weekend to tackle the Venom ahead of the Easter break.
ENERGY

Jordan Canovan – 27 points, 8 rebounds, 4 assists
Ashton Pitts – 13 points, 9 rebounds, 4 blocks
Calvin Rees – 12 points, 7 rebounds, 2 steals
GULLS

Corey Standerfer – 25 points, 7 rebounds, 2 blocks
Vlda Tankov – 19 points, 7 rebounds, 3 assists
Andrew Kelly – 14 points, 6 rebounds, 1 block
BigV Men

Latrobe City Energy d Chelsea Gulls 85-82
Warrnambool Seahawks d Geelong Supercats 87-74
Southern Peninsula Sharks d Melton Thoroughbreds 83-63
Blackburn Vikings d Warrandyte 75-74
Camberwell Dragons d Craigieburn Eagles 77-64
Sunbury Jets d Melbourne Uni Black Angels 86-63
Melton Thoroughbreds d Altona Gators 84-56
ENERGY WOMEN

Latrobe City Energy swept the disappointment of a bitter one-point loss to Werribee aside to score a percentage boosting victory over Sunbury on Sunday in a weekend double header.
At home to the Devils on Saturday, Energy's second quarter shooting woes proved the difference in a match that came down to the final moments.
After shooting just three of 17 from the field and one of six three-point-attempts in the second, Energy turned up the heat in the third in a remarkable turnaround.
The side made almost 70 per cent in general play and five of six threes to level scores at three-quarter-time.
A final term wrestle saw the Devils scrape home by a single point 81-80.
American Lindsay Horbatuck pulled down an astonishing 20 boards to go with five assists and 13 points, while Mikaela Dickson led all scorers with 28.
Energy travelled to Boardman Stadium unperturbed on Sunday and registered a resounding 98-69 victory over Sunbury Jets.
A booming 37 point final quarter put an exclamation mark on a dominant second half showing.
Horbatuck's second double-double in as many days comprised 25 rebounds – including 10 plus at each end – 19 points and four blocks.
Carly Mullen-Bianconi could not miss, shotting 75 per cent from the field and 83.3 from the line, as she came up with 24 points on the night.
The result leaves Energy in seventh with one win from three matches.
Latrobe heads to Keilor on Saturday to face the Thunder.
ENERGY v DEVILS
Mikaela Dickson – 28 points, 3 steals, 2 assists
Lindsay Horbatuck – 13 points, 20 rebounds, 5 assists
ENERGY v JETS
Carly Mullen-Bianconi – 24 points, 5 rebounds
Lindsay Horbatuck – 19 points, 25 rebounds, 4 blocks
BigV Women

Werribee Devils d Latrobe City Energy 81-80
Latrobe City Energy d Subury Jets 98-69
Camberwell Dragons d Hawthorn Magic 76-65
Geelong Supercats d Craigieburn Eagles 45-40
Craigieburn Eagles d Whittlesea Pacers 64-53
Keilor Thunder d Werribee Devils 63-55