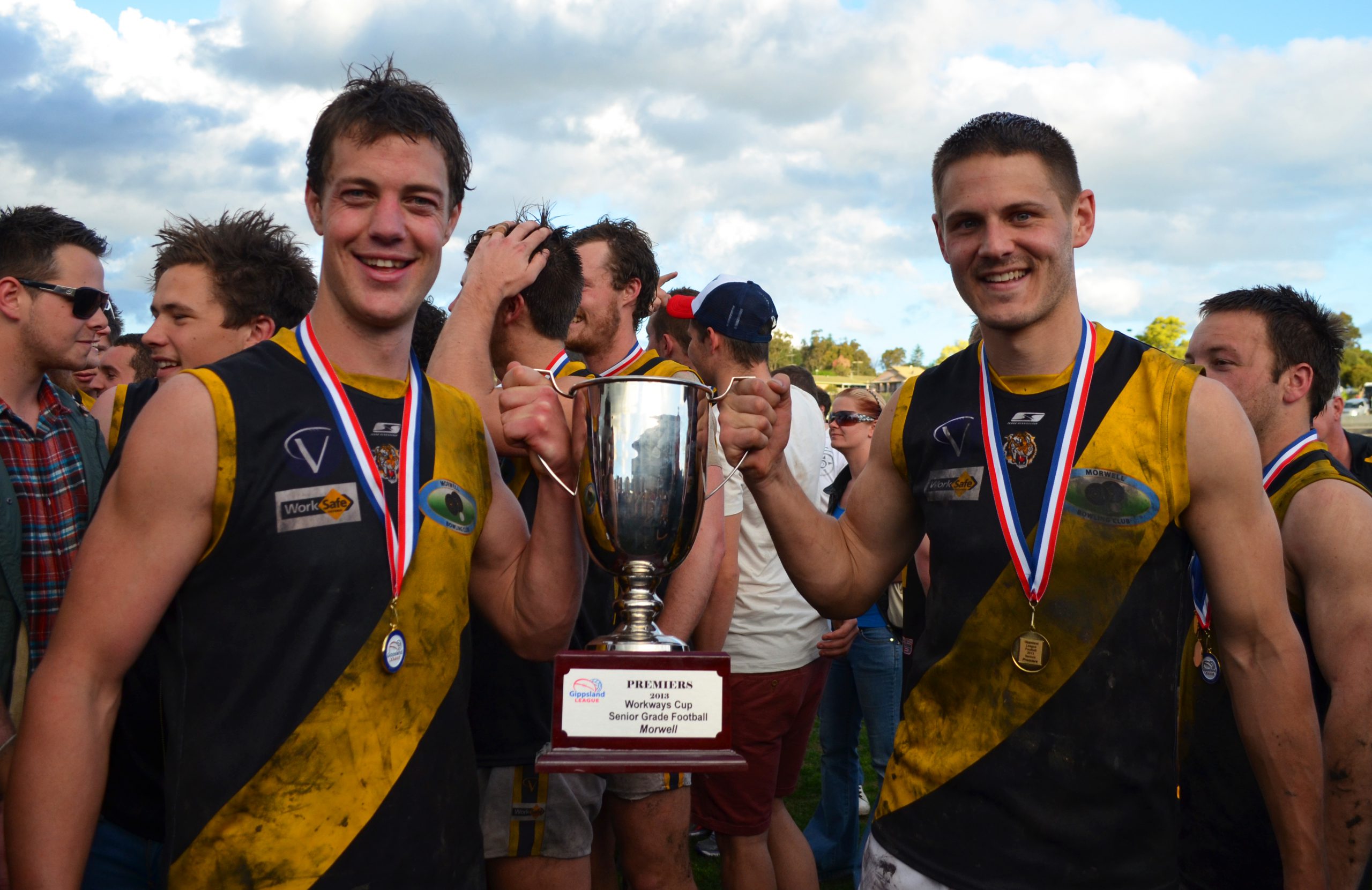 FOOTBALL
GIPPSLAND LEAGUE
bY SAMUEL DARROCH
MORWELL will celebrate a double milestone against Drouin in round two of Gippsland League on Saturday when best mates Adam Bailey and Michael Duncan notch games 200 and 150 for the Tigers respectively.
While Bailey said the build up was no different to any other game, he admitted the occasion bore great personal significance for the premiership pair.
"To play next to one of your best mates every weekend is pretty special, but for him to get 150 and to run out together again, once again it's pretty special," he said.
The pair endured hard times in their formative Tiger years, but were rewarded for their application and patience with a flag last season.
For 28 year-old Bailey, a member of the club's leadership group and a former assistant coach, the reward for persistence was immense.
"We have a pretty great footy group that has been together for probably eight years now and it's just starting to pay off which is great," he said.
"We'd been building toward a premiership, which was last year, so it's been a long time coming but definitely worth the wait…. before that the biggest highlight was the 2008 (grand final) loss which was pretty sour."
Bailey came to the club in 1998 from junior club Churchill Kangaroos, and made his senior debut at age 15 in 2000 under then coach Danny Miller.
The roving midfielder said the club culture had evolved greatly through that period, transitioning to the current era of success under Harmit Singh.
"From a professionalism point of view it's changed immensely with the preparation and what we go through before finals, training up to six days a week, it's definitely a different culture," Bailey said.
"When I first came to the club it was a bit more of a losing culture and it was pretty hard to get on the board playing against powerful teams as such a young group."
One thing, however, that has remained constant are the people that make the club.
"There's always been good people (there) and I think that's why we've been lucky enough to keep people around for 150 games and 200 games," Bailey said.
"I always think it comes down to the blokes there are your mates. I think you stay there because your group of mates are going through and you really enjoy playing with them, so I've been lucky enough that the whole group of them has stuck around."
The Hawks have been something of a bogey team for the Tigers in recent years – Drouin won a string of six consecutive matches against Morwell between 2010 and 2012 – however the premier made amends, winning both clashes last season.
Expect the Tigers to give two of their favourite sons another reason to celebrate on Saturday.
Kick off is 2.20pm at Morwell Recreation Reserve.