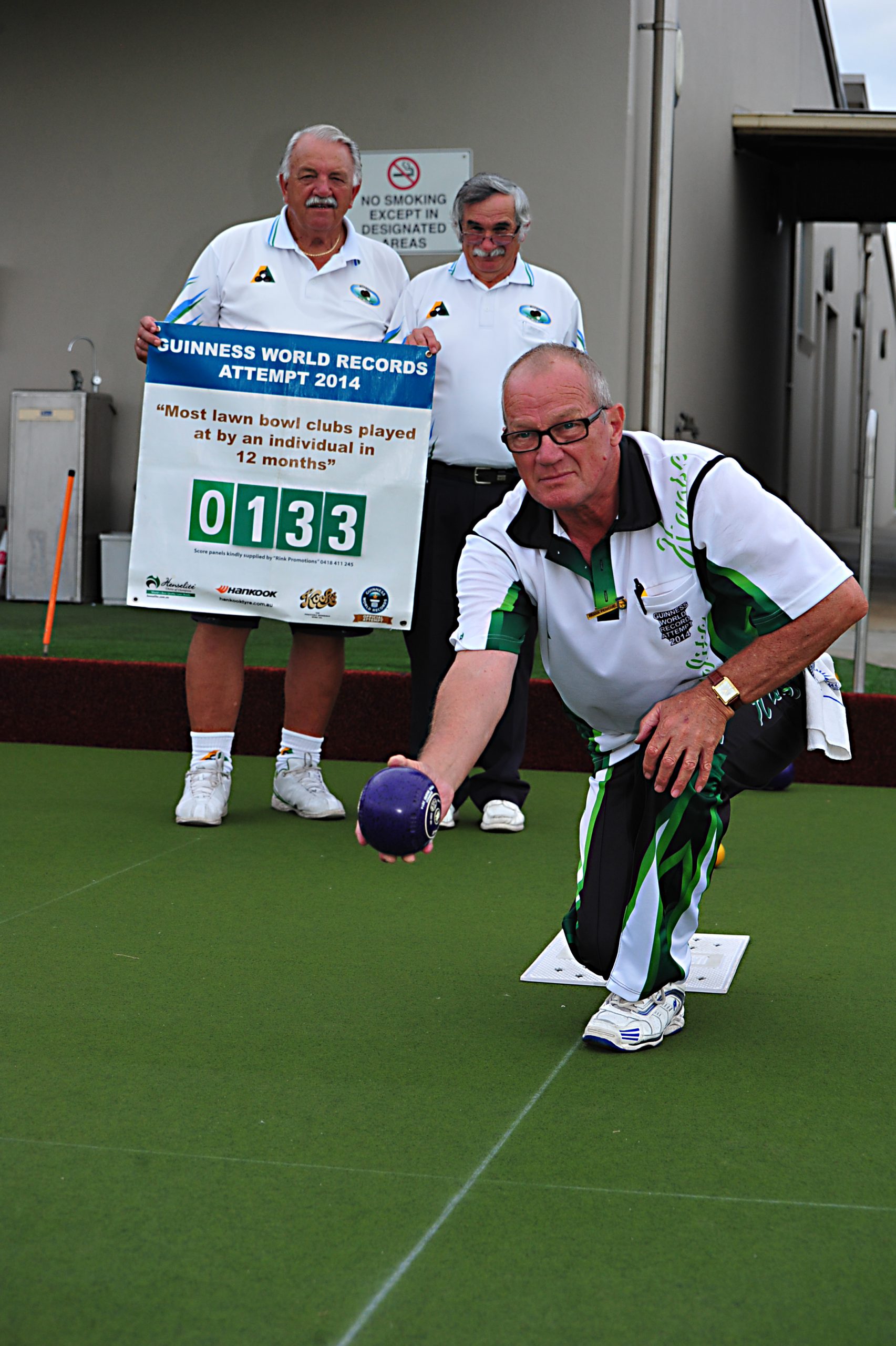 LAWN BOWLS
By samuel darroch
A WORLD record attempt brought Daylesford lawn bowler Frank Peniguel for a frenetic few days of action on Gippsland greens last week.
The 71 year-old staged matches at Drouin, Warragul, Trafalgar, Trafalgar Park, Morwell, Traralgon, Traralgon RSL, Rosedale, Sale, Paynesville, Bairnsdale, Metung, Lakes Entrance and Orbost bowls clubs over three days in his bid to set the Guinness world record for most unique clubs played at within a calendar year.
Morwell was stop number 133 in the journey, as Peniguel targets between 600 and 900 by year's end, which will incorporate all the eastern states of Australia.
Morwell Bowls Club champion Michael Cooper proved too strong an opponent on the day, but there was little time to dwell on results as Peniguel scooted off to his next destination.
The bowler of 12 years said the concept developed from a post-retirement plan to travel and play bowls into a full blown record attempt "because I'm crazy".
"There's the number one criteria," Peniguel said.
However, there is method to the madness.
The eager roller plays three to four different clubs per day, travelling in his combie van-cum-mobile home, and organises matches five to 10 days in advance.
He said aside from making a record, he hoped his journey would promote the sport and lift its "older generation" stigma.
"My 20,000 kilometres around the country… is going to do a lot of good for bowls in bringing it to a lot of people's attention," Peniguel said.
"It's rewarding if it makes younger people become more aware and realise that it is a competitive sport and very difficult to master.
"They think because they see so many old people on the rinks that that's who it's for… that's wrong."
Adding to the challenge is a strict set of criteria for each club visited.
Peniguel must play a 10-end match with four bowls per player, in front of at least two witnesses and take video evidence of the tie.
While the win ratio is currently about the one in five mark, Peniguel said he was constantly improving.
"They put up good bowlers against you, and that's fine – I benefit from it because I'm getting better," he said.
"I'm amazed… I'm just happy I'm playing better bowls and I'm enjoying it more than I ever did before."
While the rolling arm is starting to fatigue and matches slowly fade from memory, Peniguel said the experience continued to evolve and improve on a daily basis.
"I think the highlight for me is enjoying being in the van travelling in this great country and knowing that what you're going to do and see next will be as enjoyable as the last," he said.