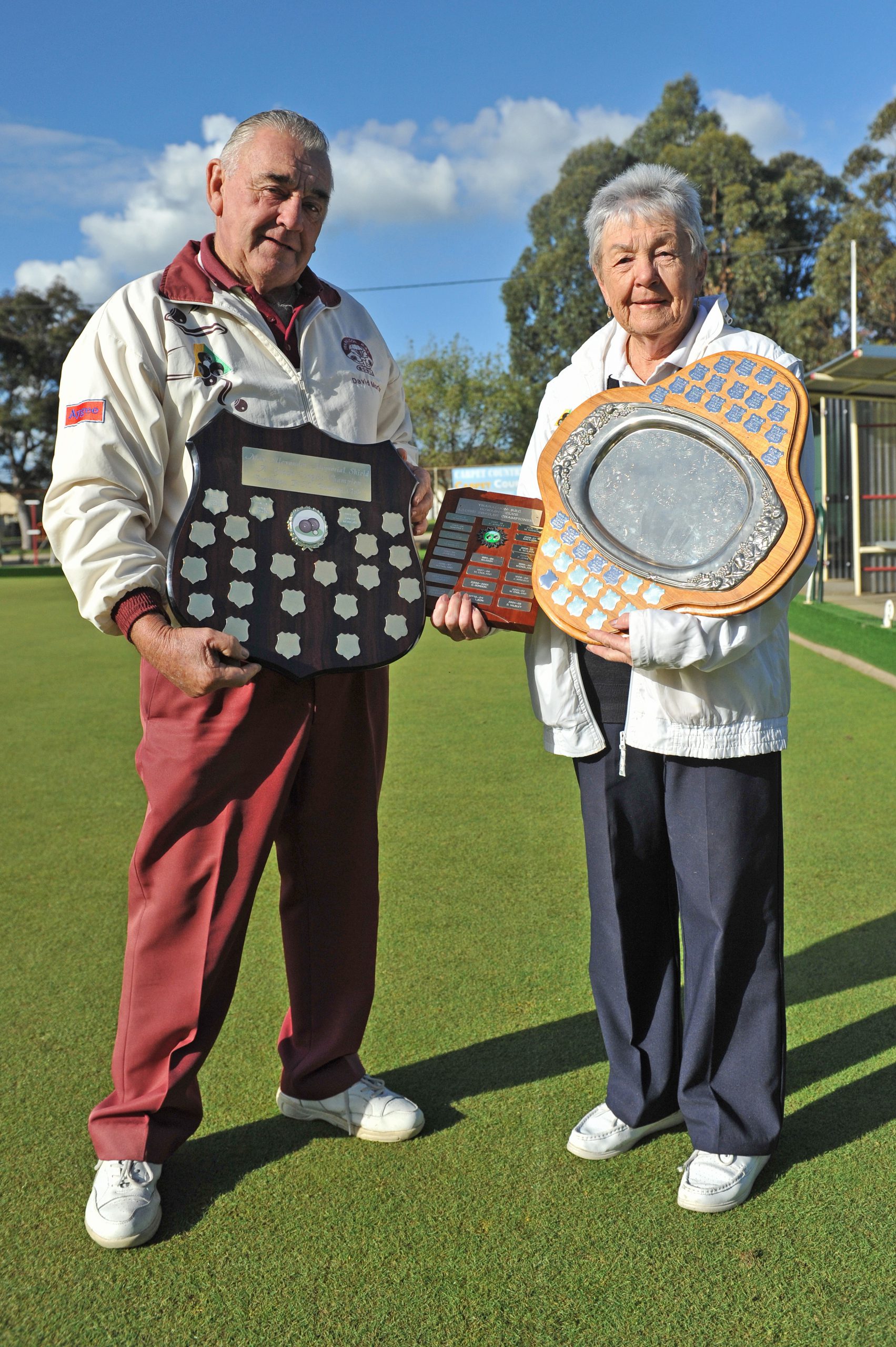 LAWN BOWLS
By samuel darroch
THE husband and wife trifecta was not to be at Traralgon RSL Lawn Bowls Club, with two new champions crowned for season 2013/14.
After consecutive A grade club championships for David and Marianne Hodson, David Morley and Pam Jowett rose to the challenge to win the men's and women's titles respectively at the back end of the season.
At 73 years of age Morley's fifth club championship at the RSL was his hardest earned, running a gauntlet of Alan Kanavan, Maurice Sutcliffe, Brendon Symons and Maurice Gardener in the final to win the men's singles crown.
"I had a harder draw this year than I think I've ever had," Morley said.
"A lot of things are luck of the draw, but you've got to win the better games to win."
Morley also reached the final 14 of the Yallourn Classic singles tournament before bowing out to Australian indoor champion Tony Wood.
"I'm getting a bit older too… I turned 73 the other day and thought my days are over for this… but I've had a pretty good year."
It was a hugely successful season for the RSL in women's pennant, which saw all sides contest finals, led to a hot club championship battle.
Jowett overcame stiff competition from Pat Trewin in the women's final to secure her second Traralgon RSL championship, and third overall, with a club title to her name at Morwell Club.
"It's just as special winning it again as it is the first time; it's always special because it's always different, and that's the beauty of bowls," she said.
"It's different, every year, every day."
Jowett last won the title three years ago, prior to Marianne Hodson's double.
Both new champions are division one pennant bowlers.
Traralgon RSL Club Championships
Women
A grade: Pam Jowett, RU: Pat Trewin
B grade: Jan Kirby, RU: Margaret Gibbins
100 up: Joan Less, RU: Marianne Hodson
Pairs: Margaret Gibbins, Joanne Michaels RU: Joan Lee, Pat Trewin
Triples: Marianne Hodson, Kathy Smiles, Joanne Michaels, RU: Lyn Bloomfield, Sue Ellery, Fay Marsh
Fours: Joan Lee, Pat Trewin, Lorraine McClare, Jan Kirby, RU: Dianne Hilsley, Pat Lahore, Margaret Morley, Margaret England
Men
A grade: David Morley, RU: Maurice Gardener
B grade: Max Gibbins, RU: Mick Skinner
Pairs: Neil Ellery, David Hodson, RU: Tony Richardson, Max Gibbins
Triples: Gordon Baker, Ross Mckenzie, Brian Wilkinson, RU: Brendan Symons, Nick Rodda, Maurice Gardener
Fours: Matt Sheridan, Nosha Michaels, Kevin Durwood, Maurice Gardener, RU: Ted Omarra, Bill Tyben, Trevor Brand, John Farquar
Cock of the walk: Beau Williamson, RU: Maurice Gardener
Mixed
Pairs: Julie Sutcliffe, Maurice Sutcliffe, RU: Joanna Michaels, Nosha Michaels
Fours: Sue Ellery, Marianne Hodson, Neil Ellery, David Hodson, RU: George Cargill, Julie Sutcliffe, Maurice Sutcliffe, Pam Jowett
100 up: Nosha Michaels, RU: Tim Roche
McGilton Shield: Brian Wilkinson