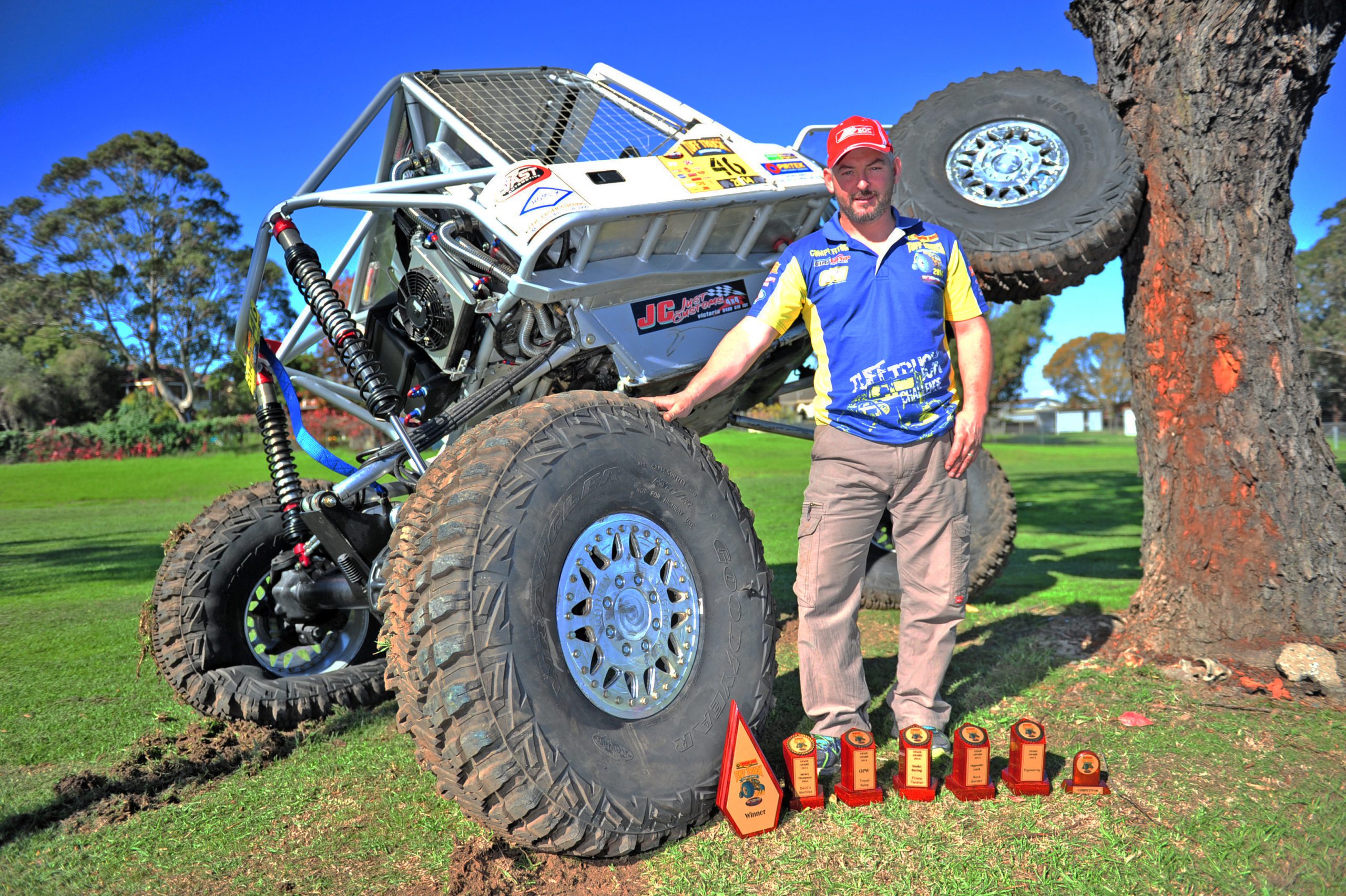 MOTORSPORT
By samuel darroch
THERE ain't no mountain of dirt high enough to stop Michael Justice, or his formidable four-wheel-drive.
The Traralgon off-road aficionado last month conquered all comers at the annual Tough Dog Tuff Truck challenge, a three-day modified 4WD racing event in New South Wales' Hunter Valley.
Aided by navigator Tim Nolan, Justice expertly negotiated oversized earth moving tyres, boulders, rocky terrain, creek beds, valleys and other natural hazards, at times making near vertical ascents, to become the first Victorian team to win the prestigious event.
Competing in his second Tuff Truck challenge after an eight year hiatus, the 36 year-old bested a field of 83, weaving through 11 stages with speed and guile in a format which rewards clean, quick runs.
The 'Just Customs' team took out four stage wins, the wheel travel ramp leg, and overall honours by a large margin, and was the only car able to complete three of the more demanding bonus lines.
Justice's truck also took out the engineering award.
Having worked on the vehicle, which was primarily sourced, designed and manufactured locally, since last August, Justice said the victory was a long time in the making.
"It was the maiden voyage for the car, we knew we had a good strong car and we hoped to do well on our first run," he said.
"I was over the moon, couldn't have done it without everyone that helped… all the hard work paid off.
"Buying the parts, having the same vision for a number of years, sourcing the parts, taking our time with the build… it was a credit to the people that helped design some of the stuff that went into the car."
With hydraulics that control each individual tyre, and the ability to switch to rear wheel drive, there's a bit more to the competition than your average Sunday drive.
On two occasions, Justice was able to recover after flipping his vehicle on its side.
"There's a few things to think about when you're in there," he said.
"Once it's on its side if you gas it in reverse it can actually flip itself back over (when it's leaning against rocks).
"We managed to recover it twice and no other major things went wrong."
Justice said he was drawn to the sport when 'standard' four wheel driving was not enough to fuel his appetite for adventure.
"I guess just the adrenalin rush, trying to get up an obstacle other people can't. The adrenalin rush of doing something different, out there, it comes down to a lot of driver ability too," he said.
"It's not always about how much money you can throw at the car."
Justice thanked Tim Nolan, Matt Brown, Brett Alston, Glen Heuer, Darren Walker, Sam Xuereb, Travis Noy, Brendan Tisha, Tony Misfuc, Geoff Ponton and Trevor Mackrell for their involvement in making the dream a reality.
Justice will have his vehicle on display for the public this Saturday from 8.30am to 1pm at Pirtek Latrobe Valley, Morwell on Vestan Drive.