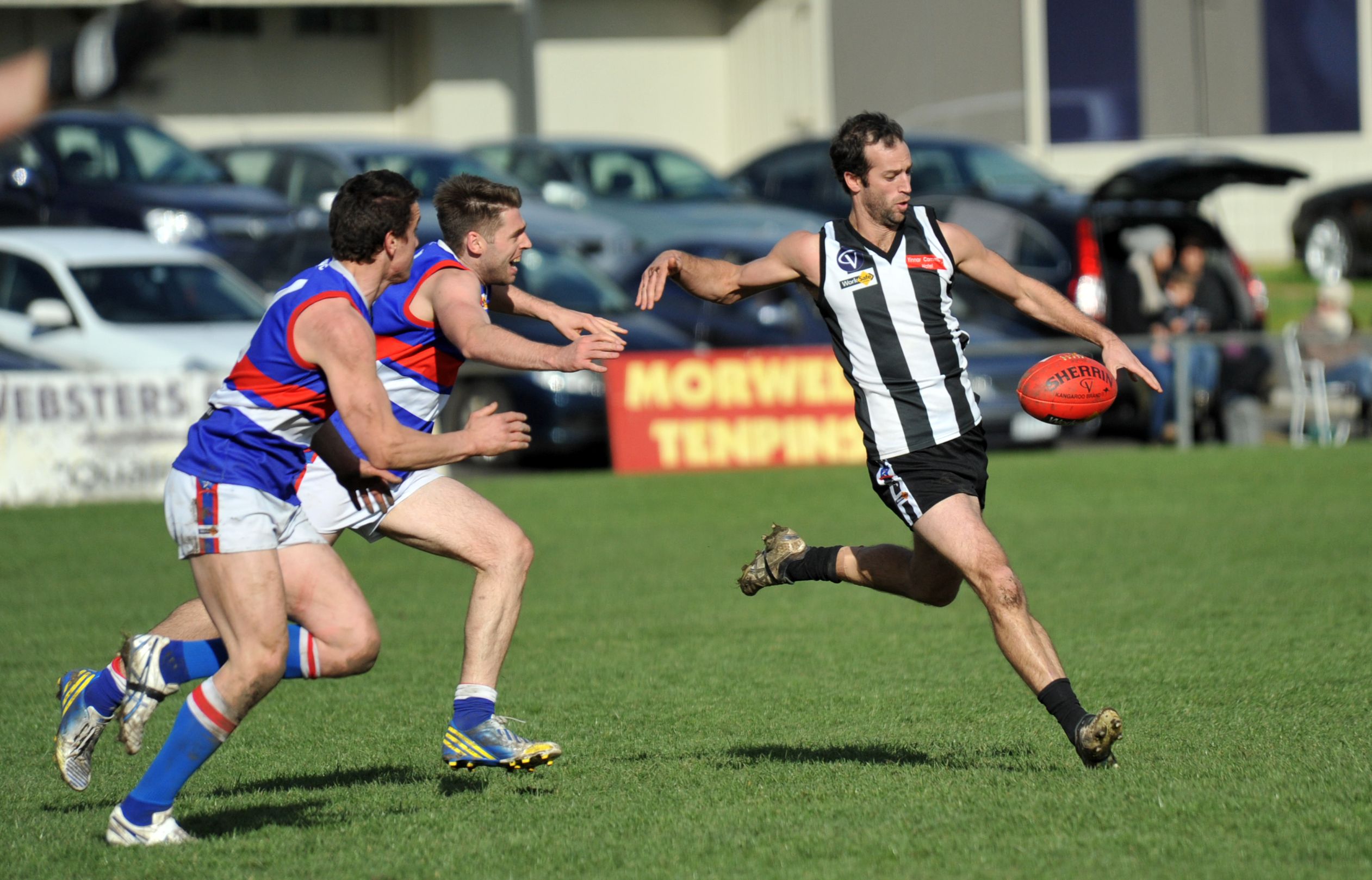 FOOTBALL
MID GIPPSLAND
Mid Gippsland Football League's biggest match of the round will be between the two undefeated teams, Yinnar and Newborough, and what a clash it should be.
The Magpies are perched on top only by percentage from Newborough in a logjam for first.
With the season going into the seventh week both would be pleased with their efforts to date and Saturday's match will determine which is currently the strongest team in the league.
Yinnar coach Sam McCulloch has blended his team well with a mix of youth, experience and tall players which has proved his greatest strength so far.
Up forward he boasts Tim Aitken, Dallas King, Cameron Harwood and Sam Mills, who are all among the top line scorers.
Newborough also has a potent forward line with Mick Gelagotis leading the pack and plenty of helpers around the sticks.
Midfield will be a challenge with James Dowling and Brendan Chapman up against Daniel Risol and Liam Carolan.
Fans are in for a tough, no nonsense game across the grades, with the Yinnar and Newborough reserves also unbeaten and ready to set the scene for a climatic afternoon of football.
Morwell East (6th) v Hill End (7th)
Mention this match a few weeks ago and you would have picked Morwell East to win, but in a short period of time the East has dropped three games and Hill End has won two.
The East put in a shocker last weekend and would be desperate to avoid two bad ones in a row, but anything can happen in football.
Hill End beat Yarragon with one quarter of sustained attack last week.
The Hawks have the name players and should be better than 2-4, but performances against three possible finals contenders have resulted in losses.
Both teams have beaten lower placed sides, but this week will be more of a challenge.
On paper Morwell East would go in as favourites but Hill End could cause an upset.
Yarragon (9th) v Boolarra (5th)
The Panthers will have to wait another week to equal their 2013 tally of two wins as Boolarra should be too strong this time around.
The Dees pulled the cat out of the bag last week with a come-from-behind win but should never have found themselves in that position.
Yarragon was competitive for three quarters against Hill End but with a massive list of injuries the Panthers are running out of players.
Boolarra sits in fifth and has the potential to get higher, whereas Yarragon would need something special to spark an upset.
Boolarra should go back-to-back winners to put pressure on the sides above.
YYN (10th) v Mirboo North (3rd)
Yallourn-Yallourn North is still seeking that elusive win.
YYN had a rough start to the season without success and things are not going to get much better this weekend when it faces last year's premier Mirboo North. The Tigers are playing to their full potential and are looking very strong; the way they whipped Morwell East last week was awesome to behold, even in gloomy conditions.
YYN will find it tough going to match it with the Tigers but live in hope.
Mirboo North, with strength around the ground and tall forwards, should have a comfortable victory.
Thorpdale (8th) v Trafalgar (4th)
Thorpdale got pipped at the post last week after controlling most of the game against Boolarra, while Trafalgar battled in the gloom against Yinnar.
This is going to be a big test for the Blues to see if they can match it with the big boys.
Their record so far is only 1-5 while Trafalgar has fared marginally better at 4-2.
Thorpdale has let itself down in a couple of games by relaxing near the end, allowing the opposition to overrun it at the finish.
Four quality quarters is needed by Thorpdale for a realistic chance at another win.
Trafalgar will be confident but cannot be lax in its approach.