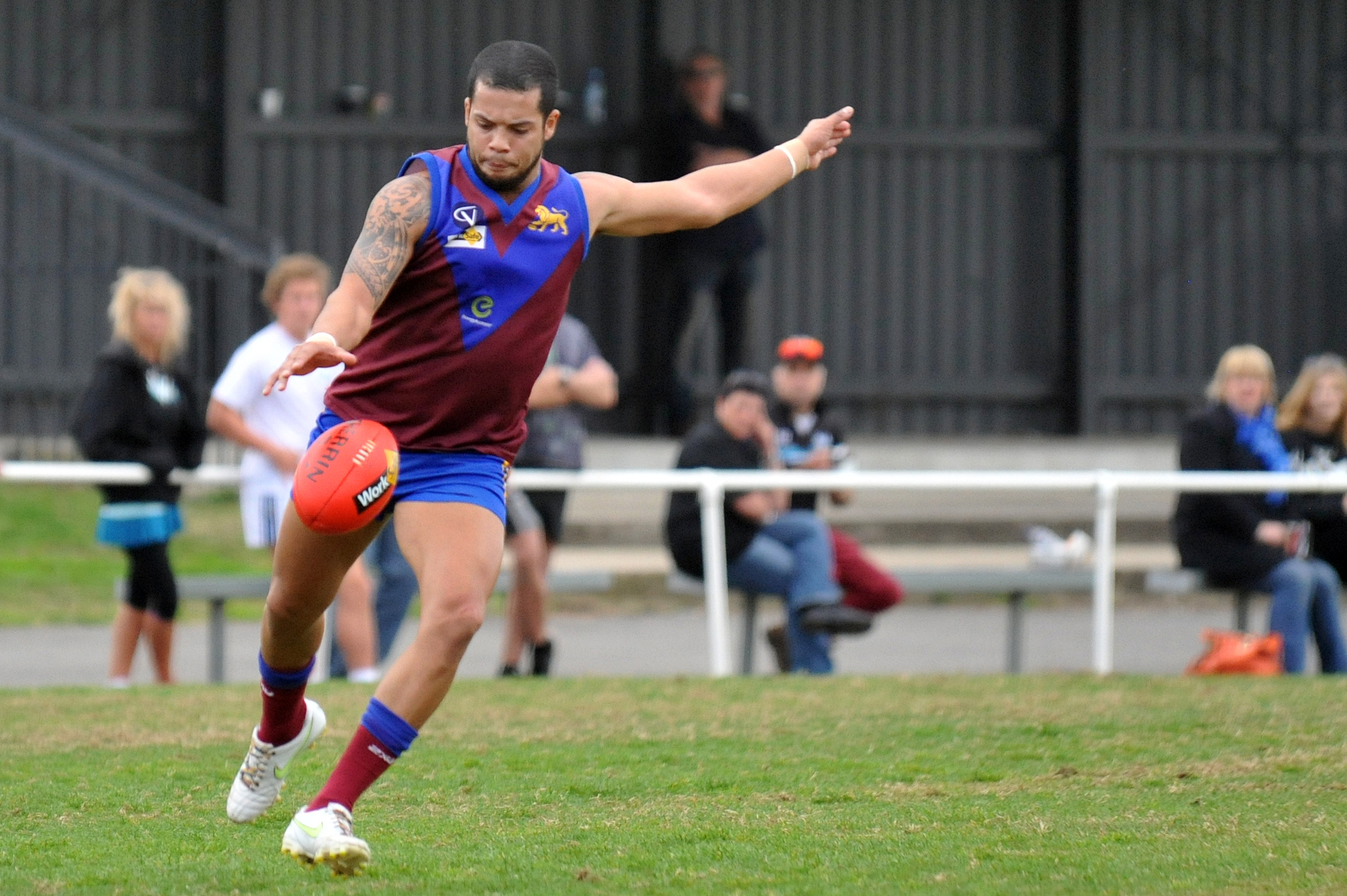 FOOTBALL
GIPPSLAND LEAGUE
BAIRNSDALE produced the upset of the round to beat last year's Gippsland League runner-up Sale by seven points.
It was the Magpies' first loss of 2014 and marked the end of a big day for the Bairnsdale Football Club, which joined forces with East Gippsland Football Netball to host Super Saturday.
There were seven games of football and 11 games of netball, culminating with the Gippsland League clash between the Redlegs and the Magpies under the Bairnsdale City Oval's new lights. Not only did the day showcase some of the region's best footballers and netballers it also raised money and awareness for anxiety and depression assistance organisation, BeyondBlue.
On the ground, Sale got out to a better start. The visitor led by eight points at quarter-time and 12 at the half. The Redlegs booted three goals seven in the third, to put themselves back within three points at the last change.
The home team added another three majors, to a less accurate Sale, who booted two goals four, to produce its most monumental win of the year.
The victory put Bairnsdale back into fifth, just clear of Traralgon, and also meant the Redlegs had at last beaten every side in the league since rejoining in 2011.
Bairnsdale's last win against Sale came in 1995 and it was finally able to snap a 13 game losing streak against its East Gippsland rival.
Warragul v Morwell
Morwell will take its unbeaten run into the Gippsland League break after accounting for Warragul.
The Tigers, who have not been beaten since winning the flag last September, thrashed Warragul by 174-points to make it six wins from six outings this season.
With a long list of players missing from the line up, the Tigers were forced to draw on some of their reserves players.
"I think we had only 10 premiership players play, but more importantly the guys that came in were able to play a role, they fitted well into our structures and their contribution was really promising," Morwell coach Harmit Singh said.
"They have been plugging away in the reserves and yesterday they got the reward, it was a very exciting day for the club.
"Last time around Warragul was excellent against us. But we started well and were able to play out the game, which was really great".
With the exception of its interleague players, the reigning premier will now enjoy a week off.
"It's good timing. We have a couple of guys who have booked to go away and have a break from footy, which is good, because it is very consuming even at a local level. We will then regroup for the next block of games," Singh said.
Following the break, Morwell will face Leongatha, Traralgon and Sale.
"These games are very critical to the rest of our reason," Singh said.
Maffra v Traralgon
Traralgon was dealt a wake-up call by Maffra, which returned to its best to produce a 112-point win over the Maroons.
With eight goals from Darren Sheen and seven from Daniel Bedggood, the Eagles' forwards did the bulk of the damage on a day which saw Maffra kick 28-goals to Traralgon's nine.
On a positive note for the deflated Maroons, Jackson Hall continued his return to form, with four goals.
Maffra's explosive 11.2 (68) first quarter was a record for opening terms against Traralgon in league history.
It was the third time Traralgon had ever conceded 10 goals in a first term and each occasion has been in round six of their respective seasons. The loss has left Traralgon just outside the five.
Moe v Wonthaggi
Moe showed plenty of improvement despite falling eight points short of Wonthaggi.
Leading by three goals, the visitor got the jump early.
To their credit the Lions, bolstered by the inclusion of a couple of Gippsland Power players, including Declan Keilty, who booted two goals, worked their way back into the contest.
James Blaser kicked three in a best on ground performance for Moe, which fell agonisingly short of its second win of 2014.
It was another TAC Cup player, Aloysio Ferreira-Neto, who did much of the damage for the Power with four goals. This performance was matched at the same end by Earl Shaw.
Leongatha v Drouin
In the final match of round six, Leongatha made it two in a row against Drouin. Leading from the outset, the Parrots posted 33-goals, 19 of them in the second half to beat Drouin by 207-points.
Brent Lynch, Nicholas Nagel and Aaron Hillberg managed 21 majors between them, Lynch with a bag of eight.