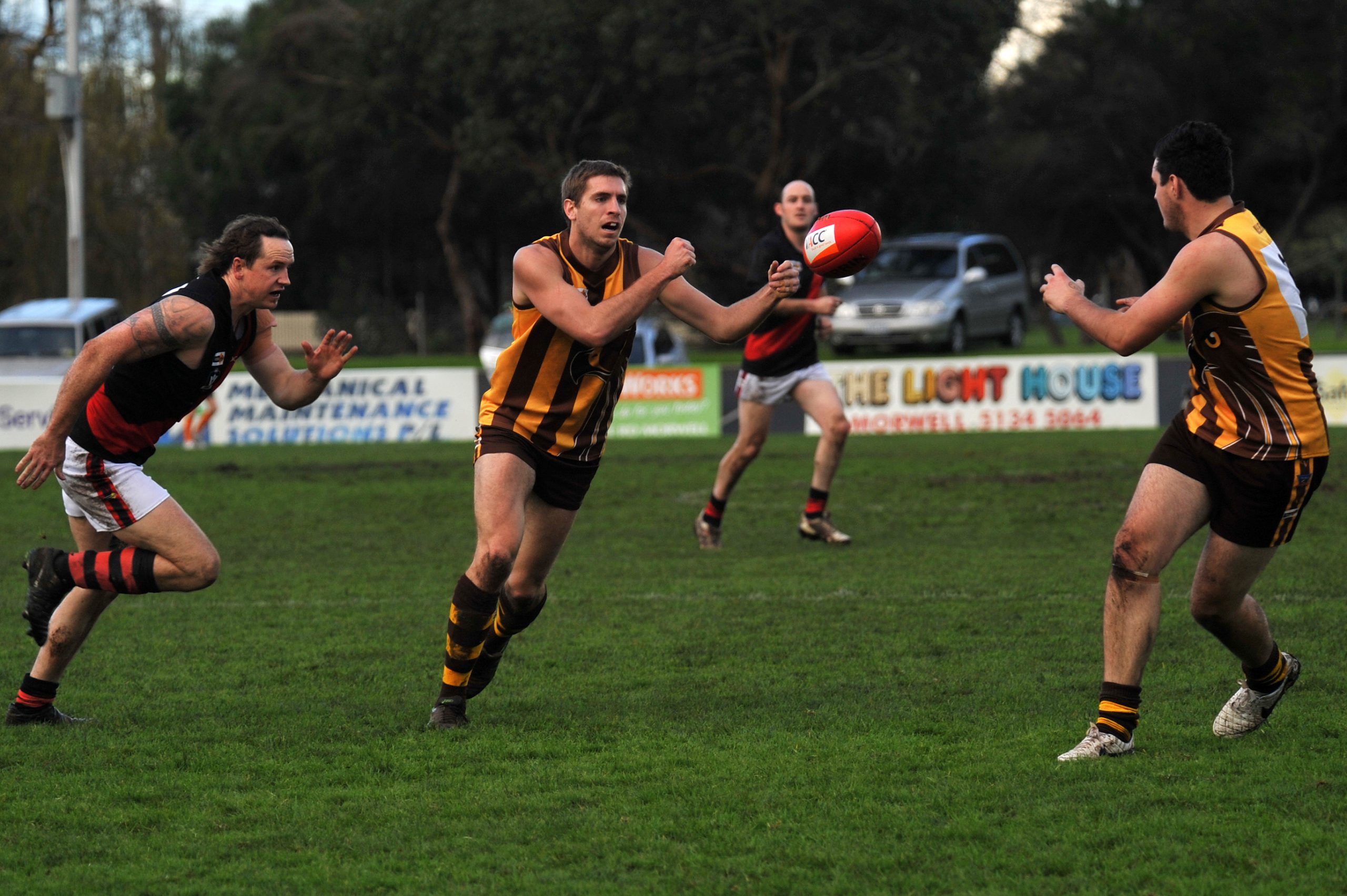 FOOTBALL
MID GIPPSLAND FL
All went as expected as the favourites ruled round 11 of the Mid Gippsland Football League in a cold, but rainfree day of footy.
Morwell East won its first match in three outings, beating Yallourn Yallourn North in the closest encounter of the round, while league leader Newborough had to fight hard against a feisty Hill End.
With 11 goals, James Dowling helped Yinnar easily account for Yarragon.
Mirboo North fixed up Thorpdale after half-time and Trafalgar reversed the first round result by beating Boolarra.
Morwell East v YYN
MORWELL East sprung back onto the winner's stage with a hard fought win over YYN.
The game was scrappy as both teams lacked the vital skills to make the game attractive.
Winner by 20 points, the East was never headed.
The final margin was the closest the Bombers came all day.
Wasted opportunities early in the match by the Hawks kept the Bombers within reach, but by half-time the East had stretched out to a 29-point advantage and it was nearly all one way traffic.
However, after the main change YYN showed fighting ability by outscoring the East.
Barrie Burnett led the charge and inspired his team-mates.
Derek Pol in the ruck was picking up points and gutsy rover Tyler Brown was making an impact. Morwell East came under pressure, but it was Lucas Towns and Jody Riordan who brought to Morwell East back as they held out the Bombers.
A third quarter spotfire let players release some tension in one of several uncomfortable moments for the East in an otherwise easy win.
Fifty metre penalties can kill a club and YYN gave two away, which resulted in goals near the end to hand Morwell East a substantial 12.14 (86) to 10.6 (66) triumph. Frank Marks was useful in the packs and his six goals for the East earned the votes, while Burnett continues to give his best for the Bombers with four goals.
For the Bombers their frustrating season rolls on with the best being Brown, Pol, Burnett and Elliott DeCarli
Trafalgar v Boolarra
TRAFALGAR reversed its first round loss to Boolarra to win by 28 points.
The loss dropped the Demons back to fifth, a position they will not relinquish while searching for a top four berth.
Trafalgar set up the win in the third quarter kicking 5.2 (32) to 2.3 (15).
After six successive wins Boolarra's luck ran out in a 13.10 (88) to 8.12 (60) loss.
For the Bloods it was three in a row.
Mirboo North v Thorpdale
AFTER two scrappy weeks of football, Mirboo North came back with a vengeance to score a 74-point win over Thorpdale and retain the Bright/St Ellen Trophy. The only thing Thorpdale won was the toss to kick to the western end.
Mirboo North had a goal on the board within 12 seconds, the fastest this season, which took Thorpdale about 10 minutes to recover from when Matthew Cogan replied.
Long kicks were part of Mirboo North's plan, with the mantra being get the ball forward often enough and you will score.
It was goal for goal early with Jack Robertson scoring for Mirboo North, before Rhys Gieschen replied for Thorpdale.
Josh Taylor was a star for Mirboo North, creating opportunities for his teammates.
Only four points the difference at quarter-time made it an interesting first stanza.
After the break Mirboo North started to exert pressure on the Blues and when the Tigers scored three goals in six minutes, the tide had turned.
Thorpdale full back Peter Connors had his hands full against Tim Traill.
Jake Nash was having a good day on the ball for the Tigers.
Thorpdale was well served by tall Harvey Foat, but there were too many Thorpdale players shut out of the game.
By half-time Mirboo North's lead had jumped out to 32 points.
Mirboo North continued its attacking style of play in the third quarter to limit Thorpdale to two scoring shots while adding four goals.
Joey Brooks was busy and he finished with three majors as Mirboo North unleashed in the last quarter 7.3 (45) to 3.2 (20) to run out winners 19.13 (127) to 8.5 (53).
Traill finished with five goals to regain the season lead on 43, while Jack Robertson chipped in with three.
For Thorpdale, coach Nathan Scurrah and Rhys Gieschen finished with two each.
Newborough v Hill End
TOP team Newborough struggled against lowly Hill End in a game that never reached great heights.
Only a last quarter burst sent Bulldogs' fans in raptures after Hill end pressed them all day.
In cold conditions Hill End kept with their more fancied opponents for three quarters, but could not hang on in the last term.
Scores were level at the first break and by half-time Newborough was a goal up.
In a hectic third term both teams were on the money with four goals each and Newborough led by four in a game expected to be a whitewash.
The first goal in the last quarter was going to be vital and it was Newborough that put it through.
The Dogs tightened up the defence but still struggled under pressure applied by the Hillmen.
The big difference was around the forward zone, where Newborough had three players contribute to the total score, while Hill End relied on Matt Moseley (4) to do the bulk of their scoring.
Newborough stepped up in the last to produce its best quarter and ran out winners 13.13 (91) to 9.11 (65).
Yinnar v Yarragon
YINNAR made short work of Yarragon to firm up second position on the ladder.
From the start Yinnar meant business and rattled on 6.3 (39) to 1.1 (7) in the opening quarter.
Yarragon produced good football in the second, but was outscored two goals to every one they kicked.
By half-time it was time to remove the fur coats as Yinnar heated up and produced a 16 goal last half, which included a 10 goal shootout in the final term.
For Yarragon it was not as bad as the first round defeat by Yinnar, but it was not far from it as Yinnar finished with 28.13 (181) to Yarragon's 7.8 (50).
While Tim Aitken was held to only six goals it was left to clever rover James Dowling to boot 11 goals in a match winning display.