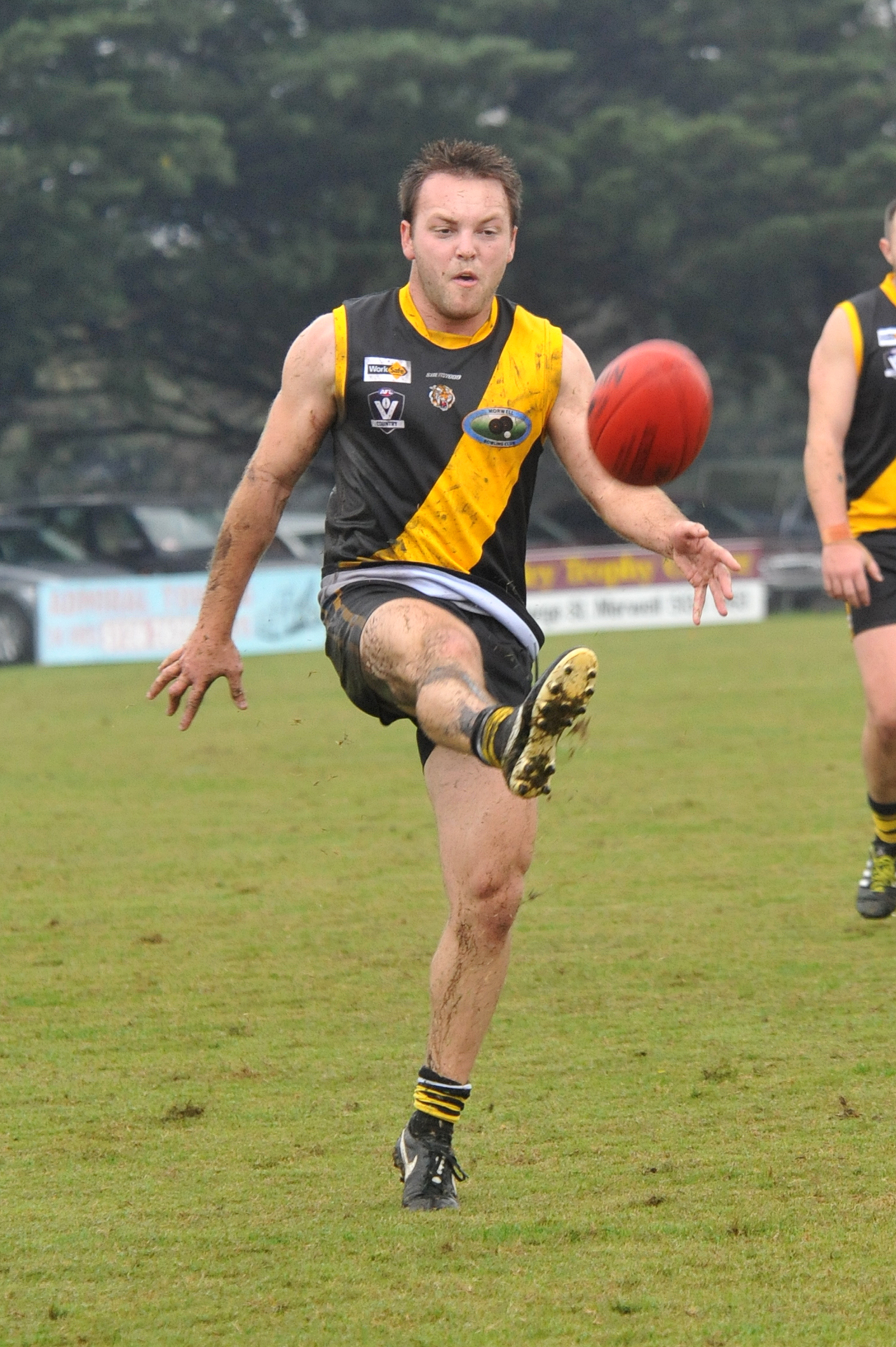 FOOTBALL
GIPPSLAND LEAGUE
REIGNING premier Morwell suffered its second loss in as many weeks, going down to Wonthaggi on Saturday.
In a repeat of last year's corresponding period, the Tigers, who were until last week undefeated, have now lost the past two straight to Sale and Wonthaggi.
The Power got out to the better start and led by 18-points at the first change.
The margin remained the same at half-time, after a closely contested second term.
Morwell worked its way back into the match in the third, and was within a point at the last change.
Wonthaggi held on in the last despite inaccuracy; the Power booted three goals five to the Tigers' two goals one, to run out an 11-point winner.
Earl Shaw was the star for the Power with four majors, while Ash Close booted five in a best on ground performance for Morwell.
Traralgon v Sale
MORWELL'S second loss for the year, coupled with Sale's win over Traralgon, saw the Magpies move into top spot on the Gippsland League ladder.
It was not all smooth sailing for the Magpies, who were well and truly tested by the Maroons.
Responding to its critics, Traralgon matched it with Sale, which was fresh from a morale boosting win over the reigning premier.
Undermanned, the Maroons were without some of their biggest contributors in former coach Josh Jennings and former captain Jaime Aitkin as well as Jarrod Zuehlke, Nick Quenault and Dylan Loprese, who were all ruled out following last week's disappointing loss to Leongatha.
"Leongatha was big one for us. It really hit home and hurt us. We were so disappointed by the result in a game where we did a lot right, including inside 50s and shots on goal," Traralgon coach Paul McCulloch said.
The Maroons were within a point at quarter-time and trailed by just seven at the main change.
The visitor kicked away in the third and led by 14 at the final change, before running out a nine point winner.
"We were probably in the game all day. A lapse in the third hurt us. We dropped off for 15 minutes and they got out to three goals up… however out of all the losses we have had this year, this one certainly had more positives," McCulloch said.
The outs created some opportunities for others, including four under 18s who come into the side.
Among them was Jackson McMahon who made his senior debut for Traralgon.
"It was an opportunity for us to play some young blokes in Michael Jacobsen, Jackson McMahon, Troy Forrest and Hayden Britton and I think they brought a bit of excitement to the side," McCulloch said.
"We found out a bit about ourselves. The past three weeks we have been heavily reliant on our top eight or nine players and the rest have not made enough of a contribution. Saturday saw the whole group contribute, which I put down to the right attitude and a better approach to our training and game plan," McCulloch said.
With its season in the balance, Traralgon is focusing on the short term.
"We have decided at this stage we are not going to concentrate on the ladder so much, we are going to see what we can achieve in the remaining nine games of the year," he said.
Sale's Mitch Davis booted six in a dominant performance against a defence lacking height.
"We shut down three of Sale's big forwards but Davis, we had trouble handling him," McCulloch said.
Justin Fulton was the star for Traralgon with four goals, while Hayden Britton and Lee Stockdale booted three apiece.
"Justin's game was exceptional, the best game he's played this year. He marked everything and kicked goals from everywhere," McCulloch said.
Moe v Maffra
MAFFRA cemented the all important fifth spot on the ladder with an 18-point win over Moe.
Booting six and five goals respectively, Eagles forwards Darren Sheen and Daniel Bedggood ran rampant for Maffra, which held the Lions to just three majors for the match.
Moe's score of 3.4 (22) equals its lowest ever score against the Eagles, having kicked that same score against Maffra in 2004.
Bairnsdale v Leongatha
IT was one of the most highly anticipated matches of round 10, however Saturday night's clash between two of the competition's big improvers turned out to be a fizzer.
The home team led by two straight goals after an accurate opening term by both sides.
By half-time Bairnsdale's lead was out to 40-points.
The Redlegs doubled their score in the third to lead by 74-points at the final change.
The home team went on to kick six goals to none in the last to notch up its eighth win of the year by 105-points.
James Gibbs was the star with 11-goals.
Warragul v Drouin
Warragul won yesterday's west Gippsland derby against Drouin.
The Gulls got off to a strong start, booting five goals to two in the opening term which proved the difference in the end.
By half-time the home team had extended its lead out to 22-points.
There were just three points scored in a low scoring third term.
Warragul went on to win by 24.
Brad Scalzo was named best on ground for Warragul while Luke Duffy was Drouin's best player.