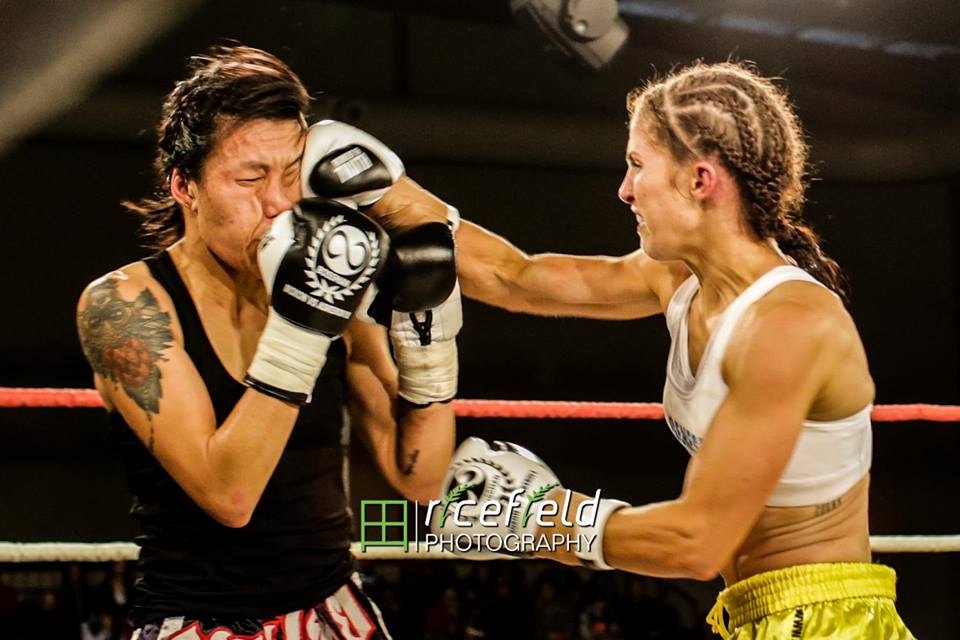 KICKBOXING
By SAMUEL DARROCH
Hazelwood's Kim-Alina Baldacchino became the first Gippslander to win a K1 female state kickboxing title this month, when she lifted IKBF 58 kilogram belt in Keysborough.
Baldacchino won a split decision from Mei Ngo, vindicating nine years of dedication to the sport.
After a late knockdown failed to count Ngo out, Baldacchino was left with a nervous wait for the judges' decision after four furious two-minute rounds.
"It was a close fight, I had knocked her down in the last round but they didn't give her an eight count, when they say split points decision you don't know what way it's going to go so I was a bit nervous, but when they raised my arm I was very happy," she said.
"It was a tough fight, she was a tough girl, but I pushed through in the end for the decision."
Baldacchino briefly tested the waters in the boxing arena, but a lack of competition and limited opportunity led her to return to kickboxing, a discipline she has studied for nigh on a decade.
Spurred on by the success of her husband and training partner Steve, who won a national title of his own late last year, Baldacchino said a championship belt had always been a goal.
"It was a big achievement, (I'm the) first female in Gippsland to win something like that," she said.
"I'm very happy with it, all the travel to Hallam three or four nights a week has all been worth it, and getting up at 4.30am every morning to go to the gym."
Pushed on by Steve, Baldacchino said sharing a common goal, sport, lifestyle and training regimen had done wonders for both athletes.
"It's a great help, it keeps you motivated and it's great that we both do the same thing. All the travel and stuff we do it makes it a lot easier having that same interest and we push one another," she said.
Baldacchino thanked trainer Mark Aiava and her family and friends for all of their support.
She will now take a few months away from fighting before returning to defend her title, and hopefully snare a few more to rival Steve's collection.
"He's got five title belts and I've only got the one so I've got a lot of catching up to do," Baldacchino said.