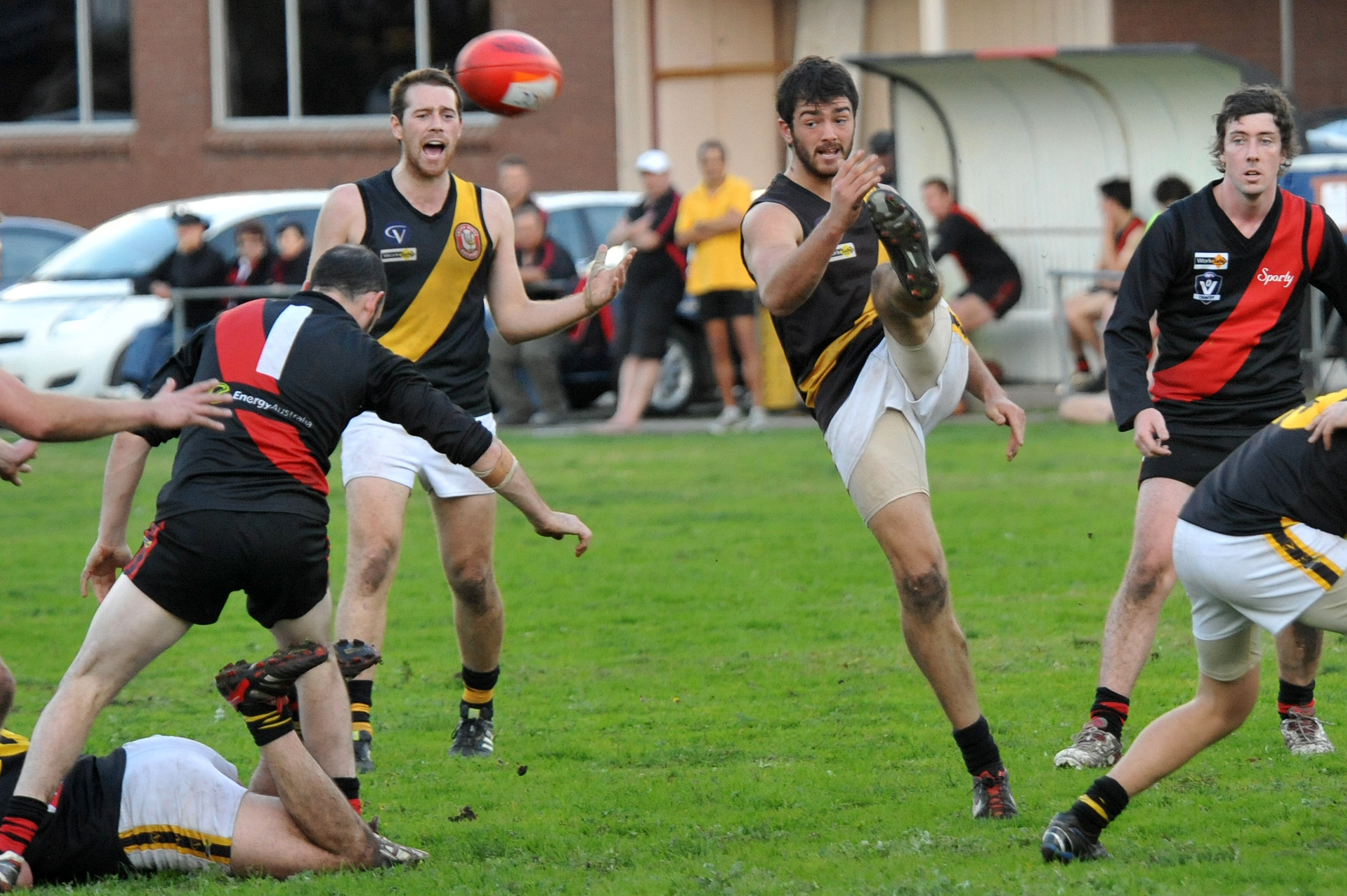 FOOTBALL
MID GIPPSLAND FL
Trafalgar (3rd) v Yarragon (9th)
TRAFALGAR goes in as favourite to beat Yarragon and retain the ancient Waterloo Cup, which the two clubs have contested since 1896.
Trafalgar is in third position, eight points shy of top team Newborough and pressing for a top two spot.
Coach Jason MacFarlane has his team working hard and they have proved themselves over the last three weeks with wins against Mirboo North, Hill End and Boolarra.
The return of Matt Robinson has been a bonus around the goal mouth and the intended return of last year's coach Chris Kyriacou will also be a big plus to the club. Yarragon's three wins have already exceeded last year's but the Panthers have trouble against the big guns.
Trafalgar will show its strength and claim the spoils.
Last Time: Trafalgar 24.20 (164) d Yarragon 5.7 (37)
Newborough (1st) v Boolarra (5th)
TOP side Newborough received a reality check against Hill End last week and was pushed for three quarters before scraping home.
Any lapse in form this week will be punished by Boolarra, a team that could provide an upset.
The Demons will play this September but which final they feature in is yet to be determined.
Newborough has its forward line firing and with Glenn Michie and Michael Gelagotis in good form Boolarra's defenders have a big task ahead.
If the Demons keep those two in check they have a chance of an upset victory.
Last time it was Boolarra's inaccuracy which let it down, so expect a sharper showing this weekend.
Last Time: Newborough 9.7 (61) d Boolarra 5.10 (40)
Mirboo North (4th) v Hill End (8th)
MIRBOO North is at home for a second successive week against Hill End.
On paper the Tigers will be a force with the finals just around the corner.
They intend to go back-to-back but each game leading up to September creates more problems.
At this stage of the season they would have liked to be higher than fourth but losses to Trafalgar and Boolarra in recent weeks have set back the Tigers' plans.
Hill End has put together some good games this season but will not likely cause Mirboo North much harm.
Last Time: Mirboo North 15.21 (111) d Hill End 9.6 (60)
Thorpdale (7th) v YYN (10th)
THORPDALE should enjoy a win over Yallourn Yallourn North, emulating their previous encounter this year.
Not much has changed since then; the Blues have won a couple but have fallen short of expectations, although they did push Boolarra to the brink recently.
YYN is still looking for an elusive win and they will celebrate long and hard when it does happen.
The Bombers have come close the last two weeks but costly 50 metre penalties brought about their downfall against Morwell East last round.
They still have confidence in themselves and will be pushing each of the remaining seven weeks.
Last Time: Thorpdale 11.14 (80) d YYN 4.5 (29)
Yinnar (2nd) v Morwell East (6th)
YINNAR will host Morwell East on Sunday in a game the Magpies should take on form.
Morwell East has been patchy and its win last week against YYN was hard fought.
Yinnar found another ace in medallist James Dowling, who bagged 11 goals last week, a rarity for a rover.
The Pies have plenty of options going forward and this will be a headache for Paul Henry and his team.
Last Time: Yinnar 13.13 (91) d Morwell East 7.8 (50)