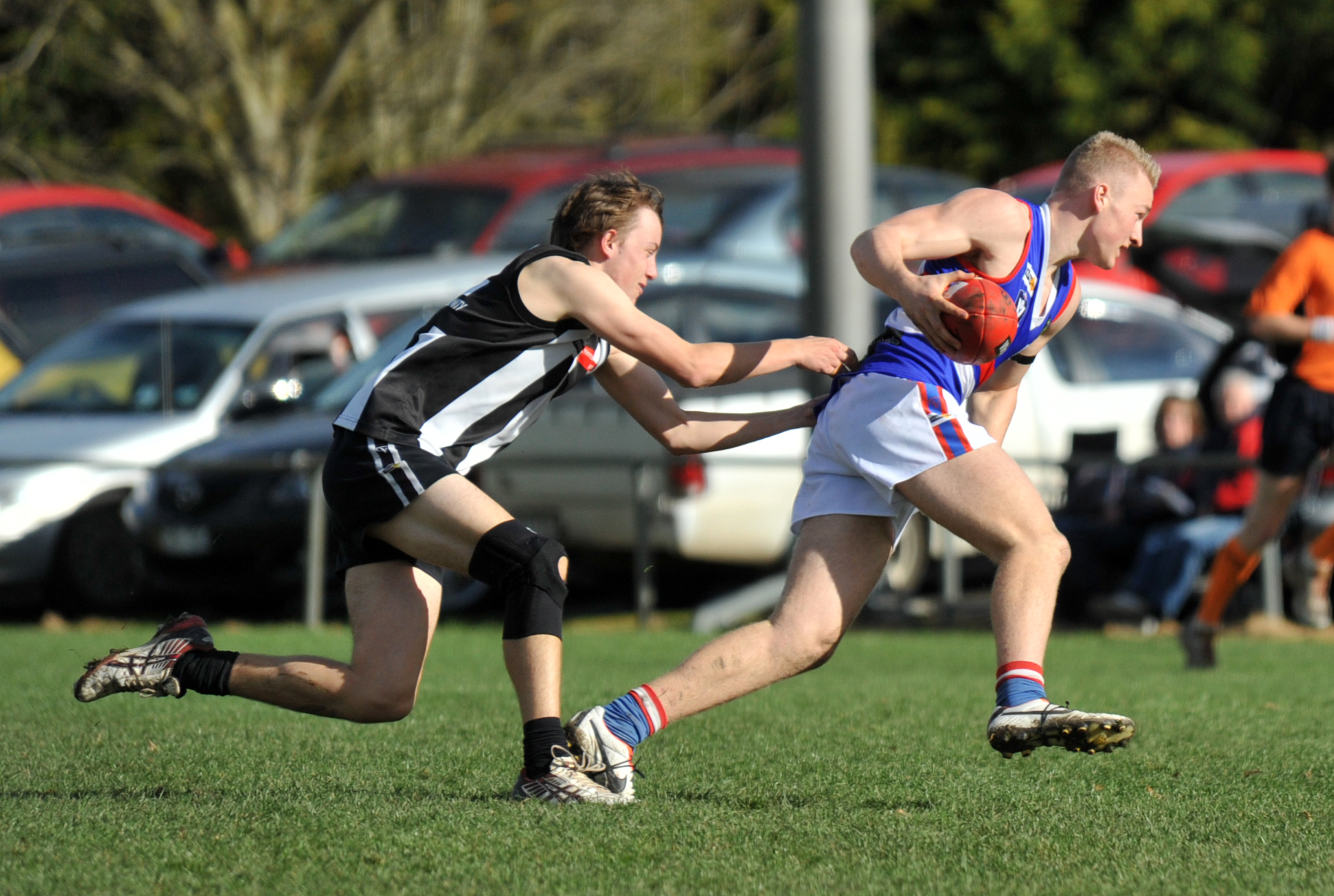 FOOTBALL
MGFL
TOP team Yinnar asserted its authority over third place and last year's premier Mirboo North by thrashing the Tigers by 92 points on Saturday.
The Magpies have now firmed as premiership favourite and returned to the top of the ladder, picking up just over nine percent while Newborough dropped 2.2 per cent to go back to second.
The first term was a whitewash as Yinnar pummelled the goals for little reward, with about 20 inside 50s for a 4.7 (31) conversion rate.
Mirboo North could not score as Yinnar's back six kept the Tigers to a nil reading for the term.
Tim Aitken was the star attraction up forward with plenty of assists from youngster Max Renwick and Liam Maynard.
Brendan Chapman led the defence and it was a sorry state at the halfway mark to see Mirboo North, in one of the club's darkest days, held to 1.2 (8) to Yinnar's 7.9 (51).
Yinnar continued to attack in the third and again Mirboo North was shocked into submission as the Pies ran the Tigers ragged.
Yinnar added 3.6 (18) in the final term but with greater accuracy could have amassed an even larger win than the 15.20 (110) to 2.6 (18) final scoreline.
Newborough v Trafalgar
IN another clash of top four titans Newborough struggled to fend off third placed Trafalgar, but emerged victorious by 17 points.
Ground conditions were deplorable and if the umpires had the power to call the game off for safety reasons they likely would have.
Play, however did get underway and it a game resembling rugby as players continually formed packs trying to get the ball into open territory.
It took 17 minutes before either team scored.
Trafalgar held a slight edge with a couple of early goals and for the first time this season the Dogs were kept scoreless for a term.
They improved slightly in the second but miskicking for goal saw them waste opportunities, and by half-time they trailed Trafalgar by seven points.
With a four-goal-to-two third quarter Newborough clawed its way back to the front and held a seven point advantage at three-quarter-time.
Daniel Risol was revelling in the mud and his three goals were the start of the Bulldogs fightback.
Newborough snuck in front in the last and hung on to win 9.9 (63) to 7.4 (46).
Boolarra v Morwell East
BOOLARRA bounced back to produce the goods against Morwell East in heavy weather conditions.
Morwell East looked solid for about 20 minutes, establishing a good lead over the slow starting Boolarra, showing more spirit and fire in the cold conditions to put three goals through before the Demons could start up.
Boolarra kept Morwell East scoreless in the second, shutting down the Hawks' running players, but their own scoring was poor with 3.8 (26) to 3.0 (18) at half-time.
Morwell East got as close as 11 points in the third as Boolarra started to power away, and a boundary line goal by Troy Tobin started the avalanche as the Demons poured it on, leaving Morwell East flat-footed in their wake.
A 9.1 (55) to 1.2 (8) third term gave Boolarra a real boost.
Although down, Morwell East took up the challenge in the final quarter and, in a real scrap, kept the Demons to only three behinds in one of the worst quarters of football seen at Ronald Reserve this season.
Players were dog-tired as the heavy conditions took their toll with Boolarra running out winners 12.15 (87) to 4.2 (26).
Tobin scored three for Boolarra with their best being Nick Hider, Ken Towt, Matt Buglisi and Chris Riseley.
Hill End v YYN
FOR the second time this season, Hill End had a good win over Yallourn Yallourn North to the tune of 28 points in a tense match the Hillmen never looked like losing despite being harried every opportunity.
Hill End was more accurate in tough conditions to score 13.2 (80), scoring their first behind after eight straight goals, deep in the second quarter.
The difference between the two teams was Hill End's target up forward, Matt Moseley, who added a further six to his season tally of 37.
Hill End built up a strong lead during the match and the last quarter proved an anti-climax as both teams struggled to score in a lacklustre effort.
Hill End ran out winners 13.2 (80) to 8.4 (52).
Todd Dobson scored three for YYN.
Thorpdale v Yarragon
IN the closest match of the round Thorpdale won out by four points in a game decided by accuracy.
The Blues scored 8.2 (50) from 10 shots while Yarragon, with more control of the ball, kicked away opportunities with 21 shots for a 5.16 (46) return.
For three quarters there was little between the two sides but the last quarter, in which Yarragon had multiple chances to win, saw the Panthers blow away their opportunity with nine behinds to 1.0 (6) to go down by four points.