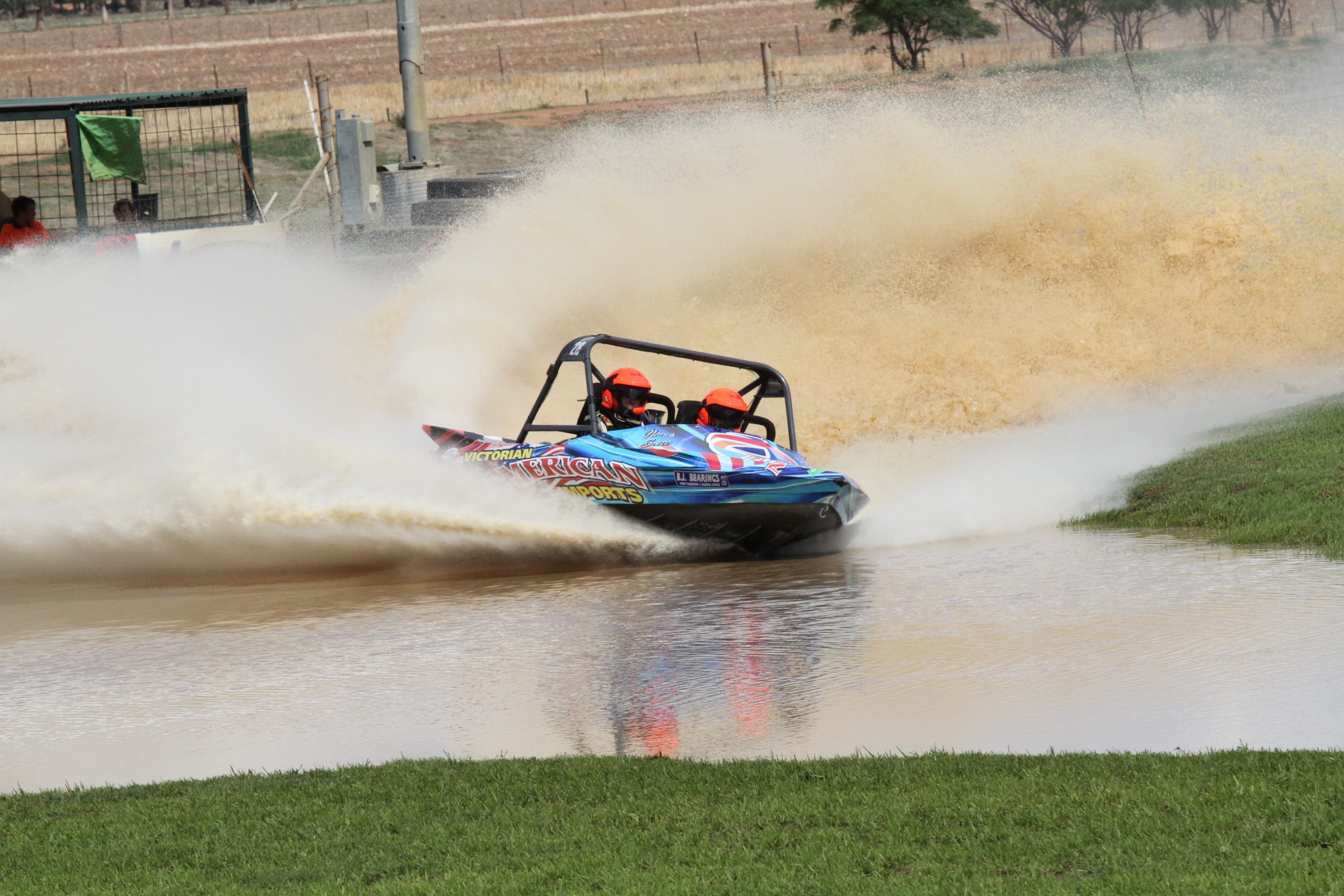 JET SPRINT
By SAMUEL DARROCH
LIKELY the closest thing to Star Wars' pod-racing in this galaxy is the wet and wild world of jet sprinting, the chosen sport of New Zealand born Traralgon resident Daryl Hutton.
Requiring jedi-like reflexes, jet-sprinting involves racing 13-foot long, 700 kilogram boats that go from 0-100 kilometres per hour in 1.6 seconds, through knee deep water at breakneck speed.
In a 40-second lap of a five to six metre wide track, these "rocket" boats will burn between 12 and 20 litres of methanol fuel, and reach up to seven G-forces, similar to an F1 race car.
For two-time Australian champion Hutton it is all part of the thrill, even the death defying crashes that come hand-in-hand with the high speed pursuit, and he has endured a few.
One such moment captured by on board film, and available on video sharing website YouTube, came at the 2009 World Series, when Hutton and his navigator went off course, jumped two islands and smashed into a security fence, landing on top of the rescue crew.
Only ever a moment from disaster, Hutton said the presence of danger fuelled the adrenaline rush all the more.
"You don't breathe for that minute (you're on course), and within that minute we'll do up to 35 corners, sharp corners that can be up to 180 degrees," he said.
"It's such a fine line, it's do-or-die a lot of the time because we're racing within inches of the banks at pretty high speed for some of the corners that we're doing.
"(But) if you're not living on the edge you're taking up too much space."
The current national series points leader jetted off to the United States yesterday ahead of his fourth world series campaign in search of his fourth podium finish, with two full weekends of racing ahead in Popular Bluff, Missouri and Lebanon, Oregon.
Having claimed the world crown in 2006, Hutton knows what it takes, but will be handicapped without navigator and engine guru Scott Jones of Glengarry, and a vessel lacking the grunt of the big guns on tour.
"Other people spend $100,000 on their engine and we spend five bucks… it's going to be hard to compete, but we hope to be in the top five and anything can happen on the day," Hutton said.
The Kiwi thrill seeker jumped behind the wheel of a jet boat for the first time in 2000, and instantly showed prowess.
"You jump in and you're either good at it or you're not and I was lucky that my very first event I set the fastest time of the day; I knew from there I was going to go pretty good at this sport," Hutton said.
"It's got to come natural to you and I'm lucky that it does."
Despite a background dabbling in motocross, Hutton said there were few motorsports that fed into jet sprinting.
Citing V8 drivers Nathan Pretty and Greg Murphy as an example, Hutton said the pair had raced jet sprint boats and quipped that they take more from the water to the road than vice versa.
"It's a lot more technical, it might only go for 50 seconds but it's so much more extreme," he said.
Armed with a fearless demeanour, Hutton migrated to Australia six years ago, and has since made the podium every year since in the national series, including wins in 2009 and 2010.
Now embarking on his first US trip, and the first world series in America for a decade, Hutton will race in front of about 10,000 people at each leg of the event.
He will also feature behind the microphone in the commentary booth, as a prominent ambassador of the sport and case study in the pending documentary "swamp racers".
To follow Hutton's progress in the 2014 UIM World Jet Sprinting Series, visit www.facebook.com/TeamHooters28
To view footage of Hutton's incredible escape, visit www.youtube.com/watch?v=Csw0v_UFMtE