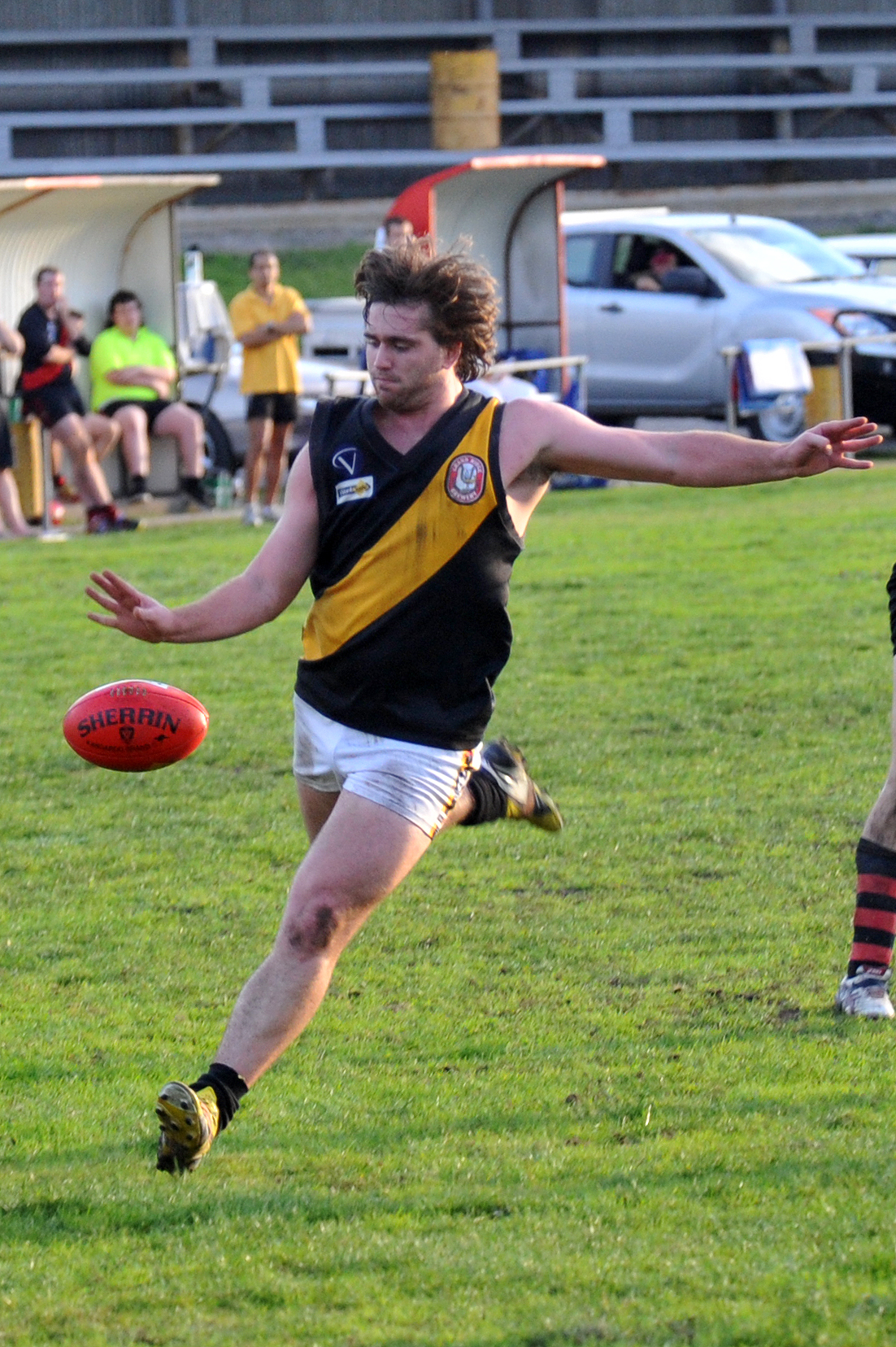 FOOTBALL
MID GIPPSLAND FL
Yinnar v Mirboo North (Qualifying final)
Yinnar and Mirboo North have shared the spoils this year, but there can only be one winner on Saturday.
In the first encounter Mirboo North won by five points, but a fortnight ago Yinnar exacted hearty revenge to the tune of 87 points.
The Tigers started the season on a low note when a wedding caused a few headaches to the team make-up and they lost heavily to Newborough.
Through the season they lost just three more times, while Yinnar lost three in total.
Yinnar sat on top for a long period throughout the year while Mirboo North hovered around third or fourth, far from prime position to defend the 2013 premiership, and it will be a tough ask for the Tigers to repeat last year's effort.
Yinnar dropped a couple of their "star" players last match and it nearly brought the side down, but with a full strength team will be difficult to beat.
James Dowling and Tim Aitken should be fit to play and will add potency to the Magpies outfit.
Both teams have strong forwards and it will be the ability to get the ball to the scoring zone which will decide the game.
Dowling (if fit) will have a good duel with Matt Holland and a lot will depend on this pairing to keep the midfield ticking over.
On form Yinnar goes in as favourite but can expect a closer result than last meeting.
Trafalgar v Boolarra (Elimination final)
WITH the loser exiting the finals scene this match is high stakes.
The season ledger stands at one match each – Boolarra won the first by 20 points and Trafalgar won the reverse fixture by 28.
It has been an inconsistent year for both sides and both have been lucky to reach their current positions.
Boolarra can expect Nick Hider and Jesse Giardina to rejoin the fold and these two will give the Demons some extra spark.
Trafalgar has lacked a reliable full-forward and more than once relied on smaller players to do the bulk of scoring.
The Bloods' chances may hinge on finding a goal scorer to step up to the occasion.
The winner goes on to the first semi-final while the loser says adios.
Qualifying and elimination finals
Saturday: (Qualifying final at Boolarra)
Seniors: Mirboo North v Yinnar
Reserves: Yinnar v Trafalgar
Thirds: Mirboo North v Newborough
Fourths: Mirboo North v Newborough
Sunday: (Elimination final at Yarragon)
Seniors: Trafalgar v Boolarra
Reserves: Mirboo North v Boolarra
Thirds: Trafalgar v Yarragon
Fourths: Trafalgar v Hill End
Traill of glory
MIRBOO North's Tim Traill secured his eighth league goal kicking trophy after tallying 79 through the regular season.
The Tiger finished ahead of Newborough coach Glenn Michie who kicked 12 to finish with 66 goals.
In the reserves Newborough team-mates Danny Schembri and Chris Payne shared the award with 49.
Newborough also claimed the thirds award when Brad McColl kicked seven in the final round to take the gong with 43, ahead of Trafalgar's Mitchell Byrne on 40.
Fourths was a run-away winner in Aiden Quigley from Yinnar who bagged five final round majors to go to 53.
The runner up was Magpies team-mate Riley Flanigan on 39.