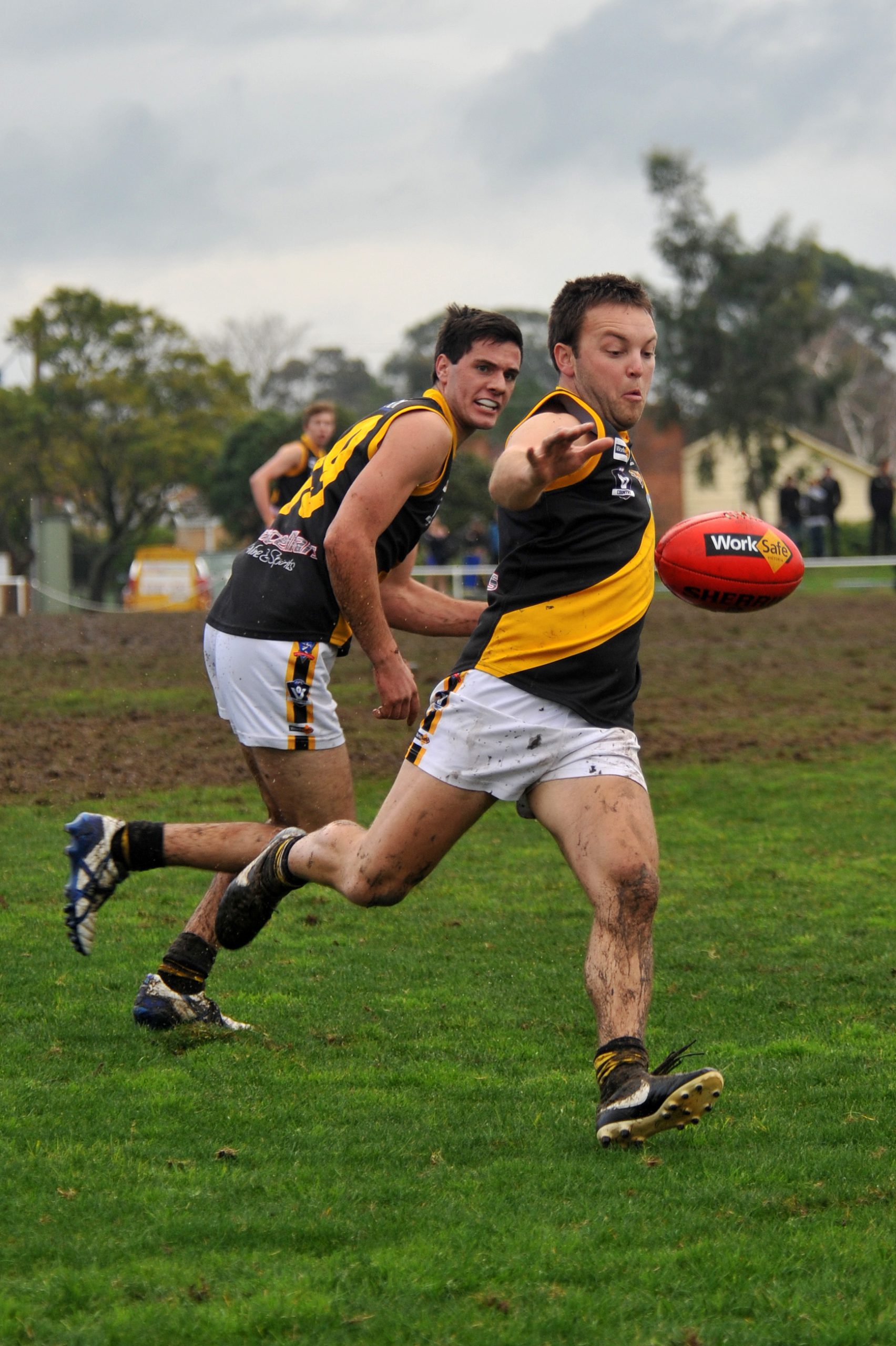 FOOTBALL
GIPPSLAND LEAGUE
MORWELL dashed Gippsland League rival Traralgon's finals hopes once and for all at Traralgon Recreation Reserve yesterday.
The Tigers only showed glimpses of their devastating best in the face of a committed performance by the home side, but led at every change and found enough class to claim a 12.8 (80) to 8.17 (65) win.
Not even an inspired performance from first-year skipper Mick Geary could prevent defeat for Traralgon.
Geary finished with five goals and repeatedly drove his side forward.
The on-baller's third goal, immediately after half-time, briefly gave the Maroons the lead, but Morwell kicked six of the last seven goals of the term to be back in control at three-quarter-time.
When Ben Kearns kicked the opening goal of the last, the lead was a game-high 32 points.
As they did against Maffra two weeks ago, the Maroons ran the game out strongly, but were unable to convert inside-50s into scoreboard pressure, managing just two goals from eight scoring shots.
"We're pretty disappointed in the wash up that we're not playing finals this year," Maroons coach Paul McCulloch said.
"I just feel we're really not a sixth side, we probably should be right up there, but the numbers tell the game and that's probably been our overriding thing this year.
"Our backs did the job, our mids were in the game and we didn't kick enough goals."
As spirited as Traralgon was, Morwell showed plenty of heart too.
The Tigers finished the game without a bench, following injuries to Julian Blackford, Campbell Macinnes and Adam Bailey.
"We were really resilient, we had no rotations after half-time, we were undersized and the way we like to play, with run and carry and spread, guys were out on their legs and just battled through," Morwell coach Harmit Singh said.
"Our ball movement was good at times and then defensively our pressure was excellent.
"We kicked ourselves in the foot a few times with mistakes, but that can be attributed to how well (Traralgon) played as well.
"We knew they were a quality side and they're probably stiff not to be in a position to play finals."
Tigers ruckman Tom Crosby was outstanding again and Michael P Duncan, Simon Noy and Joel Soutar were lively throughout.
As well as Geary, tenacious young Maroons half-forward Jackson McMahon showed plenty in his duel with Singh and Michael Burge kept Ash Close quiet, despite giving away several centimetres in height.
The result set up a final-round minor premiership showdown between Morwell and Sale, while leaving Traralgon six points behind fifth-placed Maffra.
Wonthaggi v Maffra
WONTHAGGI produced one of its best performances of the season to see off finals rival Maffra at Wonthaggi Recreation Reserve on Saturday.
The Power led at every change, but it was not until the third quarter when they asserted their dominance, kicking seven goals straight to two behinds, to set up a 10-goal win, 11.18 (84) to 3.6 (24).
Byron Dryden was best-on-ground for the second week in a row, while Matt Coyne, Aiden Lindsay and Troy Harley (three goals) were also prominent.
Joel Lambourn, Kelvin Porter and Winston Gieschen battled hard for the visiting Eagles, who slipped to fifth on the ladder with their third defeat in four games.
Drouin v Bairnsdale
BAIRNSDALE snapped a four-game losing streak and sealed a finals berth with a 153-point hiding of Drouin.
After a quiet month, Redlegs captain James Gibbs roared back to form with 10 goals in the 27.19 (181) to 4.4 (28) at Drouin Recreation Reserve.
Shaun Mooney and Andrew Nelson were also good for the visitors, while Broderick Fraser, Luke Duffy and Keegan Bott fought the good fight for the Hawks.
Leongatha v Moe
A STRONG first half laid the foundations for Leongatha's 30-point win against Moe.
Five goals in each of the first two quarters established a 49-point half-time lead for the home side and while the Lions fought back after the main break, Leongatha took the points 13.16 (94) to 10.4 (64).
In form forward Nick Nagel booted six goals and was joined in the Parrots' best by Tom Marriott, Sean Westaway and Zak Vernon.
Ben Morrow, Lucas Jenkinson and Lloyd Willams were best for Moe, while coach Adrian Burgiel kicked four goals.
Sale v Warragul
SEVEN goals to Jason Gram and Matt Ferguson, and five from Jarrod Freeman, led ladder leader Sale to a 122-point win against Warragul.
The Magpies held the visiting Gulls to one behind in the first half and while they gave up four goals in the second, they still almost doubled the margin to win 22.19 (151) to 4.5 (29).
Goal-kicking heroics aside, Chris Laverty, Bohdi Walker and Luke Reggardo were Sale's standouts.
Lachlan Petch, Tom Fusinato and Tim Brady were best for the Gulls.