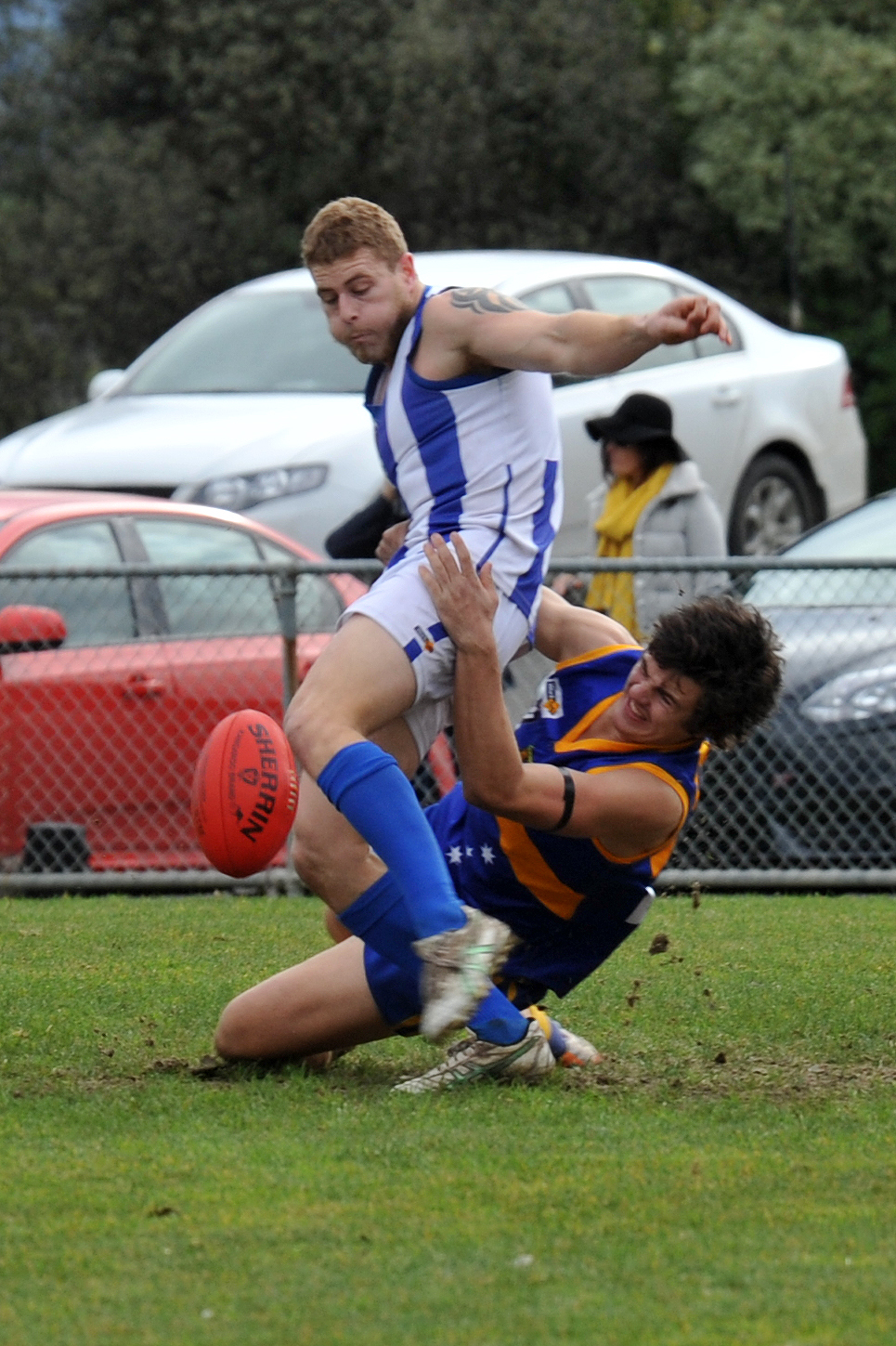 FOOTBALL
NORTH GIPPSLAND FL
HEYFIELD and Churchill will square off at Sale City in a mighty North Gippsland Football Netball League clash with the winner advancing to the grand final.
Spectators will get an early taste of September with both sides touted as premiership contenders.
Aiming to advance his side to a first grand final on his watch, Allan Chandler's Cougars hit their straps in the second half of the season.
Despite winning 10 on the run, the Cougars could not reel in Heyfield, which for the second year running finished the home and away season on top four games clear, but it all counts for nought this weekend.
Three weeks have passed since Heyfield and Churchill last did battle.
Going into the contest unbeaten, Heyfield was tested early before coasting after half-time to win by 39.
The forward brilliance of Jesse Bedggood and Jess Jackway, with cameo performances from Josh Stubbe and Kodie Woodland proved the difference on that occasion.
However, Chandler will leave the past behind in preparation for the 'Roos.
"We hope to improve in a number of areas where we were convincingly beaten by them last time," he said.
"They are an extremely impressive side and we will be doing everything that we can this Saturday to achieve what no other side has done this year."
Chandler said he was pleased with the side's form after knocking off Rosedale in the qualifying final.
"I was happy with the result on the weekend and in particular our second half, however, our first half was disappointing in a number of key areas," he said.
"The players definitely responded in the third term and we were lucky enough to get the win."
With both side's seniors and reserves to compete on Saturday, positions in the line-ups will be hotly contested.
Chandler said while key position player Brendan Holt "should be right to go", the coach will not be taking any risks.
Holt may be the 'X factor' for the Cougars, with the forward missing the corresponding round 19 clash through injury.
While the week's break is a bitter-sweet scenario, the Kangaroos will not likely show any rust in a bid to advance to a third straight grand final appearance.
Rosedale v Sale City (Elimination Final)
ROSEDALE will need to put a halt to the run and fire power of Sale City, which comes into the knock out final following a convincing 40 point win in the elimination final.
Not dissimilar to their bid for the silverware in 2013, the Blues will have to navigate the long path to go one better and make it to the decider.
With question marks over the availability of last week's best on ground performer, City power forward Jake Schuback, Blues coach Nick Leechino said he would be planning for last week's match winner to take to the field.
"I will be planning for Schuback to play, there is talk about whether he will be available or not due to work commitments, but it is the great unknown for us," he said.
Leechino said this week was "all or nothing" and the club would give it everything.
"We will field a different side to that of a fortnight ago when we last played one another," he said.
"We will take confidence into the match that we have beaten them twice, like us, they know that there are no second chances, it's do or die now."
While disappointed his side missed a number of opportunities in the third term last Saturday, the Blues' first half pleased the coach.
"We can take confidence that we rallied, we have a bit of work to do ahead of this week, but we can take a fair bit out of the game," Leechino said.
"We prepared well coming into the match against Churchill, we got off to the right start and we were in it for a fair part of the contest. I was pleased as to how we went about the first half.
"One man down, when Flanagan was sent off in the third term, we knew that we were up against it, but we did okay to negate them to two goals with them making the most of the extra man. We couldn't hold them with their style of play and one extra man soon took its toll.
"Our turnovers cost us, we didn't capitalise early, we missed a number of shots and on the other hand they were clean enough to get it forward and score. Our lapses cost us."
The Blues' back six is one of the best in the competition and generates plenty of run off half-back.
The side's small forwards are very effective and stood tall in the opening half last week.
With full forward, Andrew Flanagan, accepting a one week suspension Leechino will be looking to the likes of Brandon McDonald, Brad Scott and company to continue their impressive form in the forward 50.
"We have a number of key players in the forward line that can take the goal square in the absence of Flanagan, there will be an opportunity for someone to take the square and be the focal point," Leechino said.
Like the Blues, City boasts an impressive midfield led by Brad McKay, Jake Milham and ruckman Matt Lutze, with the trio catalysts in enforcing pressure which brought Woodside to its knees in last week's knockout final.
While Leechino knows that his side will need to "negate the Dogs' better players early" it will need to contain a dozen key playmakers to win.