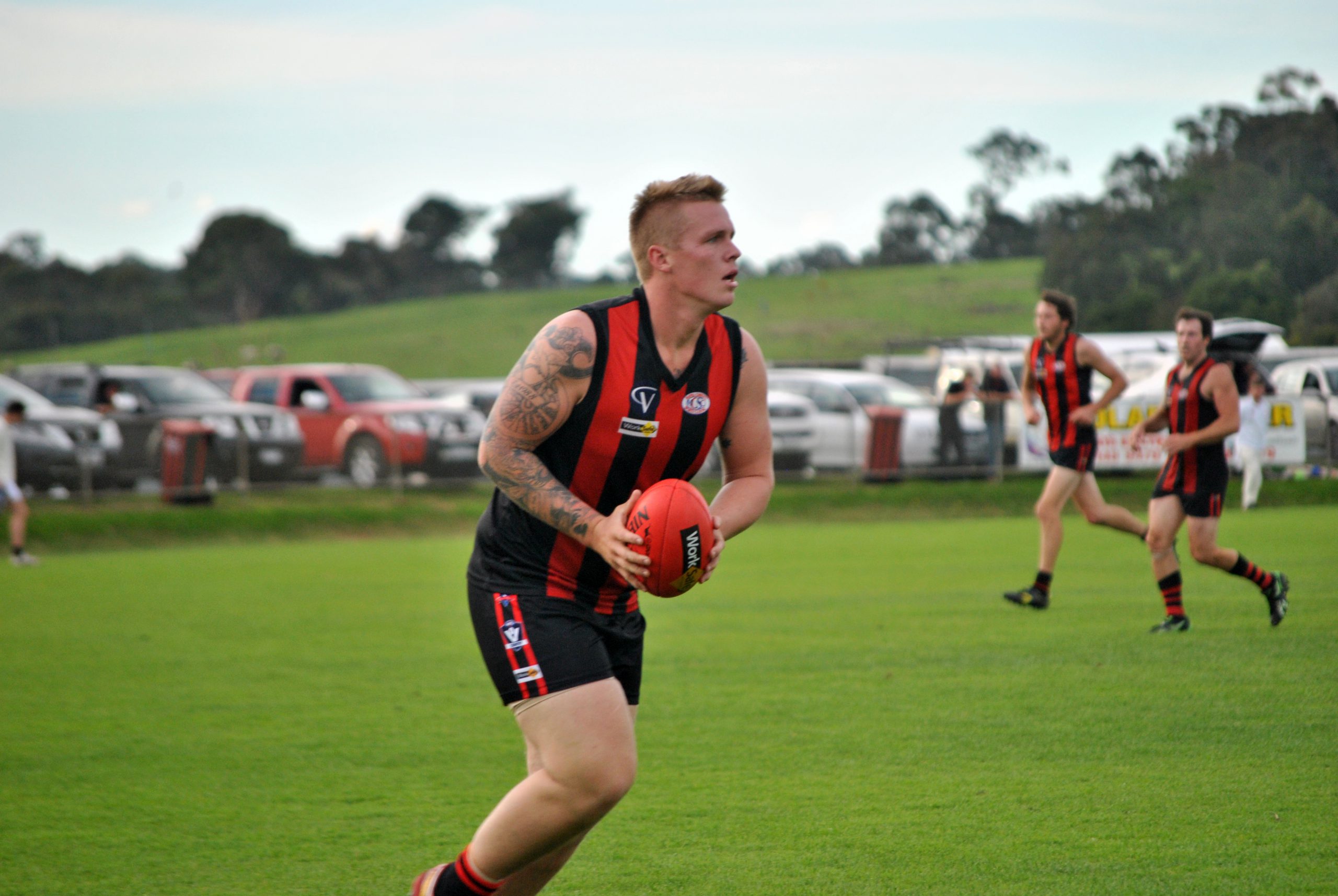 FOOTBALL
GIPPSLAND LEAGUE
A COUPLE of years back Darren Sheen had never heard of Maffra, now he's the talk of the town.
The 26 year-old full forward slotted 16 goals against Drouin on Saturday to crack 100 for the season, and became the first Gippsland League player to do so since Shane Loveless in 1987.
His running tally of 207 goals in 39 games makes him the quickest to reach 200 in league history, and this year's ton was his sixth such season haul to date.
After terrorising the Hawks all afternoon, Sheen booted number 100 20 minutes into the final term, playing advantage from a Ben Batalha-handpass to score a momentous running goal.
A long shot to reach triple figures with 84 to his name prior to the opening bounce, Sheen said he thought the mark was achievable by the final siren.
"I thought if I kicked straight I was a chance, just going on the last three times we played them; I'd kicked 13 or 14… so if the boys delivered the ball well I'd have half a chance," Sheen said.
"I would have liked to have been a lot closer.. but it worked out."
Sheen said his personal goal was always to crack the century, but a senior flag, which he has won three times in his career, always came first.
"It's a nice feeling knowing that I've got it (the 100) in the season and not in the finals," he said.
"It's been 27 years since the last person kicked it so it's a bit special this year because it has been such a long time… I'm pretty rapt to be honest.
"Personally I just try to be as consistent as I can and help the team out."
The key forward came to Maffra last season from Eastern Football League side Heathmont Jets, and quickly settled in the senior line-up.
Now with his family entrenched in the east Gippsland community, Sheen said it had been a nice change of pace from metropolitan life.
"I've absolutely loved it, the team has been unbelievable," he said.
"I've played at a few country clubs before but I've never actually lived… in a small town, I've always been in Melbourne.
"It took a little bit to get used to the country style of living (but)… it's been good."
Revelling in partnership with Daniel Bedggood at the Eagles, Sheen said his goal kicking philosophy was fairly simple.
"I don't think too much into it, just kick through the ball… I don't put too much pressure on… just try to clear your mind and kick the goal," he said.
Sheen twice reached the 100-goal mark for Cora Lynn in the Ellinbank and District Football League, and on multiple occasions at the Jets.
He went goalless just once this year, against Leongatha in round 12, and averaged 5.56 per game, to go with 107 majors in 21 games last year.
His tally of 17 against Drouin last season remains his highest single match effort to date.
Maffra will battle Bairnsdale this weekend in the elimination final, and Sheen reckons the Eagles have the class to go all the way.
"We're probably a little bit back from where we'd like to be but finals is a different game so we've got to go straight through and not lose, and I think we've still got the team to do it," he said.