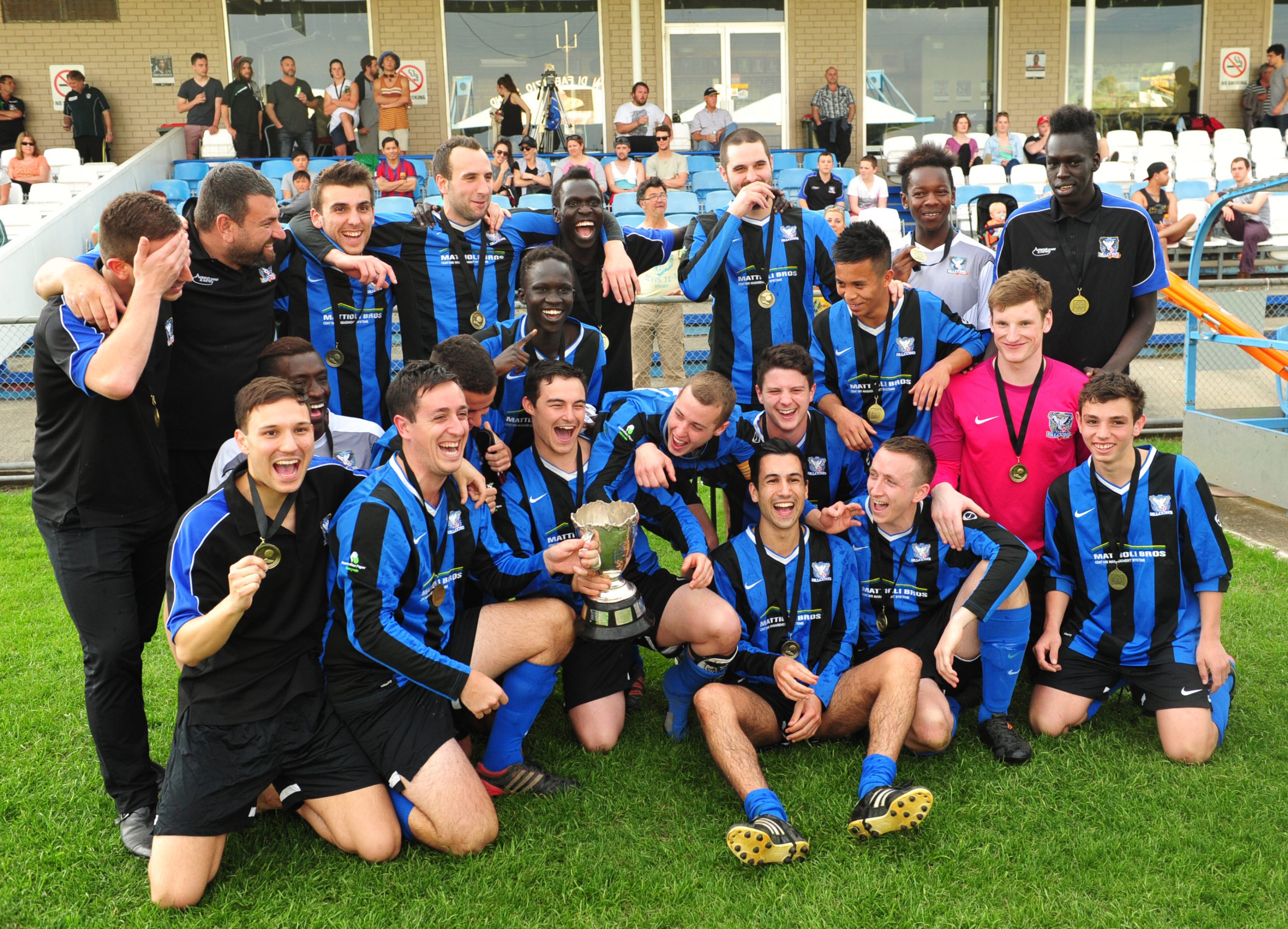 SOCCER
BATTLE OF BRITAIN CUP
By SAMUEL DARROCH
A BRACE from captain Jesse Kennedy inspired Falcons 2000 to a come-from-behind 2-1 victory in the Battle of Britain title bout against Sale United at Latrobe City Sports Stadium yesterday.
Falcons went behind when Slade Whitfield struck for the Swans on 16 minutes, before the league golden boot winner capped off a stellar season with a pair of match winners to send the Morwell crowd into raptures.
An emotional coach of the year Nick D'Alessandro was full of praise for his marquee marksman, along with the entire Falcons squad.
"He (Kennedy) hasn't stopped scoring for me all year so I'm thrilled," D'Alessandro said.
"I was a bit lost for words in the speech because everyone dug so deep this year, it would have been an injustice… if we didn't win today, so just thrilled to be over the line but it was a lot of hard work we put in."
Falcons were unable to respond to the same scenario after going down a goal in the league semi-final against Moe, but lifted to the occasion with Victoria's oldest continually contested cup on the line.
"We haven't been too good at fighting back from one or two goal deficits this year so that was a credit to the boys how far we've come this year," D'Alessandro said.
"A bit nervy but we knew if we kept playing our soccer the chances would come and we were going to get the goal, so just a great feeling."
Sale went into the clash missing captain Ash Ross, midfielder Ray Allred and goal keeper Chris Richardson, forcing a slight reshuffle to the starting line up.
Kristian Phillips began on the right flank, regular striker Jon Piefke was moved into the backline to partner Robbie Stephen while Whitfield took his place up front.
Sale began brightly and soon fashioned a break on goal when Dean Nichols deftly flicked a through ball on for Nathi Khamchom, who was eventually roped off by a scrambling Falcons defence.
It was not long before the Swans hit the front, when a botched Falcons clearance fell to Nichols, who found Whitfield with space and time to neatly finish in the bottom left corner past an outstretched Adam Brooker.
Falcons looked clean in possession but rarely threatened to score in the opening exchanges, while Sale fashioned several opportunities, including a thumping, albeit off target, back post header from Val Chain who rushed up from left back on 23 minutes.
Moments later Tommy Nguyen slipped Nichols through on goal but the final shot lacked potency, before Sale keeper Michael Fitzgerald was put on notice down the other end when Liam Johnson volleyed straight at the stand-in custodian.
Back-to-back headed chances to Piefke and Nichols went begging and Kennedy almost made them pay on 34 minutes when he was left one-on-one with Fitzgerald, but the incumbent number one was up to the test.
A promising build up involving D'Alessandro and Johnson gave Kennedy his second chance in as many minutes, but the first time finish from eight yards hit the side netting.
Threatening solo raids by Nguyen and Nichols ended in off target strikes to close out the half with Sale ahead 1-0, but the lead was short-lived after the break.
Two minutes into the second half Stephen looked to shepherd a ball back to Fitzgerald, but the keeper failed to advance and Kennedy pounced, poking home after losing his feet in a challenge for the ball to draw level 1-1.
Sale picked up the pace and left Brooker stranded at the other end with a chance that bounced off the upright, and looked the regain the lead on 65 minutes when Piefke squared his header from a set piece into the path of Nichols who slotted into the back of the net.
However, Piefke was flagged for offside and the goal disallowed.
Nguyen and Nichols continued to threaten for Sale, and Whitfield had a golden chance to send the Swans ahead with just over 20 minutes to play, but thundered his close range effort way over the bar.
The man with the golden touch then sealed the game from the penalty spot after being dragged down in the box by Piefke.
Sale was unable to find a late equaliser, leaving Falcons to claim the spoils and their first BoB Cup since 2010.
It was a tough day out for the Swans, going down in all three men's cup finals.
The reserve grade Shopwel Trophy was taken out by Falcons 1-0, while Churchill defeated Sale for the Steel Youth Cup 3-0.
Tyers SC claimed the league trifecta by taking out the Browne Huizer Cup 1-0 over Monash.