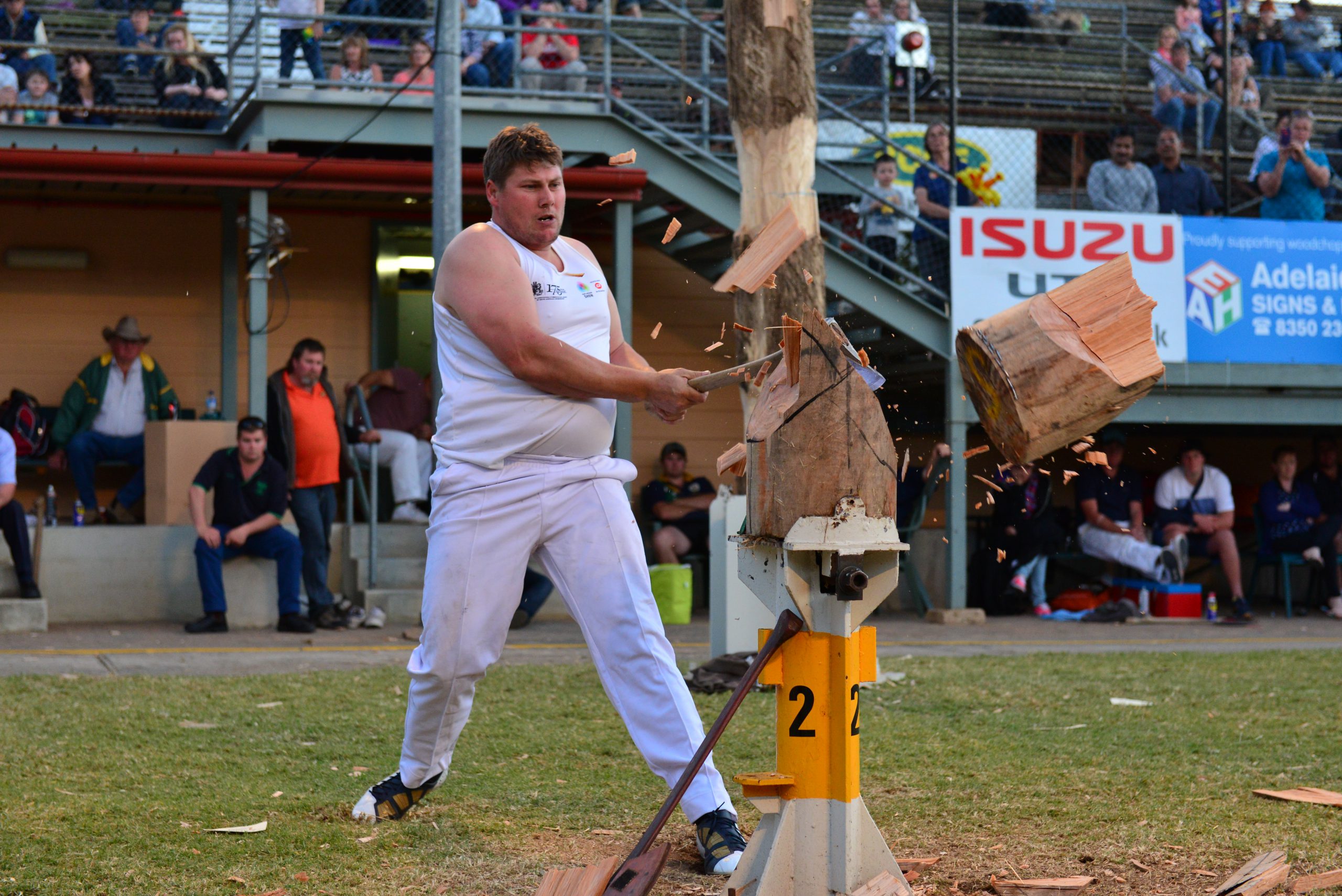 WOODCHOPPING
By SAMUEL DARROCH
THE Adelaide crowd held its breath as the blade fell, cleaving the target in twain.
With one decisive final blow, an axe Toongabbie's Glen Gillam had been out to grind his entire life became a buried hatchet.
The axeman carved out a maiden world championship at last month's Royal Adelaide Show, bludgeoning his way to dual titles in the 14-inch underhand and 13-inch standing block disciplines.
A runner-up finish in his third of four events saw "Chopper" named grand champion of the woodcutting carnival on return to competition following a four-year hiatus.
The 31 year-old proved a cut above the international field, containing the likes of world champions Tasmanian David Foster and New Zealand's Adam Lowe, vindicating years of devotion to his heritage sport.
"I've just been teetering on it for quite some time, competing in previous world titles and placing, but to finally win a world title, it was incredible," Gillam said.
"The best of the best were there and lo and behold little old me knocked them off."
Following in the footsteps of his father and grandfather by taking up the axe when he was "knee-high to a grasshopper", keeping a family tradition alive soon became a labour of love for Gillam. Armed with a combination of natural ability, work ethic, a pair of Dunlop Volleys and a build to rival the proverbial brick… outhouse, Gillam has competed across the globe with success since youth.
"I've been far and wide in Australia and overseas competing, it's a great way of also networking to meet people and places to see," he said.
"You end up at all different little country shows throughout Australia and with that sort of sport following you see places you would never imagine you would ever see in your life, and people you meet, and it's priceless."
Despite his achievements within the sport, a world title proved elusive until a change of perspective took Gillam away from the relentless grind of competing.
He said his break from the sport to focus on work and a young family was one of the biggest factors in his breakthrough championship, and brought with it a new sense of balance in and out of the arena.
"Just focus, I've got a new family… the way I see life now has changed in a sense, going from a young adult to a family as an adult parent… just your mindset changes and it changes the way you think and your ability too, the way you focus," he said.
A diesel mechanic by trade, Gillam is scrupulous with his tools. In much the same way as a cricketer knocks in a prized piece of willow, Gillam said a 100 hours could be spent meticulously preparing a competition axe, priced at anywhere up to $1000. Accordingly, the Gillam household is a treasure trove of woodcutting trinkets, with every axe awarded its own pride of place.
While he now has a biological child to look after, his other "children" still receive plenty of tender loving care.
"They're all like my little children (my axes), but I've only got one real child," Gillam said.
"Let's just say they've got a place in the house where they're looked after and kept, not in the shed under the bench."
Citing hand eye coordination, discipline, skill and balance as key to the sport, Gillam drew inspiration from an unlikely source to explain his secrets to success.
"Like a dancer you've either got two left feet or not and that's what I put it down to, even like ballet, everything just comes in sync, your body is in tune."
And though his balance is generally spot on, there have been hiccups along the way – 40 stitches to repair a sliced leg among them. However, the pain comes part and parcel with the lifestyle, and Gillam would not trade it for the world.
"It's basically just a passion in life," he said.