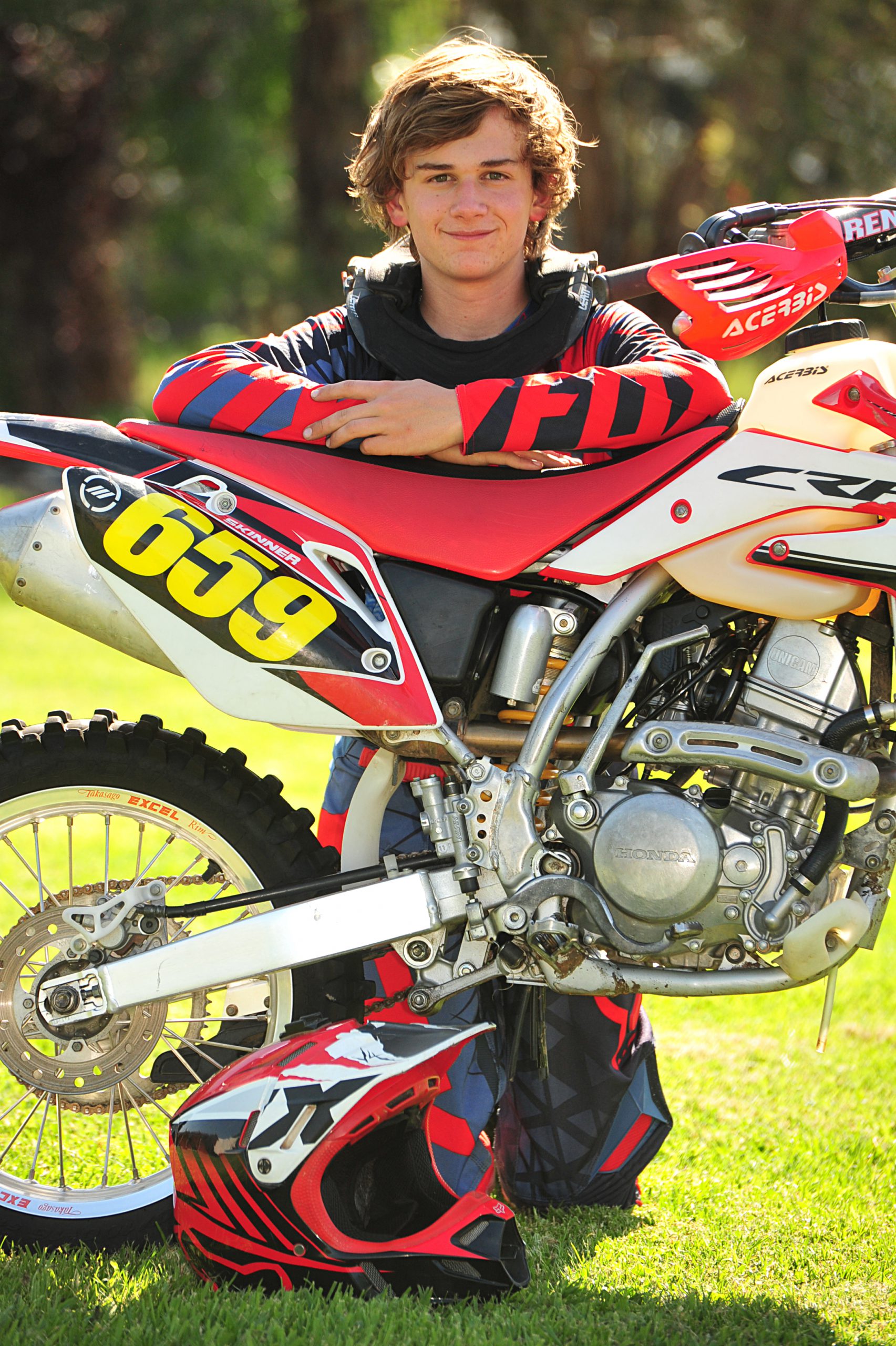 MOTORSPORT
By SAMUEL DARROCH
SELF-taught off-road motorcyclist Lachie Skinner came within 30 seconds of a state title in his first competitive season.
A phenomenal effort for a debutant, but try telling him that.
"I suppose I did alright, didn't win," the nonchalant 16 year-old said.
The Tyers rider led the Victorian Offroad Championship junior two series ahead of the final race on 18 October, and had rival Jack Matthews in his sights as the finish line approached.
However, an untimely crash saw Lachie finish half a minute in arrears of Jack, relegating him to second on the ladder by a single point after 13 rounds.
"It was very emotional, I felt very under pressure," Lachie said.
"I had a lot of bike troubles with losing petrol, but once we fixed that I caught right up to the points leader and then I dropped my bike, crashed, then lost all my brakes and ended up finishing 30 seconds behind."
Lachie began riding bikes aged four, but had not raced until a friend invited him to a Dandenong club meet earlier this year.
Motocross was the first port of call, but after three races Lachie transitioned to offroad, an enduro-style discipline which involves longer circuits through bushland and natural hazards.
"You're very independent in the offroads compared to motocross because you're on your own out in the bush, so if you crash… you've got to get up no matter what, so finishing becomes a priority," Lachie said.
"It's a lot more intense and I'd say a little more challenging with the riding skills needed, more different obstacles." Conveniently, round one of the VORC was hosted in Traralgon, where fifth and third place finishes over the weekend stoked Lachie's competitive fire.
"It was a lot more pressure (competing), I'd never felt the pressure, but it made you better in a way. You actually had something to work for which helps you improve rather than just practicing out on your own," he said.
"It was definitely hard to adapt to, moreso just the aggressiveness of competing with others because you're so close and the speeds, it's pretty dangerous, pretty scary."
His auspicious start proved no fluke, with six second placings and four thirds to follow throughout the season.
While Lachie is yet to win a race, his consistent placings kept him close to the top of the tree, and he occupied first on multiple occasions throughout the year.
The year 10 Traralgon College student said his first competitive foray was a steep learning curve which he would draw from next season in the intermediate class.
"Throughout the year I picked up a lot of different skills… a lot more experience in the competitive side of things and the way the offroads run I had to learn from scratch," he said.
"I don't really believe in coaching days… I kind of like to go out and learn for myself and learn from my own mistakes."
Lachie also finished eighth overall in the national series, despite only contesting half of the rounds on offer.
After surviving "a couple of thousand" hairy moments on the bike, the young daredevil can't wait to do it all again on a bigger, faster ride, though his parents might have more trepidation.