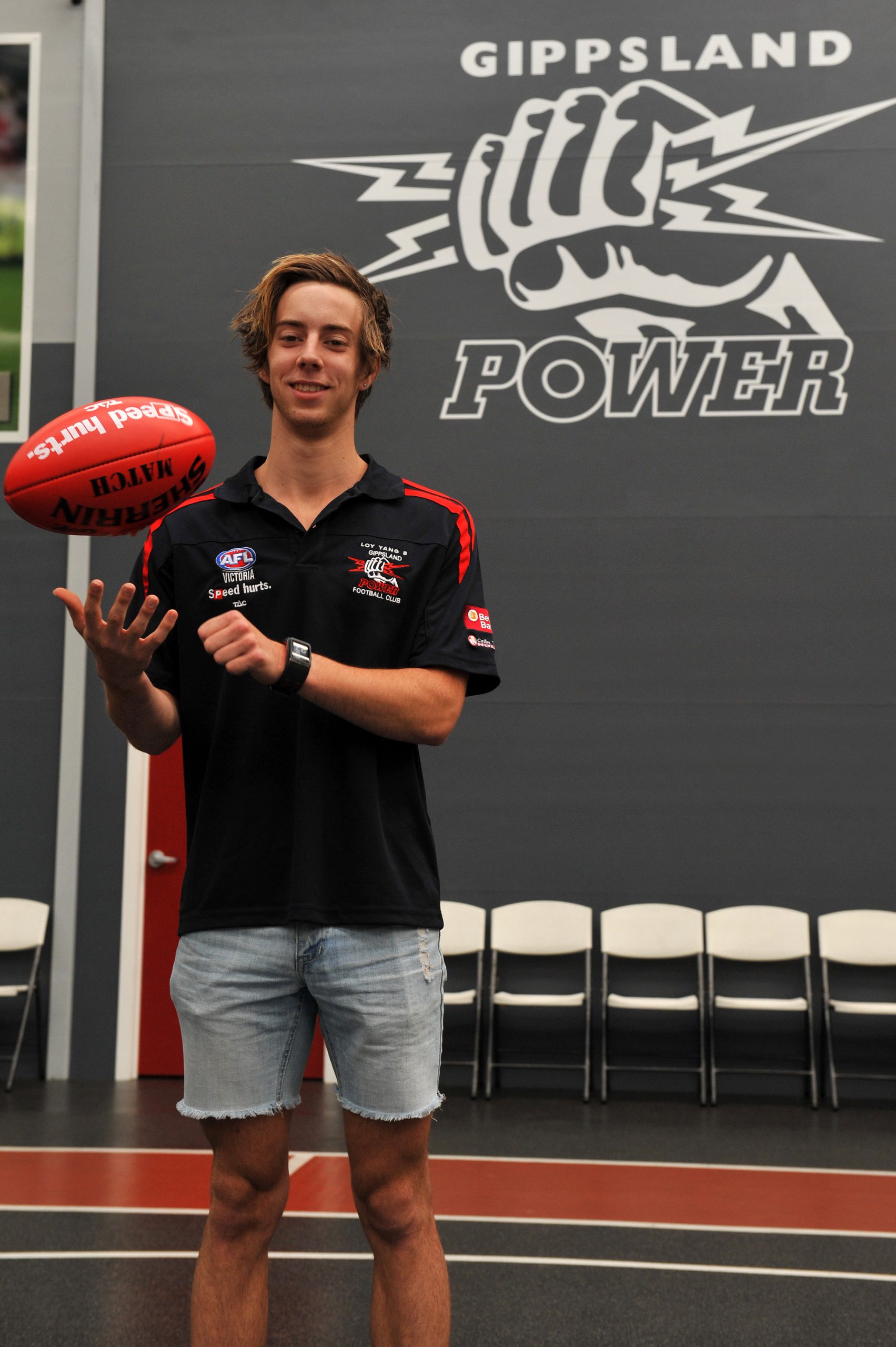 RELATED COVERAGE: Anxious draft wait rewarded
TWO Gippsland Power players were picked up by AFL clubs in the National Draft on Thursday.

Traralgon's Jordan Cunico went at pick 59 to Geelong, while Lakes Entrance left footer Lukas Webb was selected by the Western Bulldogs at 27.
Tipped as a second or third round pick, Cunico was sweating when his name was yet to be called by the fourth round, as was his coach Leigh Brown who said he was more nervous on Thursday than his own draft day.
Surrounded by friends and family on the night, crowded around the tellie, the relief when the Cats finally snapped him up was palpable.
"It was definitely a nervous vibe around the TV," Cunico said.
"Probably was expecting to go a bit earlier but that does happen a bit in the draft, you never know what's going to happen.
"A few of the boys just come up and jumped all over me, it was a really good feeling, pretty surreal."
The dream-like vibe continued as the text messages flooded in from his new clubmates, punctuated by a phone call from club captain Joel Selwood.
"They all just welcomed me to the club, all the boys, it was really nice of them to do that," Cunico said.
The 18 year-old had just the one interview with Geelong about a week after the Draft Combine, and felt it was not a likely destination.
However, the Richmond supporter had no hesitation in a swift change of allegiances and was looking forward to joining camp as early as yesterday.
"Definitely for pre-season work as hard as I possibly can, try to get the best out of myself and really just to play consistent footy, that's one of my main goals and try to get the respect of my teammates and hopefully play a couple of games in the senior side," Cunico said.
His football journey began at the age of six with West End before moving on to Traralgon juniors and later Power under 15s.
It took being overlooked for Victoria Country in his bottom age year for the allure of professional sports to crystallise.
"I was really disappointed I didn't get picked and it really dug in me that I really want this so I've done everything possible to try and work my way up the ranks, try and play Vic Country the next year and I did that… all the things I'd done not so good improve upon that," Cunico said.
Consistent performances with Victoria Country in both under 16s and 18s helped his cause at the draft, averaging 16 touches and six marks at 74 per cent efficiency in five appearances this year.
His improvement at the one per centers late in the TAC Cup campaign also went a long way for the wiry midfielder.
"Playing at the elite level you can't really have any lapses in concentration, I think I really found that out this year playing at Power and Vic Country, you always have to be on the ball," Cunico said.
With a directive from Brown and talent manager Peter Francis to work on his contested footy, Cunico said his improvement in that area "really helped me get across the line".
However, he acknowledged there was still work to be done in that facet, and packing on a few pounds would not hurt either for the aspiring Cats winger or half-back.
"I'll definitely need to bulk up a bit, I only weigh about 72 kilos so I'll be like a little kid down there, just the contested side of the game probably needs to improve again and tackling," Cunico said.
Cunico thanked Brown and Francis for their guidance, and his father Max, a former Traralgon and Victoria Country footballer himself who had been instrumental in advancing Cunico's game.
A close friend of Webb's inside and out of the Power system, Cunico said he was "ecstatic" for his mate to get a look-in too.
Webb averaged 15 touches, three marks and two goals at 72 per cent efficiency in five games in NAB AFL Under-18 Championships this season, and was among the Power's most influential players when relieved from duty for Caulfield Grammar.
The anxious wait continues for the likes of Christian Buykx-Smith and Morrish Medallist Alex Carr who are still a chance to be picked up in this week's rookie draft.
Buykx-Smith, who was invited to the Draft Combine despite missing much of the year through injury, would have the option of returning as an overage player for Power next season.
Should Carr miss out he appears set to join his brother Ed at VFL club Williamstown.