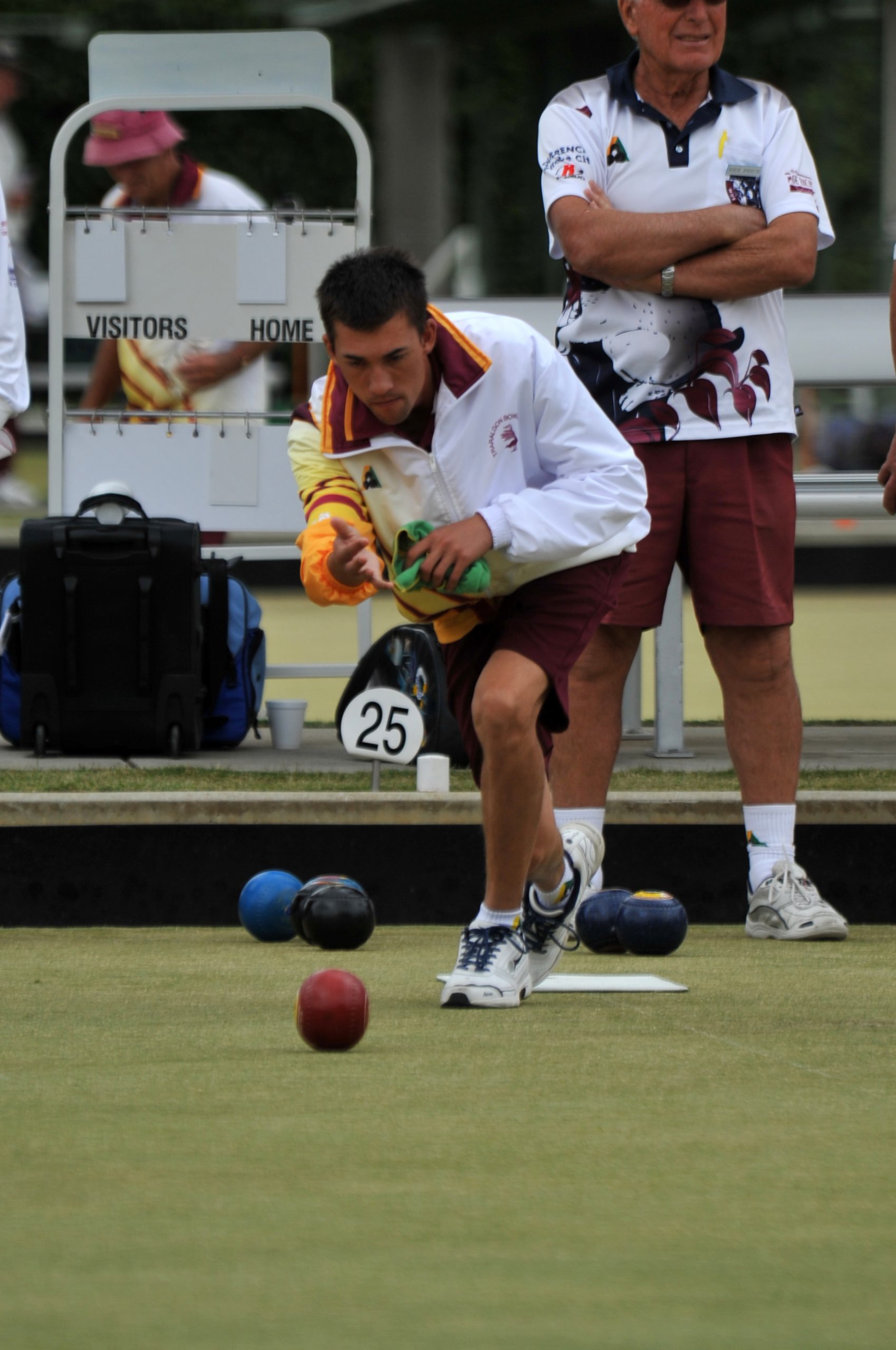 LAWN BOWLS
WGBD
THE penultimate round of the West Gippsland Bowls Saturday pennant competition had Yallourn host a Traralgon RSL side eager to edge within striking distance of the top four.
The green was quick with lots of draw and conditions were pleasant for bowls.
Traralgon RSL was competitive throughout the contest, however Yallourn was too strong on three of the four rinks played.
The host was in a strong position at afternoon tea with a 25-shot lead.
Maurie Gardiner's quartet began well, leading 5-2 early before George Lambos' Yallourn men rallied to lead 19-11. Ultimately Yallourn's Jeff Wetzel, Charlie Ward, Alex Houston and Lambos defeated Aarin Tunks, Dale Wison, Beau Williamson and Gardiner 25-17.
Max Grubb, Barry Daley, John Hannant and Kevin Lovett of Yallourn were also successful over Robert Marsh, Terry Hunter, John Van Berkel and Dave Morley of RSL 24-20.
Lovett started well and held sway at 12-4, before Morley pegged him back to 9-12 then slipped in front 17-16.
Lovett then finished strongly to win by four shots.
Nosha Michaels, John Backman, Peter Phillips and Ken Capper made it three rinks for Yallourn with victory over Brenden Smiles, Alan Kanavan, Kevin Durwood and Rick Lukey 25-18. Capper was on fire early to gain a 10-0 advantage which he extended to 23-5 before Lukey narrowed the gap over the last few ends to lose by seven.
Doug Jowett, Brian Wilkinson, Neil Ellery and David Hodson ensured there was no clean sweep by winning a rink for RSL 25-17 over Matt Leicester, Greg Lewis, James McCausland and Alan Grubb.
An even game early saw Grubb ahead 10-8, then 17-16 before Hodson won the last five ends to steal the result. Grubb was responsible for killing numerous ends and as a consequence the game finished late in front of a big crowd as Yallourn celebrated wins in all grades.
In the other division one matches Warragul won convincingly against Morwell Club 107-79, Traralgon was too good for Moe 108-81 with the loss of one rink and Drouin had a comfortable win against Trafalgar 106-82.
Women's round robin
A team of West Gippsland women has been selected to compete against a South Gippsland side on Friday in a round robin event at Meeniyan.
At the end of the day's play a team of 12 women will be selected and announced from the two divisions to represent the Strzelecki Region at the Region Sides Championship at Murray Downs on 18 and 19 March.
WGBD Saturday Pennant Round 13

DIVISION 1 Pts Shots Pts Shots
Warragul 18 107 Morwell Club 2 79
Traralgon 18 108 Moe 2 81
Drouin 16 106 Trafalgar 4 82
Yallourn 18 91 Traralgon RSL 2 80
DIVISION 2 Pts Shots Pts Shots
Yallourn (2) 18 108 Traralgon (3) 2 76
Morwell 18 102 Traralgon (2) 2 94
Garfield 18 97 Neerim District 2 88
Longwarry 18 111 Moe (2) 2 83
DIVISION 3 Pts Shots Pts Shots
Traralgon (4) 18 85 Traralgon RSL (2) 2 80
Drouin (2) 17 98 Trafalgar (2) 3 86
Yinnar 19 102 Thorpdale 1 82
Yallourn (3) 18 84 Warragul (2) 2 75
DIVISION 4 Pts Shots Pts Shots
Morwell Club (2) 18 100 Yallourn North 2 84
Morwell (2) 18 111 Boolarra 2 97
Warragul (3) 18 99 Yarragon 2 80
Neerim District (2) 18 99 Garfield(2) 2 68
DIVISION 5 Pts Shots Pts Shots
Yallourn (4) 14 72 Yinnar (2) 2 65
Traralgon (5) 12 68 Traralgon RSL (3) 4 65
Morwell (3) 14 87 Moe (3) 2 67
Drouin (3) 14 78 Trafalgar(3) 2 65
DIVISION 6 Pts Shots Pts Shots
Warragul(4) 8 49 Garfield(3) 2 47
Yallourn (5) 10 57 Yallourn North(2) 0 40
Traralgon (6) 8 64 Morwell Club(3) 2 31
Longwarry (2) 10 55 Warragul(5) 0 37
Morwell(4) 8 60 Traralgon RSL (4) 2 49
WGBD Tuesday Pennant Round 12
DIVISION 1 Pts Shots Pts Shots
Drouin 8 70 Traralgon RSL 8 70
Traralgon 12 64 Yallourn 4 63
Warragul 15 94 Yinnar 1 47
Morwell Club 12 77 Trafalgar 4 70
DIVISION 2 Pts Shots Pts Shots
Morwell 16 88 Drouin (2) 0 63
Traralgon (2) 12 74 Morwell Club (2) 4 73
Moe 16 94 Neerim District 0 42
Garfield 12 63 Yallourn (2) 4 60
DIVISION 3 Pts Shots Pts Shots
Warragul (2) 14 72 Yallourn North 2 50
Moe (2) 14 72 Traralgon (3) 2 55
Yarragon 9 67 Traralgon RSL (2) 7 67
Morwell (2) 13 85 Trafalgar (2) 3 70
DIVISION 4 Pts Shots Pts Shots
Morwell (3) 10 62 Traralgon (5) 0 20
Drouin (3) 8 45 Trafalgar Park 2 42
Longwarry 10 79 Drouin (4) 0 35
Yallourn (3) 10 63 Moe (3) 0 30
Yinnar (2) 8 50 Traralgon (4) 2 48