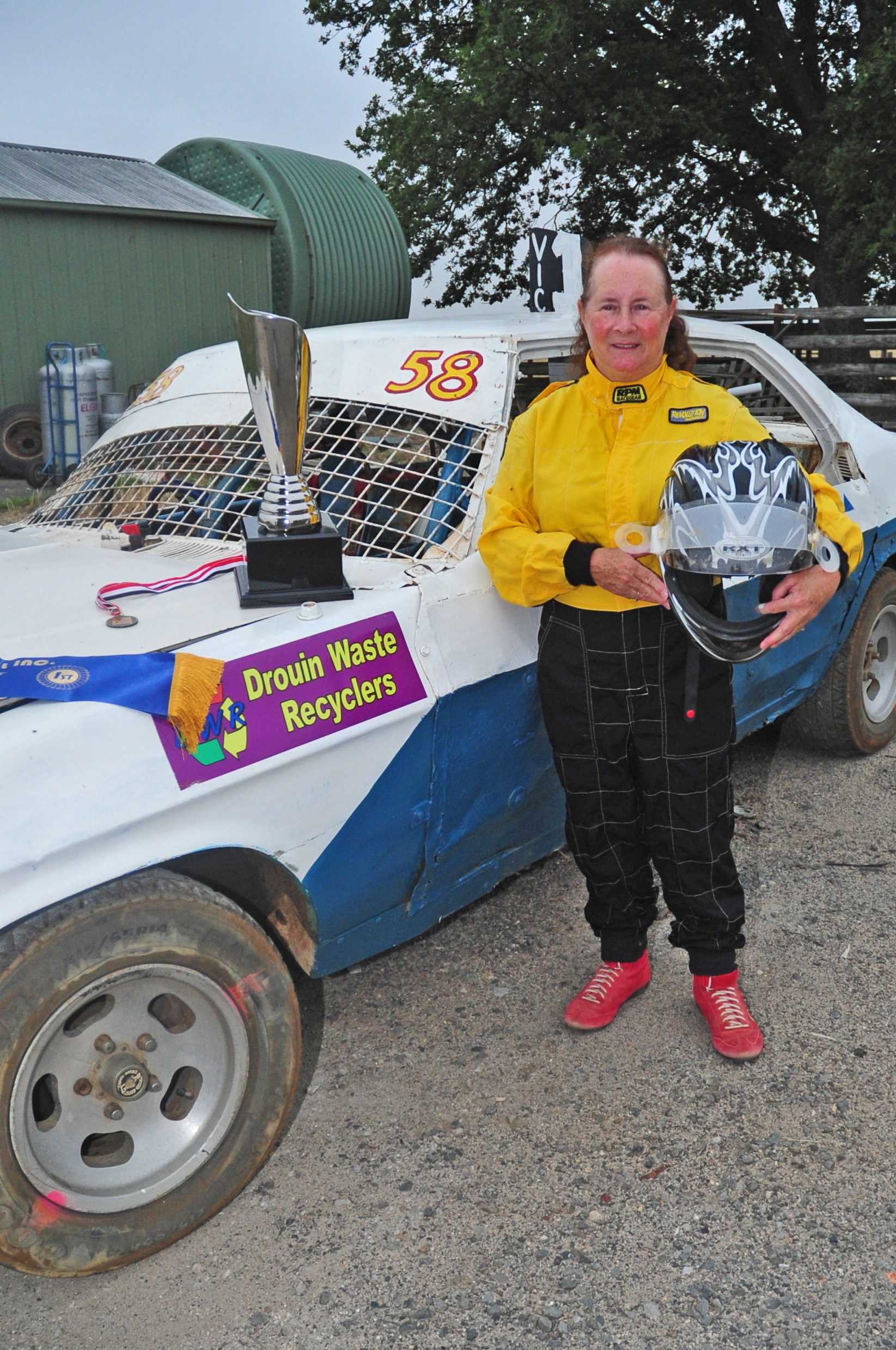 SPEEDWAY
By SAM DARROCH
SHE may be "the oldest one out there with the oldest car", but when the starting flag drops on the speedway circuit age is no barrier to success for Anne Gooding.
At 63 years of age, the Moe racer enters this weekend's Victorian Speedway Standard Saloon state titles at Alexandra as defending champion and the woman to beat aboard her beloved Kingswood.
Dubbed 'Lead Foot Annie" by her brother and local speedway personality Peter Gray, last year's title was Gooding's first, and she hopes to add another to the trophy cabinet despite a less glamorous run of form in recent times.
"To be honest (my results have been) not as good as they were, I said I had the curse of the big one, we found a couple of little issues with the car but they've been rectified and hopefully we'll do alright," Gooding said.
"People do expect you to (go back-to-back); they've said you've got to defend your title… we'll give it a shot and see what happens."
Gooding won the 2014 title at Bairnsdale, one of her favourite venues, last January after qualifying fourth for the final.
While less familiar with the Alexandra track, her most recent visit was last June, the Drouin speedway member is comfortable enough at the host club.
"Those that race up there regularly have got a home track advantage, there's a couple of girls that could be threats to me so to speak," Gooding said.
"The big thing is as long as we can finish, put the car on the trailer at the end of the day and have a good day's racing that's a highlight on its own."
One of the biggest threats to the crown will come from Gooding's daughter, four-time state champion Kelly McDermott, who is also likely to compete.
The pair has faced off on the track in the past, most recently on 15 March at Drouin when McDermott was unable to finish due to car problems.
Gooding said while both would be putting the pedal to the metal, a family-themed podium would be a welcome outcome.
"It would be wonderful to have a mother-daughter on the podium, but we'll just have to wait and see," she said.
Other contenders for the title include Morwell's Sammi Mowat, whose daughter will also race in the junior category, Melissa Tatterson of Trafalgar, Yallourn North driver Renee Parsons and champion at Alexandra in 2000 Tracey Ingram from Warragul.
The titles will take place on Saturday at Alexandra.