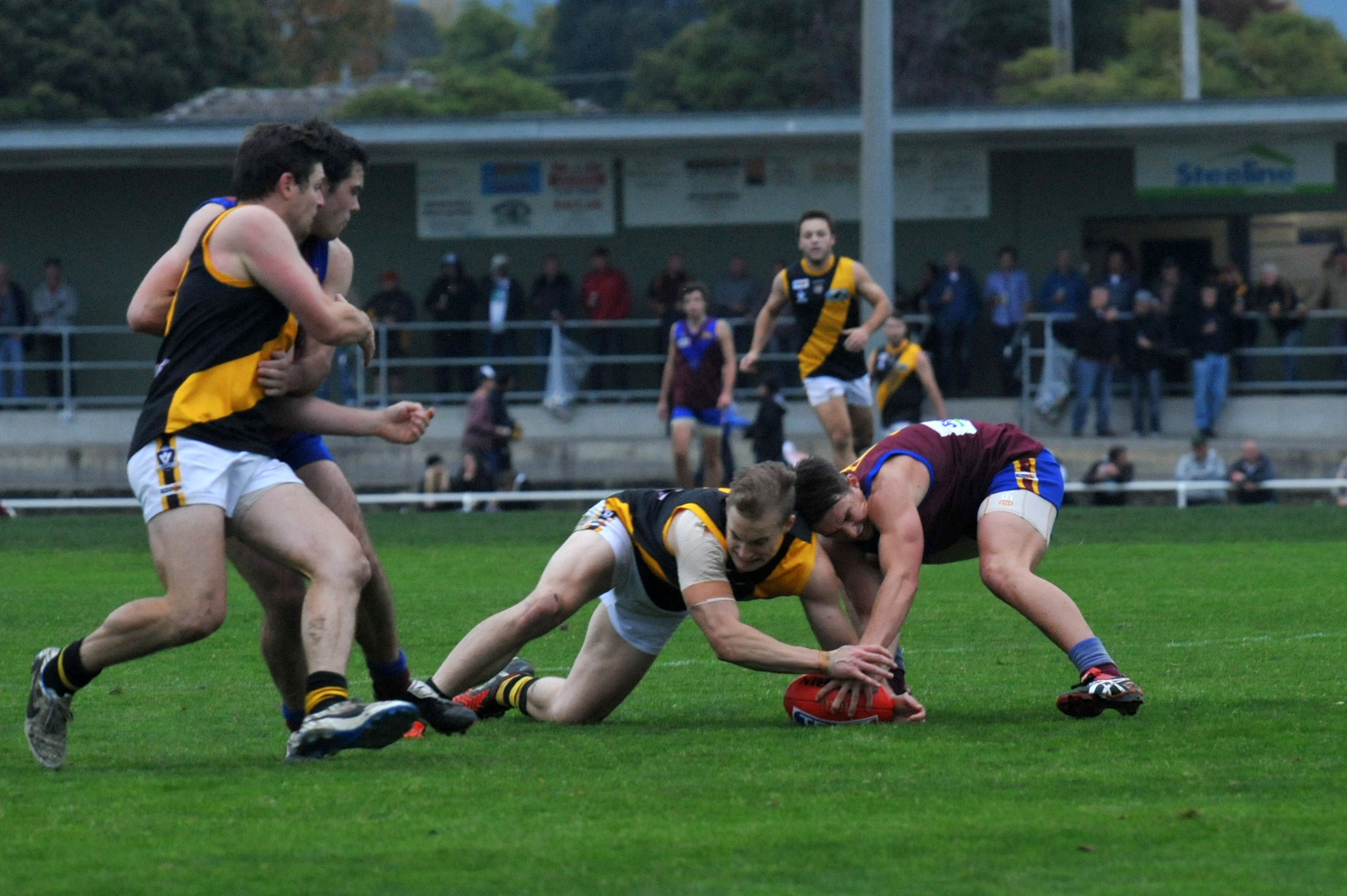 MORWELL bounced back from a tumultuous week, which saw the sacking of coach Dean Warren, to produce its first win of the year over Moe on Saturday.

"Obviously, it's been a massive week. We just wanted to get the first win on the board, it's a big relief," new coach Joel Soutar said.
The premiership captain's senior coaching debut could not have come on a bigger stage, with the Tigers taking on Valley rivals the Lions on Anzac Day.
"It's a big day. You love playing on those sorts of occasions and that's what I said to the boys; it's about mateship and being a tight group," Soutar said.
Morwell got off to a good start and led by 16-points at the first change, however it was during the second quarter that the Tigers really got on top to lead by 18 at half-time.
"They (Moe) came out pretty hard at us after half-time, but in the last 15 minutes of the third quarter we got on top again and went into the break about five goals up," Soutar said.
The Tigers slammed on five goals to one in the last, to run out a 57-point winner.
"It's just a relief to get the first win on the board. We had 21 contributors this week, which is something we haven't had over the past two weeks; everyone did their bit," Soutar said.
A week after his premature retirement, Michael "Chunky" Duncan returned to the line-up.
"Yeah we are stoked to have the big chunk back," Soutar said.
However it was the younger players that attracted the attention of Soutar.
"Our young kids were really good; James Jacobsen, Riley Hogarth, Brad Brereton who kicked four and Mannon Johnston who kicked six," Soutar said.
Like many of the young Tigers, it was also learning curve for the new coach.
"I was pretty nervous before the game. When I'm out there I just have to try and find the balance between when to coach and when to play and concentrate on my footy," Soutar said.
Leongatha v Maffra
UNDEFEATED after three rounds, Leongatha sits on top of the ladder.
The Parrots' third straight win came in terrible conditions in a mud pit at Maffra.
"Yeah obviously I am very happy with the way the season has started, but we have got to keep going and keep improving," coach Beau Vernon said.
"It was terrible (the conditions) to be honest. A lot worse than last week; it was just a mud pit. The week before, at least we were on a nice surface with bad conditions."
Leongatha led by 14-points at quarter-time.
It was low scoring in the second, when there was just one goal to three kicked in a messy term; even the jumpers were hard to make out.
The visitor extended its lead to 26 points in the third, before kicking four in the last to run out a 44-point winner.
"We were well prepared for it, we played in those conditions the week before but I just think we have got a tough, hard team that doesn't mind getting its hands dirty and that's not just five or six players, it's all 21," Vernon said.
Jake Best was the stand out for Leongatha in a performance that included five majors.
His counterpart at Maffra was also named best on ground for his side; Darren Sheen booted two.
Bairnsdale v Warragul
Bairnsdale notched up its first win of the season by 10 points, over a defiant Warragul.
"It was nice to get the win at home," Redlegs coach Shaun Mooney said.
"We have got a long way to go. We certainly didn't play our best football, but all credit to Warragul, they fought back hard. Our more experienced players stood up at crucial parts of the last."
One of those players was James Gibbs, who was a welcome inclusion back into the Redlegs side.
Gibbs booted five, in a performance that earned him a spot in the best.
It was the second consecutive year Bairnsdale has hosted Anzac Day football.
"It was absolutely fantastic. That's the second year we have had the opportunity and the privilege to play on Anzac Day," Mooney said.
Bairnsdale got off to a good start, however Warragul came back.
The Gulls trailed by 24 points at quarter-time, by the half the visitor was back within two goals.
By three-quarter-time, the margin was just seven points.
Mooney said he was particularly impressed by the performance of one his newest players.
"Adam Walker's four quarter effort will give him plenty of confidence going forward," Mooney said.
Traralgon v Drouin
TRARALGON has proven it will be a force to be reckoned with in 2015, notching up its second win in as many weeks.
Yesterday's 70-point win ended Drouin's unbeaten start to the season.
"It was good, everyone was doubting us after round one and we have come out and proven how good we can be," coach Mark Collison said.
"We just played as a team I think, that's the good thing about today, we are just working together and really becoming closer as a group."
Dominating in defence, the Maroons led at every change to secure the four points and a spot in the top five.
"We just really focused on working as a team and we just worked for each other, we want to play for each other, which is really good," Collison said.
Tim Northe was named among the best on return from injury.
"He's a star. He works hard. He is just a gut runner, great kick of the footy but he has played a higher level of footy in the VFL and that's what you get when you get players back of that standard," Collison said.
Drouin coach Bob McCallum was gracious in defeat.
"It's probably the first time we have come up against a side that is really good in defence and I just think we got overawed by the situation. But we have got plenty of things we can definitely improve on, and probably areas where we thought we should have beaten them in," he said.
McCallum said the loss would serve as a good lesson to his young side.
"I think Traralgon is going to be up there somewhere in the finals, that's the benchmark we have got to get to, and we relish the challenge," McCallum said.
Kicking four last week, Ben Hughes added another three to his tally, while McCallum was named best on ground.
However the coach was quick to talk up his newcomers.
"We thought Josh Seri really played his role well; a young player with leg speed who really played his role today and Liam Axford who is coming back from injury. We used him as a crumbing forward and we thought he did a good job for his first game," McCallum said.
Wonthaggi v Sale
IN action at home for the first time in 2015, Wonthaggi returned to the winners' board with a victory over Sale.
"It was good to get home and have a good win," Power coach Rob Railton said.
"It was a big arm wrestle in the first half. In the third we were able to kick away."
Wonthaggi turned a 12-point lead at half-time into a 32-point buffer at three-quarter-time, before running out a 46-point winner.
"I thought it was an important game in terms of how we start the year," Railton said.
It was a milestone day for Wonthaggi with club stalwart Phil Young playing his 200th.
"He started as a young wing/midfielder and now he's the real heart and soul of the group; a defensive forward and one of our more revered clubmen," Railton said.
However it was the younger Power players that won the applause of the coach.
"Byron Dryden, Aidan Lindsay and Joel Liddle led the way in the midfield, while Earl Shaw was good in the ruck," he said.