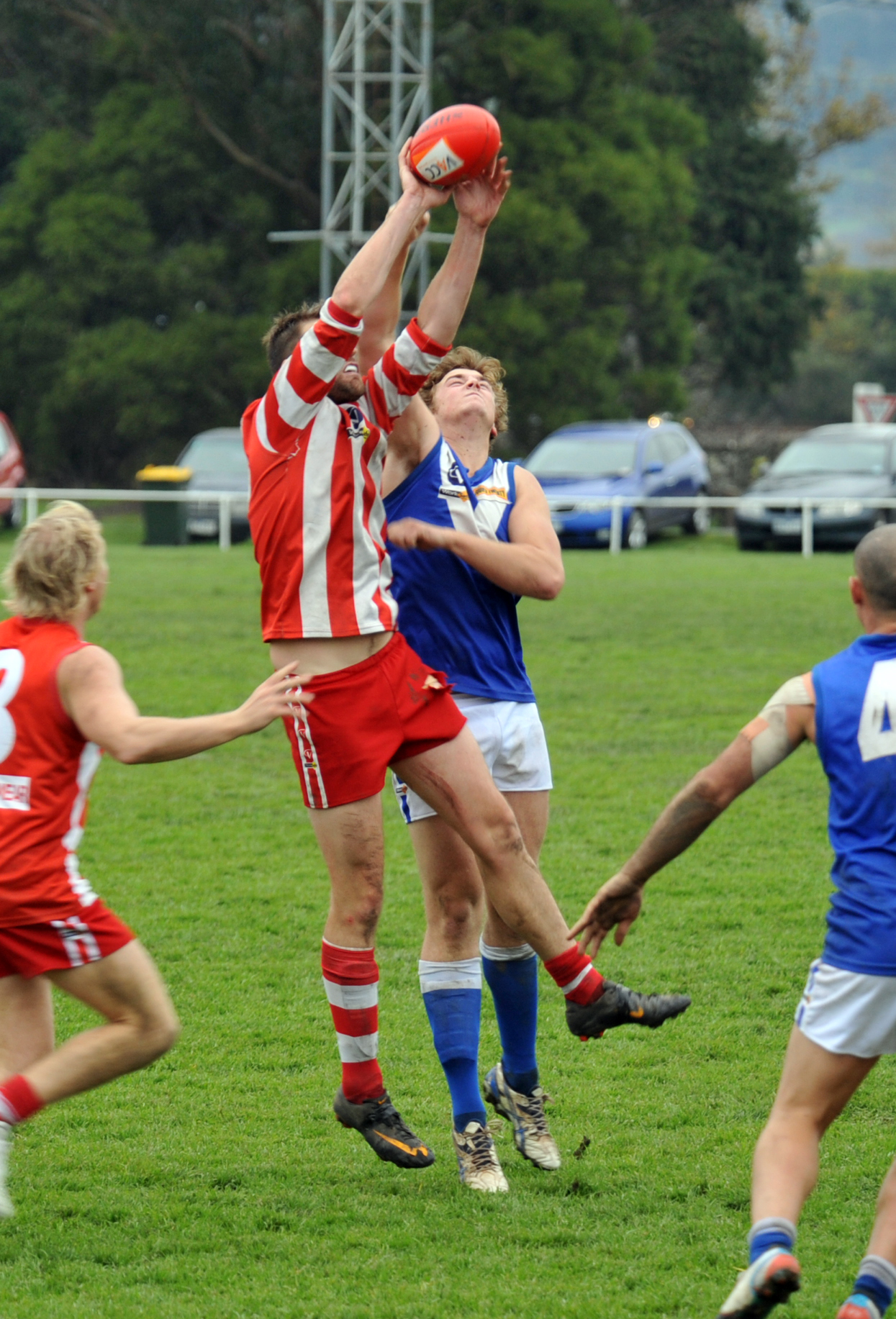 TWO of the early favourites went down in a mixed bag of Mid Gippsland Football League round three results.
Last year's premier Mirboo North failed by 26 points against 2014 grand final opponent Newborough, while Thorpdale won its first match over Trafalgar by 21 points.
Boolarra got in against Hill End by 19 points and Yallourn-Yallourn North won its second on the trot with a 19-point win over Yarragon.
Yinnar zoomed to the top of the ladder with a 75-point drubbing of Morwell East but showed a bad case of inaccuracy with 10.24 as its final tally.
Mirboo North v Newborough
LAST year's premier Mirboo North went down to Newborough in the grand final replay by 26 points, 13.11 (89) to 9.9 (63).
Mirboo North had six changes to contend with, which upset the balance of the team.
The match was fast-paced with both teams striving to outdo each other; an 11 goal first quarter gave fans plenty of excitement as Mirboo North led by 10 points at the break.
The margin was still the same at half-time with neither team gaining any headway.
Cool conditions kept players busy as Mirboo North held sway at three-quarter-time, although Newborough had whittled away the lead to six points.
The battle was set for a torrid last quarter but the reigning premier froze in its tracks as Newborough took over.
The Dogs ran riot in the last term to partially avenge their past two grand final losses to the Tigers.
Newborough added 5.2 (32) and kept Mirboo North scoreless to run out winners by 26 points.
A recalled Stuart Robertson was busy up front and he kicked four goals while Josh Keyhoe bagged three. The Tigers lacked a good forward as Newborough put the pressure on, with Liam Carolan and Brennan Mills playing good football.
Kris Berchtold, Ben Ah Mat and Dwayne Gunn played well but there were no excuses for the big last quarter fade out.
Yinnar v Morwell East
IT was a virtual no contest as Yinnar flew to the top of the table with a 75-point win over Morwell East.
The winning margin would have been greater had Yinnar forwards kicked accurately.
A 1.12 first quarter was a paltry result for their attacking efforts as poor straight shots, hurried shots and questionable choices led to a subpar scoreline.
Coach Nick Lecchino would have been livid with the effort; Yinnar had all the play, was never beaten in any position but could not buy goals.
They did however keep the East scoreless for the term.
The second quarter was not much better although Yinnar did convert at least four out of 10 shots at goal to build up a substantial lead at half-time.
Yinnar never showed signs of letting up, choking Morwell East which barely got the ball into the forward 50 zone, keeping the East to just 1.3 for the match.
The beaming light for Yinnar was Tim Aitken who kicked six goals.
Best for Yinnar were recruits Julian Blackford, Jaime Aitken and Kane Grinstead-Jones.
For Morwell East it was scarcely a true reflection of its potential, though newcomer Tyler Scott, Adam Duncan and evergreen Wes Amalos all tried hard as Yinnar ran out winners 10.24 (84) to 1.3 (9).
Yarragon v YYN
YALLOURN-Yallourn North won its second successive match, a feat which has not been produced by the Bombers for a number of years.
There is now plenty of excitement at YYN and a feeling it could be a real contender.
The Bombers ended up winning by 25 points with greater accuracy than Yarragon, as both teams had 17 effective scoring shots.
The enthused Bombers started brilliantly with six goals on the board which left the Panthers down but not out of it.
Yarragon missed easy chances to goal and at half-time had more scoring shots but was down by 14 points. Goal kickers at both ends were busy with Barry Brooks and Tim Phillips both scoring five for the Bombers while Troy Lehman bagged another five for Yarragon.
The game reached a stalemate in the final term with little between the two sides, though YYN eventually clinched the points 13.4 (82) to 8.9 (57).
For YYN Tyler Brown, Phillips, coach Adam Bailey and Luke Norder were best while the Panthers had Scott Wood, Corey Milner and Nick Pratt among their best.
Thorpdale v Trafalgar
THORPDALE became giant killers, relegating the highly fancied Trafalgar to a second successive defeat in a boil-over.
The Blues had coach Nathan Scurrah back in but still missed a handful of injured players on the sidelines.
Thorpdale set up the win in the first term and Trafalgar was never able to breach a 15-point gap. Trafalgar also had many key players sidelined and its forward line was a non-event as Thorpdale showed more grit and determination.
Even the loss of Daniel Hammond with a suspected broken leg in the third term did not deter Thorpdale.
For Thorpdale, former Coburg recruit Jack Yelland was voted best with Harley Foat, Aaron Lancaster and Daniel Martin lending good support.
Ilan Osman continued his goal sharking ability with a further three to his season tally.
For Trafalgar, Ash Payne, Joel Bragagnolo, Jamie Hinds and Daniel Mann all put in as Thorpdale emerged victorious 7.10 (52) to 4.7 (31).
Boolarra v Hill End
A big six goal second quarter was the difference between the Demons and Hill End as Boolarra won by 19 points.
Despite hanging on, Boolarra was not prepared for a Hill End fightback which came in the last quarter. Trailing by 33 points at three-quarter-time the Hillmen put in a brave performance in the last term, adding 3.2 (20) while keeping the Demons to 0.6 (6).
Ken Towt was strong for Boolarra with four goals while Matt Coutts bagged three for Hill End.
Nick Hider played a blinder for Boolarra with good support from Luke Conway, Andrew Thorpe and Kyle Sleep.
For the Hillmen, former coach Justin Rea, Dylan Briggs, Lachlan Fanning and Mugsy Mooka all put in a great effort as Boolarra won 12.12 (84) to 9.11 (65).