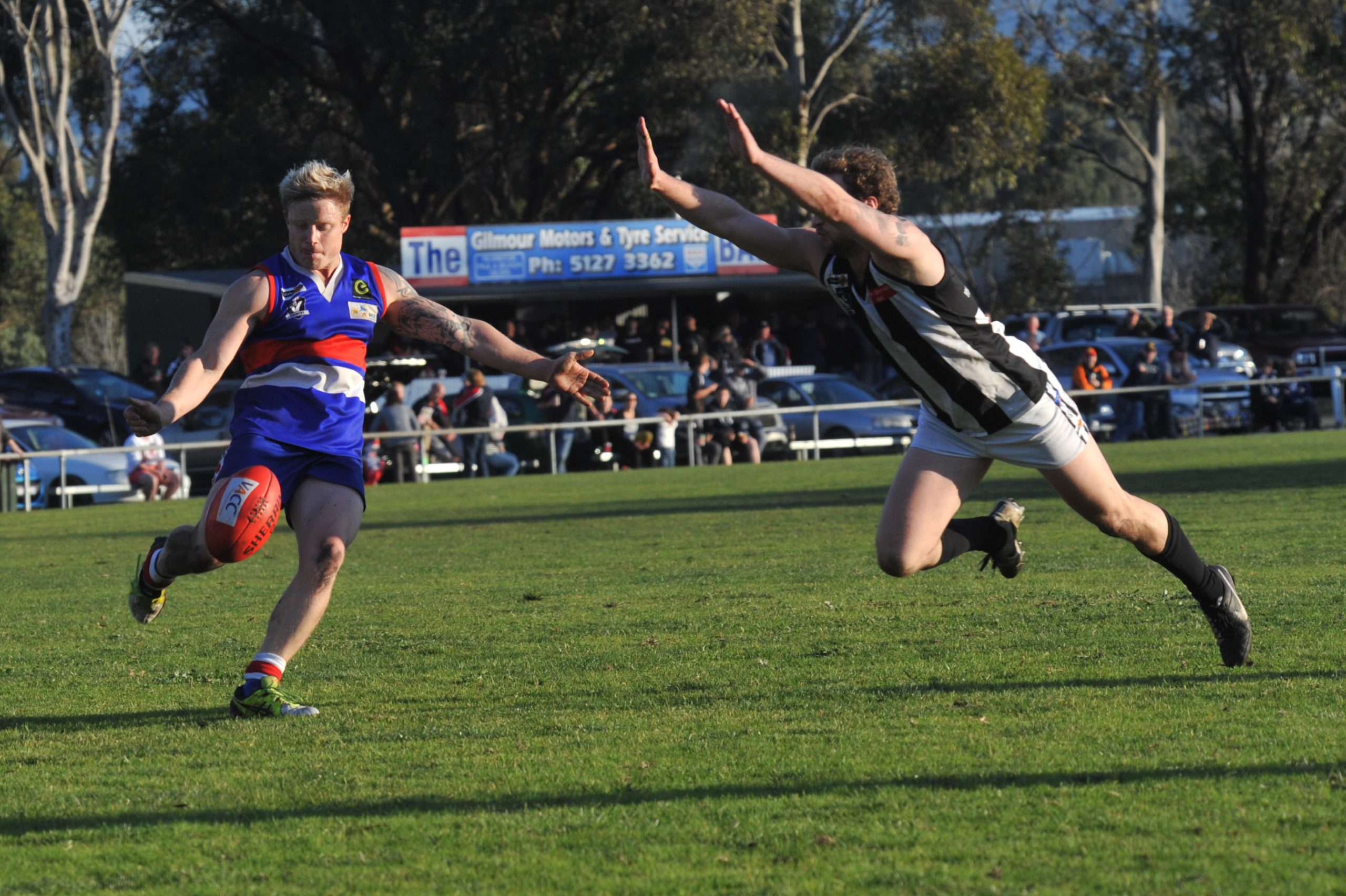 YALLOURN-Yallourn North completed the first half of the season on top of the Mid Gippsland football ladder, icing off a monumental turnaround.

The Bombers finished bottom in 2013 and 2014 and now head the pack thanks to a surprise win by Newborough over Yinnar.
Adam Bailey's men have now put eight successive wins on the board and are looking a likely candidate for a grand final berth.
Newborough v Yinnar
NEWBOROUGH pulled together a gutsy six-point win to upset Yinnar in the match of the round.
The Dogs last week dropped their bundle against Morwell East but recovered to defeat the top side in an unforgiving encounter.
After a tense goal-for-goal first quarter neither side was able to gain the ascendancy with 4.1 (25) each at the change.
Goals were hard to come by with both defences on top in brilliant conditions.
It was a struggle, but Newborough found something extra to post 2.2 (14) to 1.2 (8) in a fiercely-fought second quarter and led by six at half-time.
The third quarter saw a drought on the goals-front as the ball bounced from end to end.
Newborough had most of the possession but could only manage 1.3 (9), while Yinnar added just one minor score in the face of stingy defence.
The Dogs went down to 17 players after Josh Pearce was sin-binned for 15 minutes, but held things together in his absence.
Liam Carrolan was a leader, giving his team-mates ample chances, and Stuart Robertson was also busy in the midfield.
Yinnar tried to make inroads to the attacking zone but Newborough proved too strong, as the Magpies only got in their 50-metre zone seven times.
Seven goals were kicked in a frenzied last term; Yinnar drew within six points but could not bridge the gap, although Tim Aitken scored three to pull back the deficit.
With only minutes to go a spectacular goal to Pearce pushed the lead back out to 12 points, but Yinnar refused to give up and scored on the siren to go down by one kick, 10.6 (66) to 9.6 (60). The loss dropped Yinnar down from top to second, while Newborough stayed in fourth with a healthy 6-3 ledger for the first half of the season.
Liam Carolan finished with four for Newborough while league leader Aitken was the stand out for Yinnar with five.
Thorpdale v Hill End
ILAN Osman booted nine goals for Thorpdale to help sink Hill End by 74 points in an outstanding solo performance.
The sharpshooters bag was three short of the record of 12 against Hill End set by Ian Jennings in 1976.
Osman dominated the match, but he was not the only player to contribute to the scoreline, with five others kicking majors.
The match was virtually over by half-time as Thorpdale cruised to an effortless 16.12 (108) to 5.4 (34) win.
Thorpdale climbed to fifth place on the ladder and is in a good position to challenge for a higher place in the second half of the season.
Hill End on the other hand finished the first half of the season without a win.
Thorpdale's best were Osman, Matt Cogan, Nick Brown and Kris Bedford while for Hill End, Townsville teenager Mugsy Mooka, Jarred Martin, Tyler Forte and Rob Fiddelears were voted as best.
YYN v Morwell East
YYN finished the first half of the season in top position after a 76-point win over Morwell East.
Despite the blowout it was tough going for the Bombers, especially in the first half when the East stood up to the challenge.
The Hawks led at the first break with Lucas Towns bagging two goals in an impressive start.
A few hard truths were revealed at the quarter-time address and Bailey's troops reassembled and started to produce the football that had them sitting near the top.
Barry Brooks bagged three in the second term as YYN took control and with good support from Luke Norder and Tyler Brown the Bombers scored 6.2 (38) to the East's wasteful five behinds. After half-time it was mostly one way traffic as the Bombers cranked up a notch to add another 11.8 (74) to 4.2 (26) for the half to run out easy winners.
Brooks finished with six goals to be among YYN's best, along with Todd Dobson, Shane Galea and Tom Hutton.
For the East Brandon Francis, Frankie Marks, Wes Amalos and Brendan Evans all tried hard .
Mirboo North v Yarragon
FORMER league leading goalkicker Tim Traill was back to his best with a six-goal bag against Yarragon, leading the Tigers to a 29-point victory.
Mirboo North had to fight hard after trailing Yarragon at the first break but recovered to boot four goals to one in the second term and create an 18-point buffer.
Jak Robertson was among the goalkickers to worry the Yarragon defence.
Although down by five majors going into the last quarter, the Panthers showed tremendous spirit to outscore the Tigers and add respect to the final scoreline of 13.11 (89) to 9.6 (60).
For the Tigers Jack Robertson, Kris Berchtold, Shane Peters and Traill were at their best while Yarragon's Tim Farthing, David Bates, Rob Wallace and Josh Bourke (four goals) were best.
Trafalgar v Boolarra
AFTER losing their past two matches Trafalgar bounced back with a 45 point win over Boolarra.
The Bloods had to come back after trailing a feisty Boolarra at half-time by 10 points; both teams had the same number of shots but the Demons showed a bit more accuracy.
Trafalgar proceeded to blow Boolarra away in the third term.
Jamie Hines took control, Keegan Tullett was a surprise packet and Ash James stood tall, giving Trafalgar some drive to Rhys Holdsworth up forward.
It was a raffle for Trafalgar as they lined up to kick goals, with 10 players sharing the limelight.
After a good first half Boolarra broke down as Trafalgar, with pace and purpose, proved too good 18.13 (121) to 11.10 (76).
The highlights for Boolarra were Sam Mazou's four goals and Jesse Giardina's three.
It was Trafalgar's fourth win for the first half and the Bloods must string some more together to play finals this season.