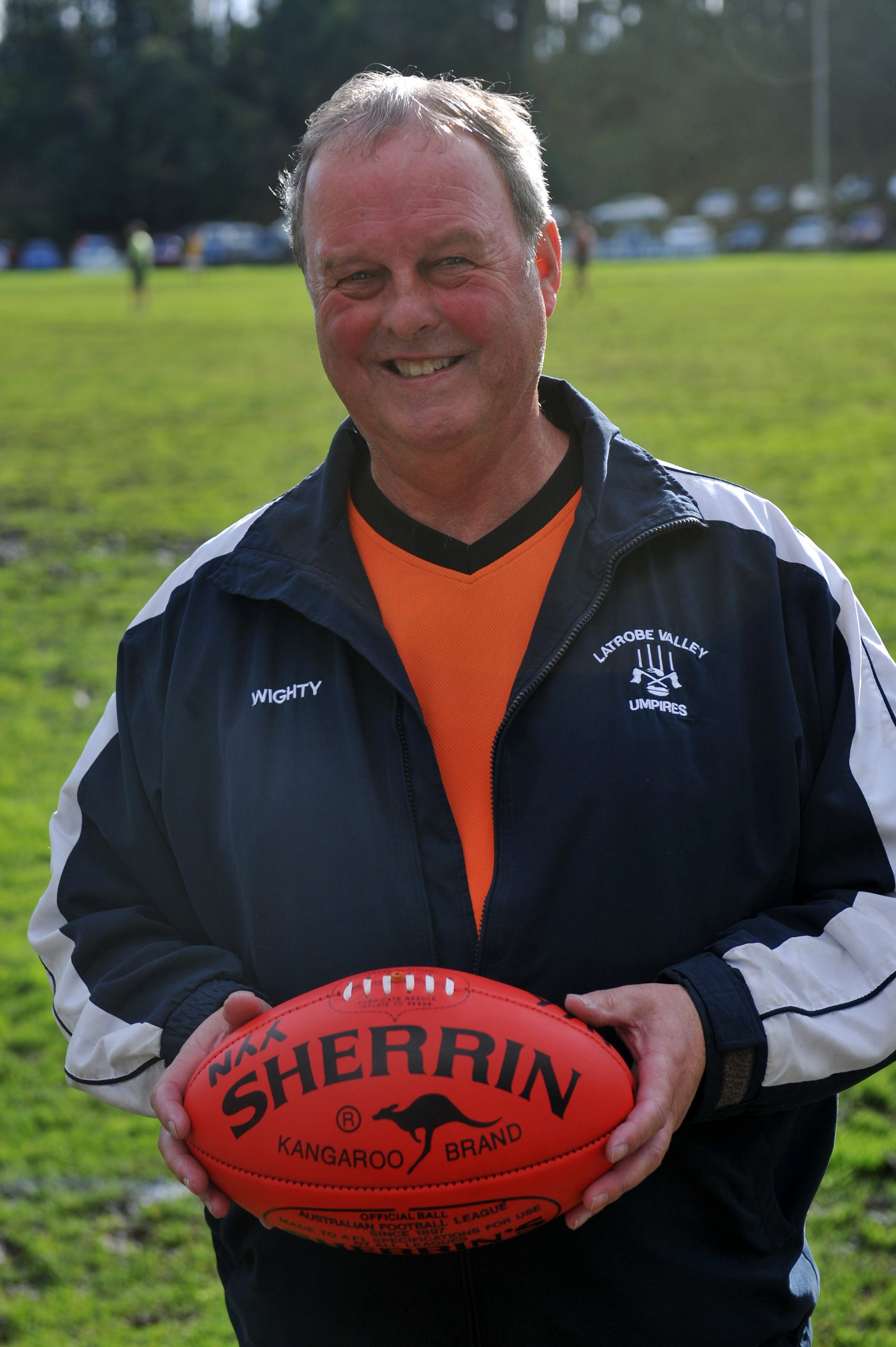 HE'S done it more than a thousand times before, but Latrobe Valley umpire Don Wight still gets nervous on game day.

Ahead of his 1100th appearance as an official in Saturday's Mid Gippsland Football League clash between Yallourn-Yallourn North and Yinnar, Wight went through the same ritual he has performed for 39 years.
Harnessing his inner "grizzly bear", his dress routine and pre-game preparation is repetitive, but necessary for the slightly superstitious ump.
"I still get nervous, pre-game I'm like a grizzly bear," Wight said.
"I have the same routine in the morning; when I get my gear out it's always on the bed starting with the socks, jocks and moving my way up."
The long-serving Latrobe Valley Umpire Association stalwart began refereeing at "a little over 21" years old, the same response he gives today when pressed on his age.
Too slightly built and too asthmatic to pursue his football career any further, Wight turned to umpiring to quench his lust for the game and has never looked back.
He was the first of his LVUA brotherhood to reach the 1000-game milestone, and now another century on top, but has no designs on stopping.
Such is his longevity, Wight has begun to see third generation players in his matches – the grandchildren of seniors he umpired in his early years.
Along the way he has presided over the likes of AFL stars Geoff Cunningham, Leon Baker and Steve Wallis, though the highlight was his first senior grand final, the North Gippsland 1991 decider.
He has done some 50 more grannies since, but the friendships off the paddock are what keeps him coming back year after year.
"The highlights are more focused on my fellow umpires and the football public I have met along the way," Wight said.
However, not all members of the footy public have been friendly from behind the fence.
Wight said one of the keys to umpiring was a thick skin, and the ability to dish a little back to the vocal hecklers.
"You've got to be quick enough to give something back, they might abuse me from the fence, then when I get near the fence I might say 'I'm glad you've paid your money to get in and see me today'; you've got to be one ahead of them," Wight said.
"When you make a decision it's only 50/50 right, because (only) one side will see it that way."
Wight was awarded LVUA life membership in 1986, spent 15 years on the social committee, and committed many years to junior umpire development coaching.
He received an Outstanding Services to Umpires Award in 1998 – the same year he umpired the NGFNL versus Ellinbank interleague clash – and has been an integral member of the association for decades.
His perpetual presence is celebrated and chuckled at in equal measure by his cohort.
For his 600th game he was pushed onto the ground in a wheelchair, and for his 800th a hospital bed.
Jokes aside, Wight said he was thankful his health had allowed him to continue the job for so many years, as both a field and goal umpire.
The realisation came after the veteran official recently visited a former umpiring colleague who suffered an acquired brain injury and no longer recognised him.
"I'm probably more happy that my health has allowed me to achieve the result," he said.
Wight said mutual respect was a key to good umpiring, along with fitness and attention to detail.
"Fitness, knowing what the rules are and interpreting them, trying not to be a dominant person out there, and pick up the names of players (are all important)," he said.
Wight gave no indication of when he might pull up stumps, but admitted he had a penchant for even numbers.
Perhaps 2000 is not out of the question.