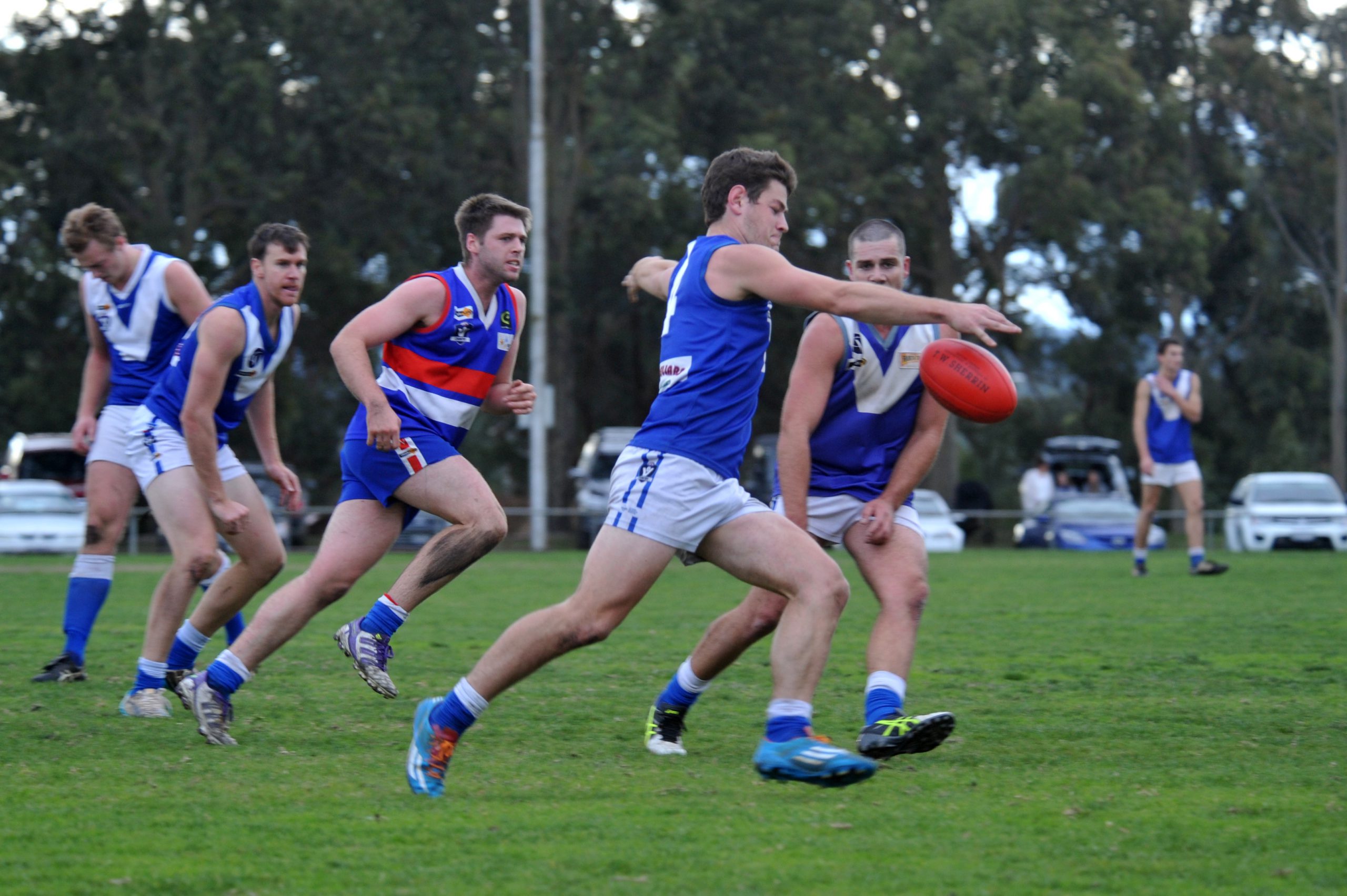 FIFTH-placed Thorpdale will fight tooth and nail against Yinnar this week to maintain its vicegrip on the Mid Gippsland top five.

With eight rounds of the season remaining points are at a premium, particularly for the Blues who hold a six-point buffer over sixth-placed Trafalgar.
Second to Yallourn-Yallourn North on percentage, the Magpies scored a 44-point win in their previous meeting with Thorpdale.
However, with injured Yinnar players returning bereft of match fitness and ever growing confidence in the Thorpdale camp, this match could see a different outcome.
The key will be full forwards at either end, Yinnar's Tim Aitken and Thorpdale's Ilan Osman, who stand first and second respectively on the goal kicking list, with 86 majors between them.
Equally crucial will be each team's delivery of the ball to their stars.
The midfield is set to be a pivotal battleground with both teams boasting exciting players capable of controlling the game.
History has Yinnar ahead with 98 to 67 out of 167 games played, with two draws, and Thorpdale has not won since 17 July, 2010.
Last time: Yinnar 14.14 (98) d Thorpdale 8.6 (54).
YARRAGON and Newborough were winners last week and both will be eager to continue that trend when they come face-to-face on Saturday.
After three wins Yarragon is building confidence and is a fair chance against Newborough at home.
The Bulldogs won an important battle against Trafalgar last week and are poised to continue their winning streak.
Stuart Robertson and Joel Pearce are noted goal kickers and the ones to watch for Newborough, but the Dogs have many contributors if those two are down on form. Yarragon has not been shabby around the goals with Troy Lehman a good pick up.
Newborough has a strong side with coach Dean Caldow not afraid to throw up-and-coming juniors into the mix, which is paying off so far.
History has Newborough winning the last nine encounters, with Yarragon last winning at home in 2010.
Last Time: Newborough 16.14 (110) d Yarragon 10.4 (64).
THE Greg Lewis trophy is up for grabs when Mirboo North hosts Boolarra in a vital match for the Tigers' prospects of securing three premierships in a row.
Boolarra has had a cow of a season with only three wins. Sitting second last is a far cry from the Demons' expectations at the start of the season.
Boolarra has always been competitive against neighbour Mirboo North but has gone from finalists to near wooden spooners in a big turn around for the club.
Mirboo North, currently third, is still primed for a tilt at the title and should grab another four points.
Last Time: Mirboo North 20.14 (134) d Boolarra 5.8 (38).
MORWELL East has a chance to redeem itself in front of the home crowd faithful against bottom of the table Hill End.
A loss last week to Yarragon came as a huge disappointment to the club.
This time round against the lowly Hillmen the East should be able to regroup and produce the football that is expected from them.
Hill End has endured a terrible season after last season's effort of eight wins to finish sixth.
Morwell East is poised to beat 2014's effort of four wins but will find a desperate Hill End competitive.
Last Time: Morwell East 18.11 (119) d Hill End 7.7 (49).
TRAFALGAR is primed to throw everything at ladder leader Yallourn-Yallourn North in an assault to reach the top five.
The Bloods have plenty of ability and can be unpredictable at times, but four wins this season is a poor return for the quality they have.
YYN was rescued by Tim Phillips with a goal after the siren to draw with Yinnar in a fantastic match at the weekend, retaining top spot in the process.
The Bombers should continue their winning ways but can expect Trafalgar to be stubborn opposition.
Last Time: YYN 11.8 (74) d Trafalgar 9.7 (61)