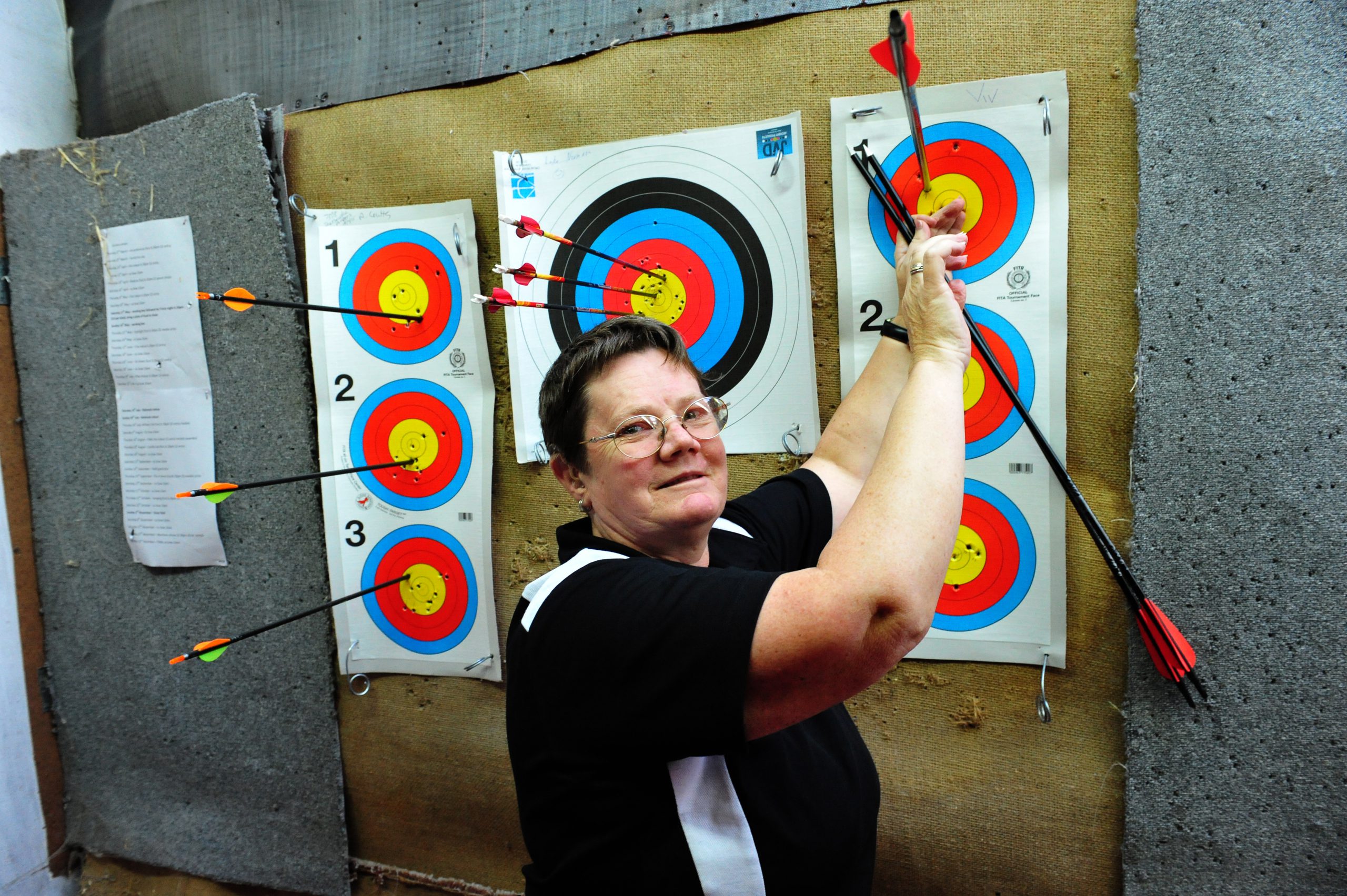 THE Grinstead Shed was fit to burst over the weekend, as 216 archers converged on the Toners Lane, Morwell complex for the state and national indoor championships.

With some 800 competitors shooting for national glory in centres across the country, Twin City Archery Club hosted the largest single contingent of any association, facilitating about a quarter of the field.
Some 20 archers were left hanging on the waiting list, as TCAC hit its numbers cap for the first time in a huge weekend for the growing club.
TCAC president Peter Bennett said it was a mark of archery's growth, locally and nationally.
"The sport is growing, the numbers are there and the people like it," he said.
"We're getting a lot of new members at our club. The good thing about indoor archery is it's something they can achieve… effective shooting and (can) compete at that distance because it's close range.
"It's something someone reasonably new to the sport can have a go (at) and enjoy the atmosphere of a big tournament."
Revelling at their local indoor range, TCAC members performed ably with several top 10 national finishes and a host of state placings.
Among the best performed were national silver medallists Roland Bayles (cadet male barebow recurve) and Lee Solomon (open male barebow compound), along with Merv Grinstead who earned a national bronze in the veteran plus male crossbow.
In his first competitive outing with a crossbow in hand, Aaron Inglis stunned many seasoned rivals to come away with bronze in the open male crossbow, one of the toughest divisions on offer.
Fellow Twin City members Drew Orton and Tammy Richards topped their state standings to claim gold medals, while Solomon and Grinstead's efforts also saw them win their respective state crowns.
"It's building, and it's getting better and better, the results are getting stronger each year, so it shows what we're doing at the club is getting the archers to shoot better and score better," Bennett said.
Victoria was also successful in the teams' placings, taking out compound and recurve national titles.
For more information about TCAC and how to get involved with archery phone Peter Bennett on 0429 429 240.
Cub Male Compound

Drew Orton 1st
Intermediate Male Compound
Shae Burzese 3rd
Cadet Male Barebow Recurve
Roland Bayles 2nd
Open Female Compound
Danielle Soppe 10th
Tammy Richards 14th
Heather Langenakker 19th
Anne Leslie 24th
Open Female Longbow
Tammy Richards 1st
Open Male Compound
Adam Bielby 4th
Paul Eagle 16th
Adam Rhimes 37th
Open Male Barebow Compound
Lee Solomon 1st
Open Male Barebow Recurve
Ken Devries 10th
Open Male Crossbow
Aaron Inglis 3rd
Masters Female Compound
Viv Bennett 2nd
Masters Male Compound
Peter Bennett 2nd
Masters Male Longbow
George Sznek 4th
Masters Male Barebow Recurve
George Sznek 2nd
Veteran Male Compound
Brian Cunlisse 3rd
Veteran Male Recurve
Dennis Luobikis 3rd
Veteran + Male Compound
Merv Grinstead 1st
Veteran + Male Crossbow
Merv Grinstead 2nd
Cadet Male Barebow Recurve

Roland Bayles 2nd
Open Male Barebow Compound
Lee Solomon 2nd
Open Male Crossbow
Aaron Inglis 3rd
Veteran + Male Crossbow
Merv Grinstead 3rd