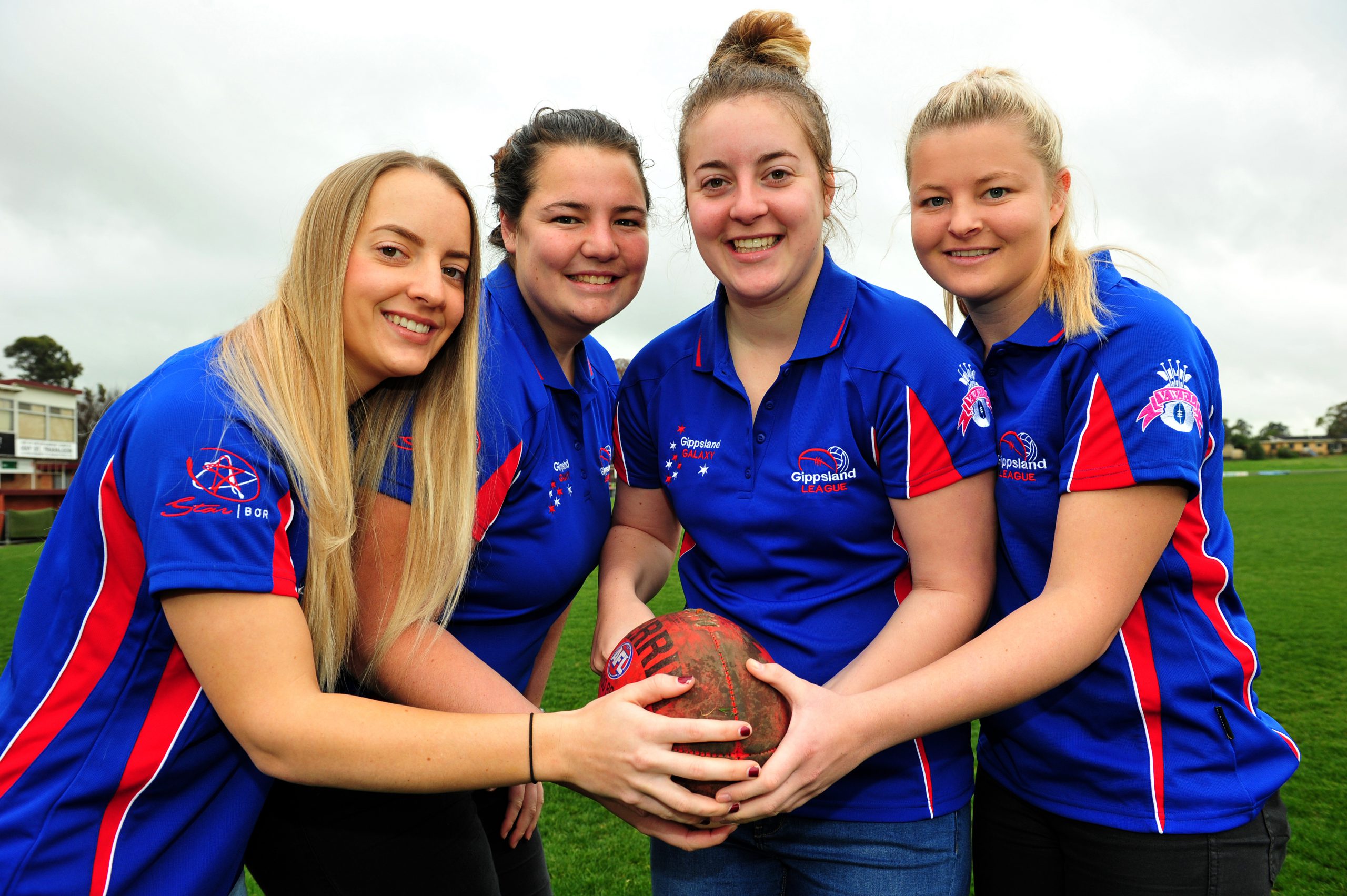 RELATED COVERAGE: Chair's standing ovation for women's footy
RELATED COVERAGE: Galaxy gravitates toward premiership
THEY hail from backgrounds in netball, basketball, athletics and touch footy, but now a group of Gippsland girls have one sport in common, Aussie Rules.
Formed frantically on the eve of the Victorian Women's Football League season, the Gippsland Galaxy began as an ad-hoc endeavour but quickly evolved into a practised and proficient unit.
After just four weeks on the training park under coach Nikki Schroeter, history was made when the first Gippsland women's team took the field at Gormandale against Endeavour Hills.
Six months on and the Galaxy is looking to add another first to the list when it takes on Ajax in the division five east grand final this Saturday night with a flag firmly in sight.
"Being the first ever Gippsland women's team, to take out the premiership in our first year would be an unbelievable feat," Galaxy player Sarah Jolly said.
A big win on debut back in April saw interest in the side balloon and previously middling numbers pick up drastically.
While several members of the squad came armed with school football experience, the code was a new frontier for many, and the full contact sport required some adjustment.
"I think at the start of the season it was quite soft and everyone was standing back a bit, but as the season has gone on there's no holding back, everyone is going straight for the ball," Jolly said.
For Jolly, who is among the league's leading scorers with 36 goals, footy was set to be a case of kicks and giggles, supplementary to her primary sport of netball.
As the year progressed her attitude changed drastically.
Watching a women's match between the Bulldogs and Melbourne inspired a conversation with teammate Kim Cunico about how it would be to play at that level, and in turn an ambition to do so.
"I just said to be honest it's probably not that far off. If we keep pushing for the next couple of years, I think in 2017 they're having a national women's league, so we keep pushing for 2017 as a goal, I reckon it's achievable," Jolly said.
"Put in hard for the next couple of years with Gippsland Galaxy and see where it can take us."
Midfielder Cunico is well aware of what it takes to succeed in the football world.
She watched her brother Jordan progress through the ranks at Gippsland Power and saw him eventually rewarded in last year's AFL draft when he was picked up by Geelong.
"I've loved watching him develop as a player, and hopefully I can develop as a player too and step up (to higher levels)," Cunico said.
Playing through the centre of the ground Cunico has had her share of hard knocks but has taken up the challenge along with her cohort.
The skills and physicality of the team have come along in leaps and bounds, seeing Galaxy soar to some huge victories throughout the season, including one by more than 200 points.
"The ball was on the ground most of the game at the start of the season but now we're hitting targets and getting it down the field a lot quicker," Cunico said.
"It's pretty brutal, some of the girls are big girls and playing in the midfield you get punched a bit and tagged (but) there's a few girls in our team that are always in and under the ball and putting their body on the line all the time.
"Everything's just come together I think, us playing as a team, and our training sessions are full on."
Prior to Galaxy's inception and the advent of the Gippsland Youth Girls League last season, local opportunities for female football were few and far between.
Cunico said the VWFL side had filled a niche and the response had been strong from the community.
"It's been awesome, I think the girls have been loving every experience we've had," she said.
"The group of girls is a good group, Nikki is a great coach and we've had some good opportunities with it."
Jolly too was excited by the direction of the sport, both here and state-wide.
"I don't know the stats 100 per cent, but there's been over 100 new teams develop this year alone for women, hundreds more players, in Gippsland we've had a youth competition with six or seven teams," she said.
"Footy for women is looking really strong and I'm really excited about the future."
For more on Gippsland Galaxy and Saturday's final, turn to page 2.