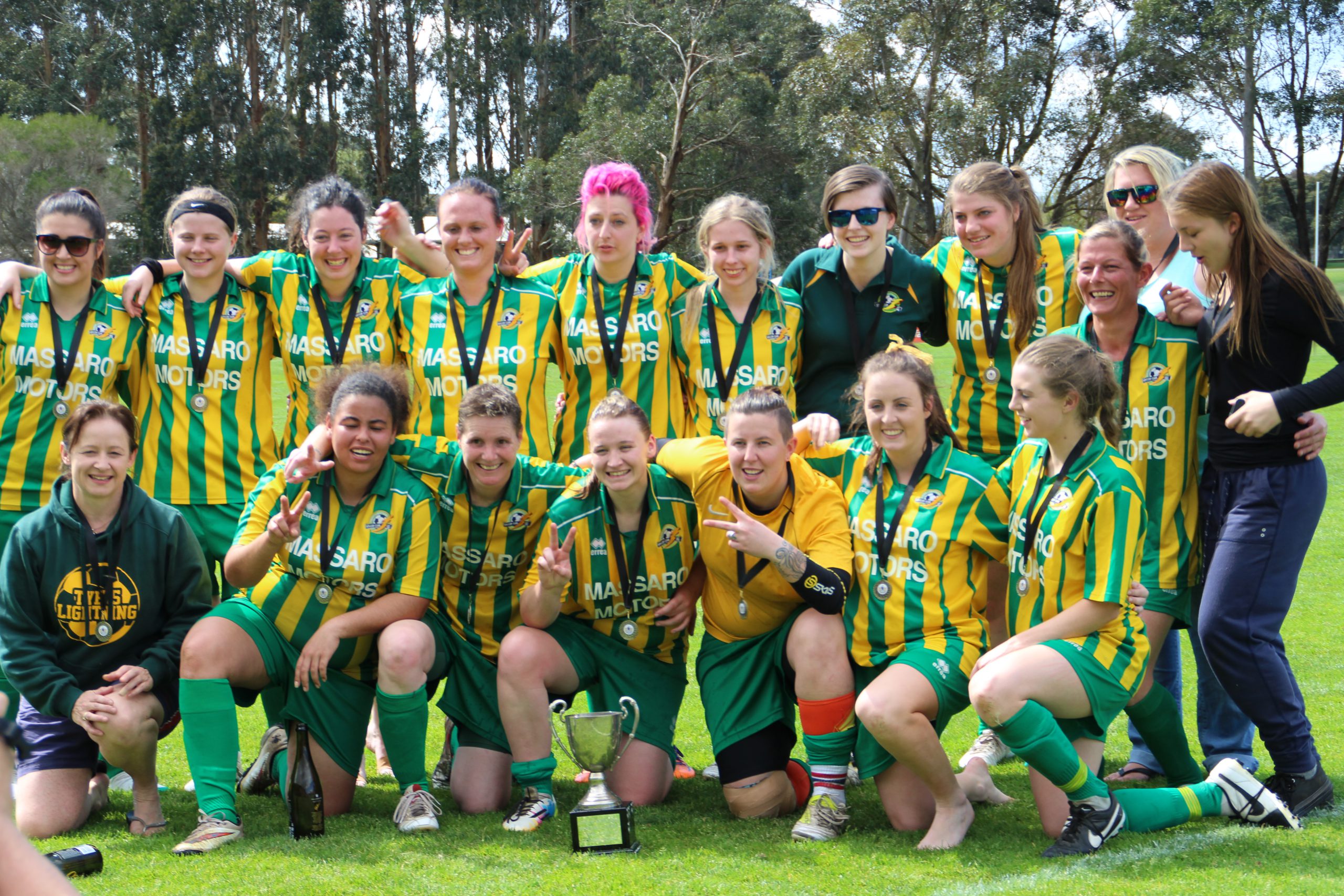 TYERS Lightning scored a Gippsland Soccer League double-double on Sunday, taking home the women's grand final trophy to join the league title for the second consecutive season.

After topping the ladder the Lightning women defeated Traralgon City 2-0 in the grand final at Burrage Reserve to extend their all-conquering reign over the central division.
As was the case in their previous meeting three weeks ago, when City held Tyers out for more than 80 minutes, the Roosters proved resilient against the Lightning juggernaut.
Neither side could break the deadline by half-time, going to the break 0-0, before golden boot winner Stephanie Pridgeon sent Tyers to the lead 10 minutes into the second half.
A second to Abbey Ellen Taylor sealed the deal for the jubilant Lightning.
"(Last time) we scored in the 89th minute, so there was a lot of nervousness going into the game because they'd held us out and it was tough," team manager Jenny Pridgeon said.
"To score 10 minutes into the second half settled the nerves. We went in with a plan to have a strong defence to start with to let everybody settle, which is usually our plan, we take about 20 minutes to settle then work on creating opportunities."
It was a new-look Tyers lineup that turned out for the title defence, with four members from last year's premiership team retiring from the game, including coach Elisha Massaro and Jenny Pridgeon.

Topped up by a younger brigade of players in 2015 with Massaro returning as non-playing coach, Tyers' ambition was always a repeat of 2014 when it won all three trophies on offer.
"It's an honour and hard fought… it was awesome to go back-to-back," Pridgeon said.
Tyers, which has lost just once in the past two seasons, will now turn its attention to retaining the Browne Huizer Trophy against last year's runner-up Monash when the cup finals take place on 4 October.
GSL RESULTS
Women: Tyers SC 2 Traralgon City SC 0
Senior Men Round 25: East Gippsland United FC 0 lt Sale United 6 (HT: 0-2), Trafalgar Victory FC 3 d Morwell Pegasus SC 1 (H. Sedgwick 1) (HT: 0-0), Tyers SC 1 lt Churchill United 2 (HT: 0-0), Fortuna 60 4 lt Monash 6 (T. Christy 2, A. Nilo 2, T. Bramstedt 1, E. Lawrence 1) (HT: 3-3), Newborough-Yallourn United SC 2 lt Olympians SC 3 (H. Cook 2, J. Pistrin 1) (HT: 1-1)
Reserves Round 25: East Gippsland United FC 0 lt Sale United 3 (HT: 0-0), Trafalgar Victory FC 7 d Morwell Pegasus SC 1 (L. Cook 1) (HT: 0-0), Tyers SC 0 lt Churchill United 10 (HT: 0-6), Fortuna 60 SC 1 lt Monash SC 6 (A. Dawes 3, M. Koolen 2, J. Lawrence 1) (HT: 0-3), Newborough-Yallourn United SC 0 lt Olympians SC 5 (A. Pardo 3, M. Fava 1, D. Cooper 1) (HT: 0-4)
2nd Division Round 25: Fortuna 60 SC 0 lt Monash SC 1 (R. Musgrove 1) (HT: 0-0)