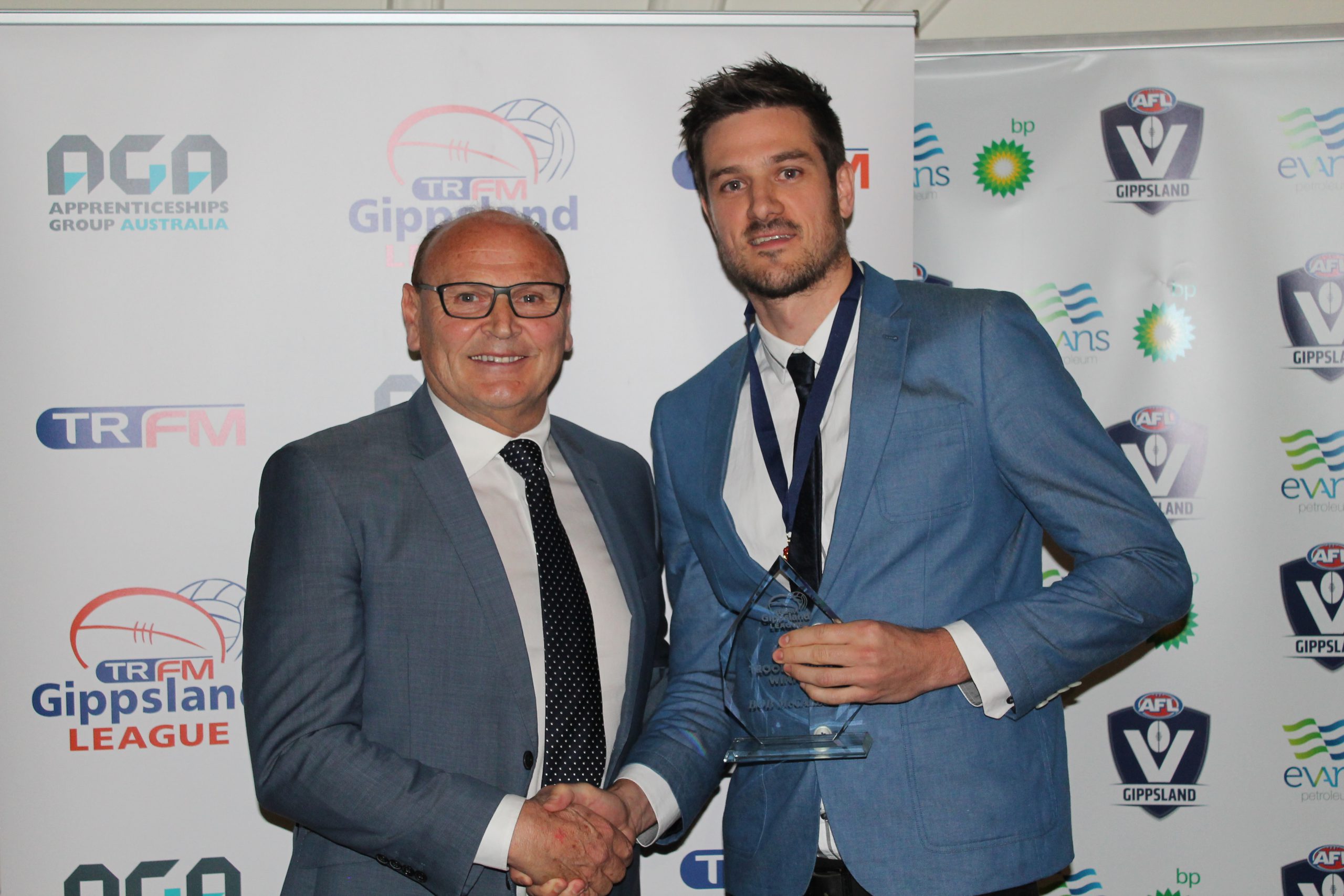 RELATED COVERAGE: Vernon eyes dream victory
RELATED COVERAGE: Four seasons in one day
RELATED COVERAGE: Gippy League grand final digest
RELATED COVERAGE: The power of youth: GL netball
PICKING up votes can be a tall order for ruckmen, but Drouin's Bob McCallum has bucked the trend by taking out the 2015 Trood Award and Rodda Medal at Monday's Gippsland League vote count.
McCallum, 30, polled 23 votes to finish two clear of Traralgon midfielder Mark Collison and four ahead of Leongatha ruckman Ben Willis.
The Hawks' playing coach is the first ruckman to win the league's senior best and fairest award since Warragul's David Mills in 2006.
Much like the AFL's Brownlow Medal, the Trood Award and Rodda Medal has been dominated by midfielders in recent history, but McCallum's influence at the stoppages and contribution around the ground this season – including 27 goals – did not go unnoticed by the umpires.
Eighteen of McCallum's 23 votes came against three clubs – Morwell, Warragul and Bairnsdale – when he was best-on-ground on each occasion.
The award capped a great year for McCallum, who returned to Drouin this season fresh from winning a flag with Ellinbank and District Football League club Buln Buln.
Thrown in the deep end when newly-appointed coach Clint Proctor stepped down due to work commitments on the eve of pre-season training, McCallum took Drouin from winless in 2014 to seven wins and seventh place in his first season at the helm, and also captained the Gippsland League interleague team.
Maffra's Macklin Raine claimed the Rex Hartley Medal as reserves best and fairest, finishing seven votes clear of Leongatha's Caine Salmon.
Morwell goal defence Courtney Garth won the Joe Hutchison Medal A grade netball best and fairest award.
Leongatha's Kathy Reid won the B grade Dawn Pearce Medal and Brooke Soulsby of Bairnsdale took home the C grade Karen Proctor Medal.
Leongatha's Jake Best (81 goals) and Benjamin Doran (53) won the seniors and reserves leading goal-kicker awards.
Morwell's Riley Hogarth (football) and Traralgon's Daisy Hill (netball) were the first recipients of the Rookie of the Year Awards, while Sarah Jolly won the inaugural Gippsland Galaxy Player of the Year Award.
Heather Knight (Bairnsdale), Doug Lockwood (Drouin), Dominic Amato (Leongatha), Gwen Carrolyn (Maffra), Paul Farmer (Moe), Vicki Stevens (Morwell), Lisa Dunkley (Sale), Gary Williams (Traralgon), Meren Perry (Warragul) and Lani Birkett (Wonthaggi Power) were recognised for their service to football with Joe Hutchison Memorial Awards.
B: Michael Stockdale (Traralgon), Jack Brown (Morwell), Adrian Slotje (Traralgon)
HB: Sam Pleming (Maffra), Shannon Bray (Wonthaggi Power), Zak Vernon (Leongatha)
C: Dale Hoghton (Leongatha), Dan Nicholls (Drouin), Luke Duffy (Drouin)
HF: Aiden Lindsay (Wonthaggi Power), John Gooch (Sale), Brad Scalzo (Warragul)
F: Cade Maskell (Leongatha), Darren Sheen (Maffra), Jake Best (Leongatha)
Ruck: Bob McCallum (Drouin), Mark Collison (Traralgon), Kelvin Porter (Maffra)
I/C: Adam Wallace (Bairnsdale), Kane Martin (Sale), James Blaser (Moe), Aaron Heppell (Leongatha)
Captain: Bob McCallum (Drouin)
Coach: Beau Vernon (Leongatha)
GK: Allison Petrou (Traralgon)
GD: Courtney Garth (Morwell)
WD: Danni Pearce (Traralgon)
C: Stacey O'Brien (Traralgon)
WA: Jacklyn Hiriaki (Morwell)
GA: Courtney Blair (Wonthaggi Power)
GS: Ramayer Gourley (Traralgon)
I/C: Sarah Dunn (Drouin), Taylah Bott (Drouin), Stacie Proctor (Drouin)
Coach: Kate French (Traralgon)
23 votes – Bob McCallum (Drouin)
21 – Mark Collison (Traralgon)
19 – Ben Willis (Leongatha)
15 – James Blaser (Moe)
13 – Aaron Heppell (Leongatha)
12 – Kane Martin (Sale)
– Danny Butcher (Maffra)
11 – Michael Kelly (Wonthaggi Power)
– Michael Geary (Traralgon)
– Trent Knobel (Maffra)