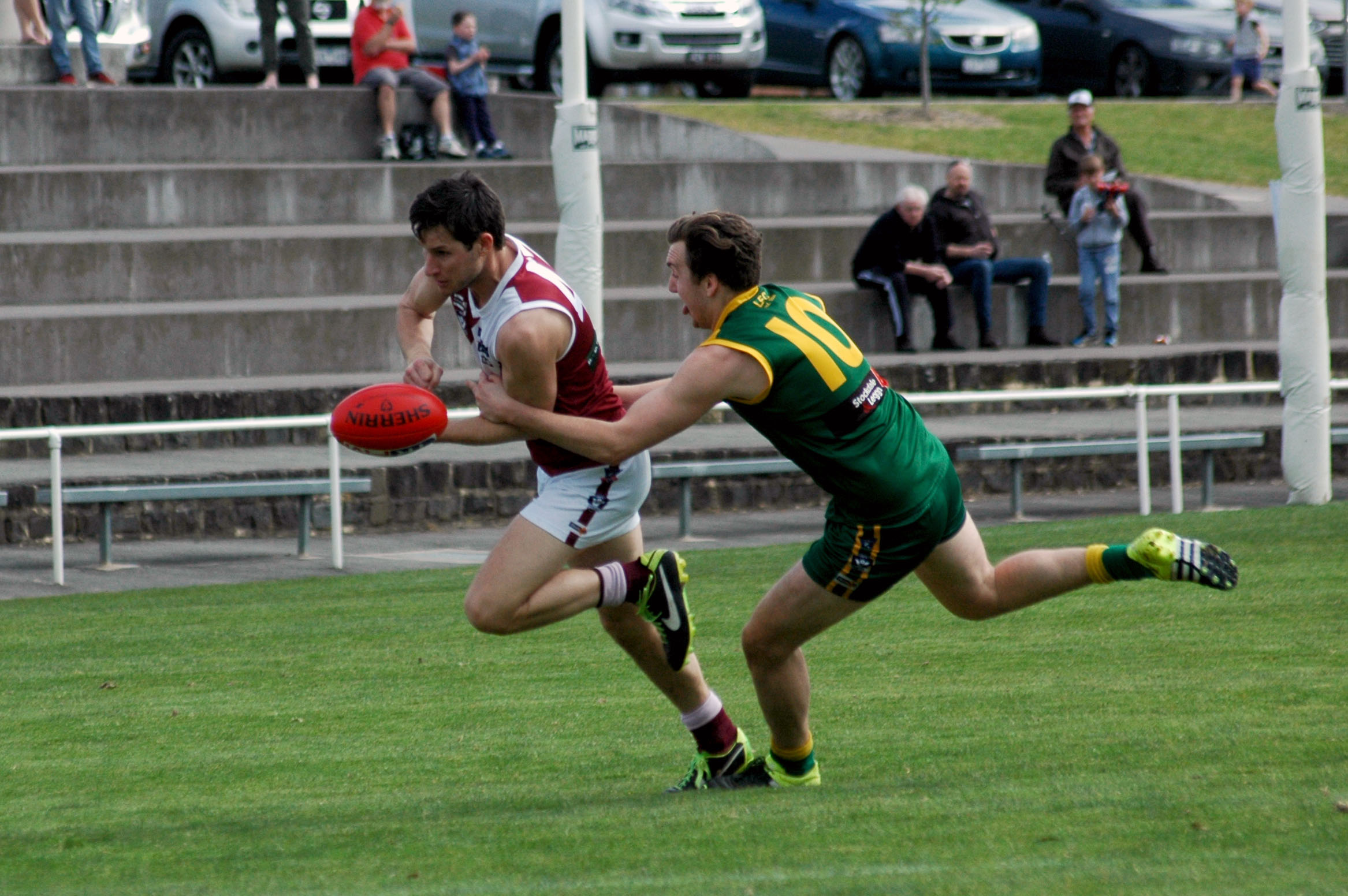 RELATED COVERAGE: Four seasons in one day
RELATED COVERAGE: Gippy League grand final digest
RELATED COVERAGE: McCallum named GL best and fairest
RELATED COVERAGE: The power of youth: GL netball
TWO sides that missed the post-season altogether last year will contest Saturday's Gippsland League grand final at Traralgon.
Leongatha will be vying for its first senior premiership in a decade and a half when it meets Traralgon on the Maroons' home turf.
For first year Parrots coach Beau Vernon, leading his side to the big one is a dream come true.
"It was probably in my dreams – you don't put a cap on what you can achieve, that's the goal and I was hoping for it, but I didn't think about it too much," Vernon said.
It comes just over three years after an on-field clash changed his life, leaving him a quadriplegic.
However, the June 2012 incident was not the end of Vernon's football career; he was the stand out applicant for the coaching job at the club he loves for this year.
In his maiden year he has managed to turn things around for Leongatha, which has gone from finishing well outside the top five last year to a minor premiership and now, a grand final berth.
Testament to the structures Vernon has introduced, almost every coach in the competition has their money on Leongatha.
Vernon, however, was quick to put the pressure back on his opposite number Mark Collison, after Traralgon overcame the Parrots in a thrilling second semi-final.
"I suppose there is more pressure on them than us considering they beat us last weekend," Vernon said.
"We are confident. I am not saying Traralgon played at their best, but we only played one quarter of footy and we lost by nine points."
Leongatha will be bolstered by the return of Aaron Heppell, brother of Essendon star Dyson, who has missed the past six or so weeks due to VFL commitments.
However, with his side knocked out last weekend he'll be back to play a role.
"Just his defensive pressure… he is really a really good, quality player, a star player," Vernon said.
However, Heppell's inclusion won't come without its headaches, with the coach having to make room for him.
"It's going to be really tough… we had really 21 solid contributors on the weekend," he said.
Like Vernon, Maroons coach Collison is enjoying success in his first year as senior coach.
He too will have his work cut out when selecting his team tonight.
"Yeah it is not nice but it's just a part of it. Obviously some blokes will miss out, it's definitely the hardest part about coaching, but I'd rather be here making those decisions, than not," Collison said.
Despite suffering a knee injury early in the finals series, another VFL player Matt Northe is also available for selection.
Collison's side overcame an injury-plagued first half of the season to finish third on the ladder, drawing on the club's depth which saw it qualify for all four football grand finals.
"It's been tough all year – early on we were riddled with injuries, however it showed how good our depth is," Collison said.
"We have lots of good players in the twos… there will be the hard luck stories but our twos, as well as the thirds and fourths, which is fantastic for the footy club," Collison said.
After a shocking opening round, made worse by injury and illness, many had written Traralgon off following its 123-point loss to Leongatha.
"I suppose people haven't put much attention on us, didn't think we could come this far. But we always thought we'd get here," Collison said.
"It's a bit funny, we still think we have improvement in us – we are getting things together which is a really good sign, however the past two weeks we have shown so much improvement, we just have to be confident (and) play the way we play, implement it and we will get the job done."
Collison has the chance to lead Traralgon to its 20th senior premiership, with the last coming in 2011.
"We think we have done everything right… we have been really happy with our preparation," Collison said.
Traralgon will have the home ground advantage, however Collison said he'd be happy to play the grand final anywhere.
"Yeah look I don't know, all the grounds are pretty similar. I don't think there is much difference between our ground and Moe's… if we had to play at a beach we would," he said.
And Collison knows a lot of the attention will be on his south Gippsland counterpart.
"Of course. Beau's has been one of the stories of the year, but by the same token we want to make our own story – we want to make history ourselves as a side that comes from outside the finals and win, in a year people didn't think we could. Outside perception isn't a big thing for us, we don't care what people think," Collison said.