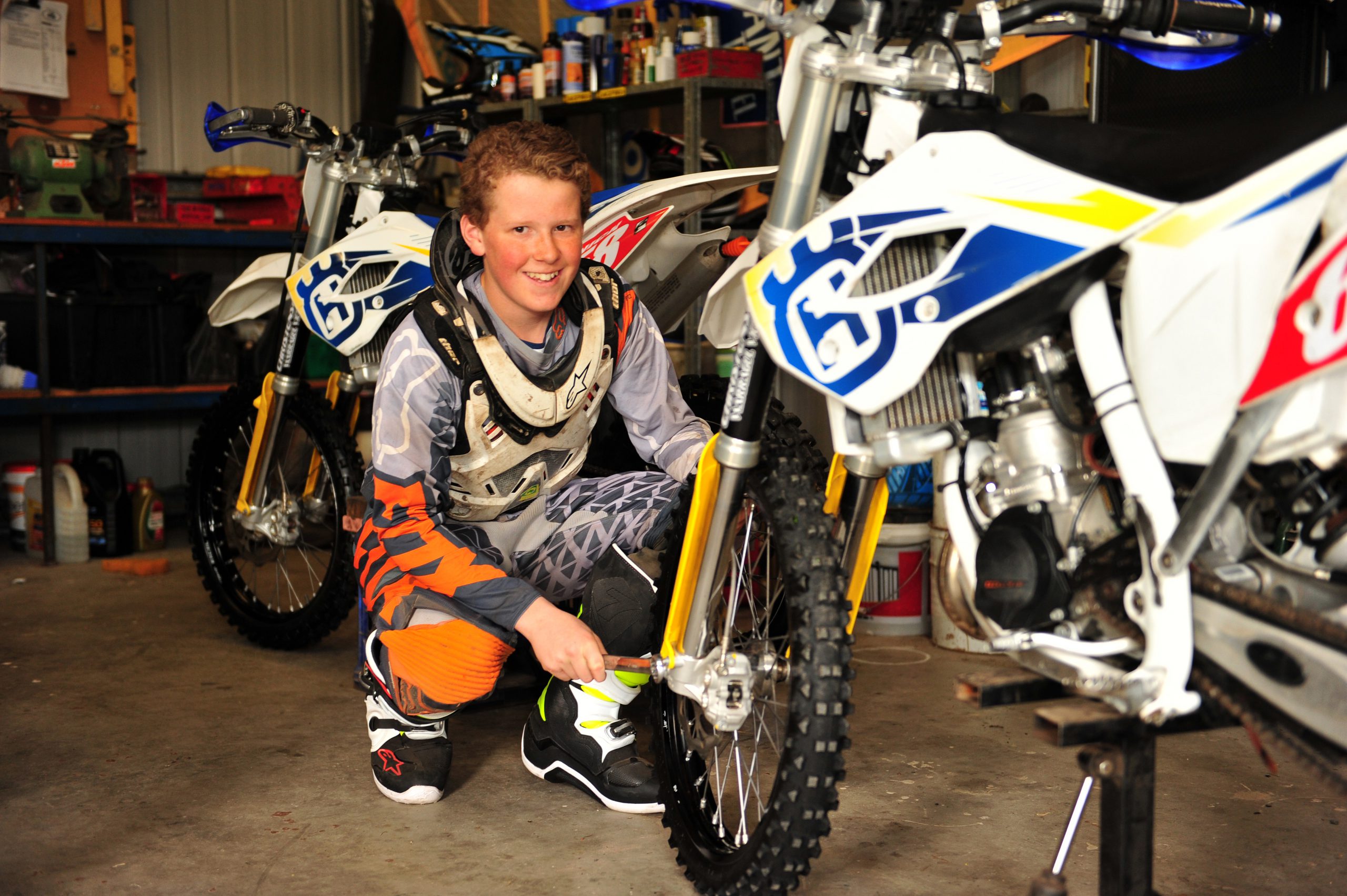 A TRARALGON South off-road motorcycle wizard is challenging to become the Latrobe Valley's most famous Nick Graham.

Sharing the name with the Carlton footballer, also from Traralgon, Nick put his own credentials up in lights this year by taking out the 14 round Victorian Off-Road Championship.
It was a vindicating victory for the 14 year-old, who watched his state championship lead slip away two years ago in the final round of the VORC.
"I started off the day riding alright, Mum and Dad were trying to keep it a secret that I was winning overall," Nick said of his 2013 finish.
"Mum broke the news to me and I was trying to push a bit hard, ended up in a big wheel rut, got stuck for a few minutes (and was) two minutes behind with one sprint to go.
"When I got stuck I was just thinking I've got to push so hard to get back up… not enough though (in the end)."
Nick ultimately finished second in the class standings by 20 seconds, but a little older and wiser he achieved redemption in 2015.
The Lavalla year eight student scored a top two finish in every round of the series, scattered across the state, to take out the 12-16 year-old 85cc class.
He said with help from his parents and coaches, the past two years had seen a vast improvement, leading to the breakthrough victory.
"I've been pushing myself, trying to train as hard as I can, riding a mountain bike and trying to ride as much as I can," he said.
"I had good consistency this year trying to push hard, train, put in the time and effort.
"It feels good (to come back and win the title after 2013)… it hasn't really sunk in yet."
A touch of advice from Steve Mason – one of several coaches who helped Nick this year including Chase Hansford, Ross Beaton and Joe Stevens – was another factor in avoiding the mistakes of the past.
"Don't overdo it, just try and ride your own race," Nick said Mason told him.
In a packed calendar beginning in February and finishing just this month, Nick also tackled the national championship with success.
While he only competed in six of 12 rounds for the Australian Off Road Championship, Nick finished fourth overall in the J2 class after scoring twin third-place finishes.
At club level Nick took a clean sweep of the Dandenong Off Road Club J3 Championship by winning all eight rounds at various locations across the state.
He also placed first in the 13-14 years division at a four-hour cross country event, partnered with another VORC rider, at Golden Beach mid-year.
For a bit of fun Nick dabbled in motocross where he made three podiums at regional MX level, one tier below state championships.
Dad Jeff said Nick's attitude had been the biggest improvement.
"He's sticking with it, even his technical riding has progressed a great deal. With a lot of the coaching he's done he's at a point where he can learn different things from different people and put all that into practice… and just even to ride safely through the bush as well," Jeff said.
Nick will be picking up speed in a literal sense next season, with a jump up to a bigger bike and faster class in the cards.
It is just another step in his quest to reach the expert class of the Victorian Championships and go on to the international six-day enduro.