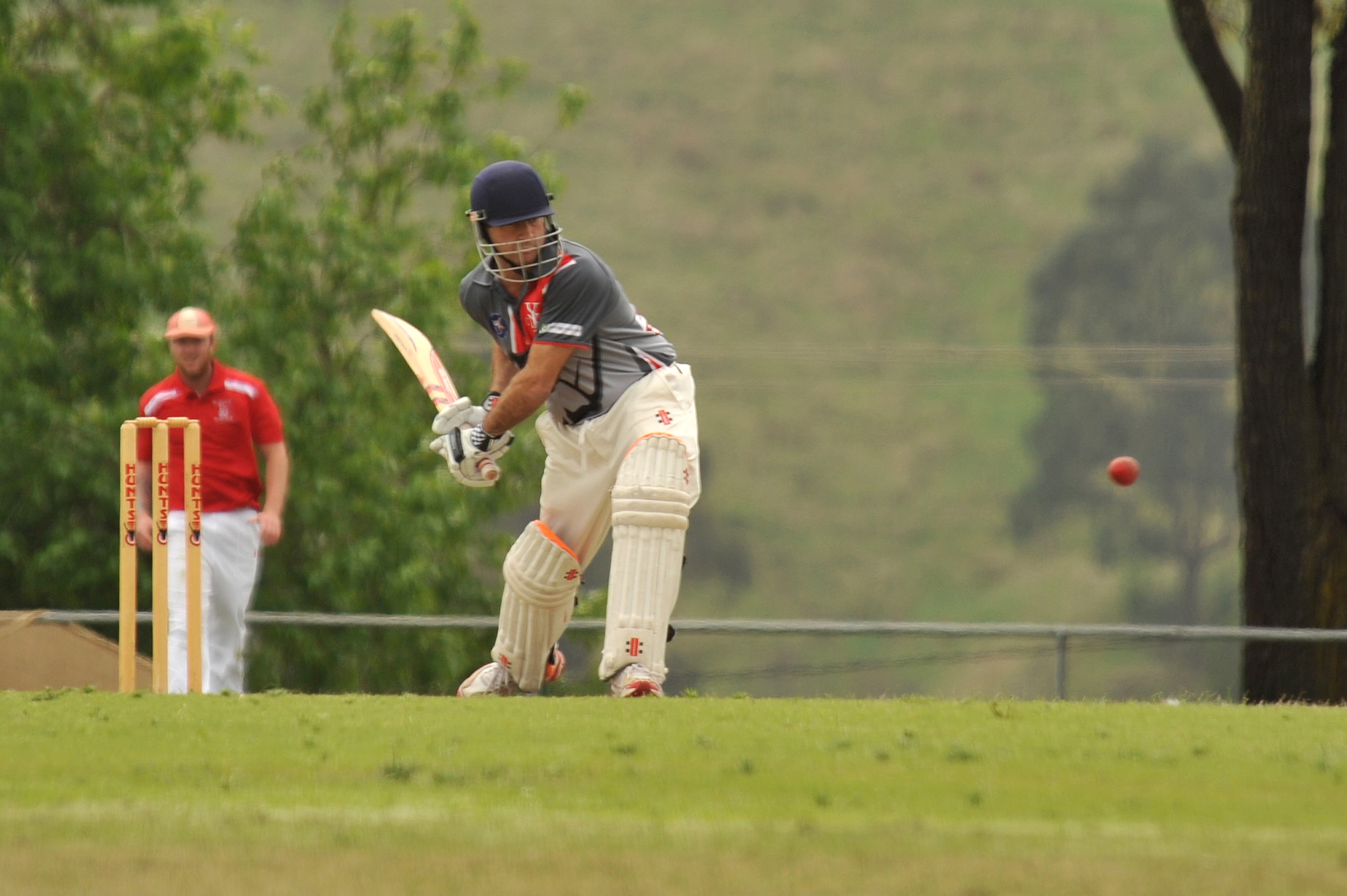 CRICKET
CGCA
AFTER splitting the points last round in a thrilling tie, Yallourn North was again involved in a nail-biter, with one run the difference in its win over Trafalgar in round two of central Gippsland cricket.
Batting first against reigning premier Trafalgar, the Bombers lost opener Glen Sheekey and first-drop Callum Polo early in the piece, before an 89-run partnership between Aidan Vesty (85*) and skipper Patrick Spiteri (40) got the Bombers back on course to make 7/160.
Trafalgar seamers David Bremner, Todd Mann and Jackson Noonan bowled tight lines to restrict the batsmen from adding much weight to the total at the death, while Rhys Holdsworth (2/21) collected the best figures.
The Ships lost Rhain Howarth-Ross for nought and Aiden George for one, and when explosive opener James Blaser joined them back in the sheds with the score at 3/21, Trafalgar badly needed a big partnership to match Yallourn North.
Star man Holdsworth answered the call, adding 79 with young gun Blair Clymo, who scored just 16 but showed determination to hang around and support his captain.
Holdsworth's dismissal triggered a collapse of 4/15 and at 7/115, the work of Glen Sheekey (2/18) and Gavin Pearson (3/20) looked to have sealed the points, but tailender Daniel Heathcote had other ideas.
Heathcote's unbeaten 32 dragged the visitors back into the match but the Ships ultimately came up short by a run at 9/159 when their 45 overs expired.
Trafalgar will be doubly disappointed with the result after identifying winning close matches as one of their targets for the season.
THE big-cat clash between the Tigers and the Lions went the way of the former, as Mirboo North posted 8/206 thanks to a number of contributions.
Robert Phoenix (30), Adam Mates (37) and Ben Williams (49) all made decent scores while Jed Alexander, Cameron Le Page and Shane Peters all got starts.
Skipper Peters may be concerned none of his batsmen went on to post a big score and knock Moe firmly out of the contest, but it was the only obvious flaw in a dominant performance.
Robert Blunt (3/35), Kane O'Connell (2/36) and Nicholas Clarke (2/43) toiled hard, but the 22 extras delivered by the bowlers would not amuse their captain, Andrew Philip.
Moe knew it would have to bat well to chase over 200 to win, and the early loss of Ayden Kelly put a dent in their confidence.
However a spirited partnership between Philip and 16 year-old Joel Mitchell helped ease their concerns; Mitchell played an excellent innings which would be the team's highest individual effort with 50, his first half-century at this level.
The loss of key bats Philip and Sean Spiteri for middling scores proved to be decisive with Steve Rogers (3/22) picking up both wickets.
Jarrod Speed was a capable foil with his 3/32 taking out the lower middle order to leave the Lions at 9/146, well short of the target.
FIRST grade newcomer Jeeralang-Boolarra enjoyed a more competitive game this week against Morwell.
While the Panthers' bowling has been up to the task, the major concern remains their batting as they were bundled out for 118.
Adam Parker's 24 was the top-score as Davin Charleston (3/21) and Mark Cukier (3/14) ripped through Jeeralang-Boolarra's middle order, with Tim Dowe and the returning Riyaz Pathan splitting the remaining four wickets between them.
The Panthers' seam attack is up to snuff but is yet to have much of a total to bowl at.
The Leys brothers, Dillon and Dermott, Tim Laaks, Stan Urbanic and Adam Parker all bowled well but ultimately the lack of scoreboard pressure made it difficult to create regular breakthroughs. Pathan top-scored for Morwell with 65 while new coach Rory Hare got his first major runs of the season with 46 as the Tigers closed on 7/213.
MOE posted 8/145 against Rawson thanks to Alan Philip (38*) and Aaron Walshe (26), with Nathan Hammond bowling well to take 3/29.
The Kookaburras chased down the target with relative ease, closing at 5/146 with Alex Sword's unbeaten 74 the major factor in the impressive win.
THE Sharks were thankful to Tim Cranwell (70) and Brendan Wynne (37) for putting together a total of 195 all out, with Yallourn North bowlers Stuart Anderson (3/42), Daniel Keily (2/25) and Bill Lawrey (2/7) doing their best to restrict the batsman.
The Bombers were then bundled out for a meagre total of 45 by Latrobe's seam attack, with Mitch Cowell (3/12), Nathan Nikodemski (3/19) and Samuel Phoenix (2/8) dismantling the visitors' batting card.
THE Ships paid full price for underestimating the young Latrobe Colts, with Craig Nielsen's 43 the only thing standing between them and total embarrassment.
Trafalgar was rolled for just 72 by 17 year-old former legspin bowler Steven Hanning, who cleaned up with 6/13 after taking the new ball.
Offspinner Trent Roberts nabbed 3/15 to complete the rout.
A century partnership by father and son duo Michael and Benn Zomer secured the points for the Colts, both scoring half-centuries while Hayden Kimpton struck an unbeaten 30 to help the visitors post 3/172.
Brayde Bosman, Cougar Millsom and Zack Brown were the only bowlers to have any success for Trafalgar.
NEWBOROUGH'S 122 all out against Morwell could have been far worse if not for intervention from Royce Colgrave (43), Mark Whitney (23*) and John Murray (21).
Dylan Day (3/15) and Shane Gniel (3/32) scythed through the rest of the order to keep the Bulldogs under their thumb.
Morwell made fairly easy work of the chase as Kris Fortuin (44) led the charge along with Sam Mooney (22).
Brenton Faltum (2/29) and Daniel Farmer (2/30) bowled well for the home side.
THE Panthers had five of their top six waste starts and they were all out for 116 after Travis Pickering (3/11) and Luke Whitney (3/14) did their work.
Pickering then did his best to drag his team across the line but his 24 was not quite enough as Thorpdale was all out for 98.
Matt McGrath did the damage with 5/13, while Robert Beamish nabbed 3/19.