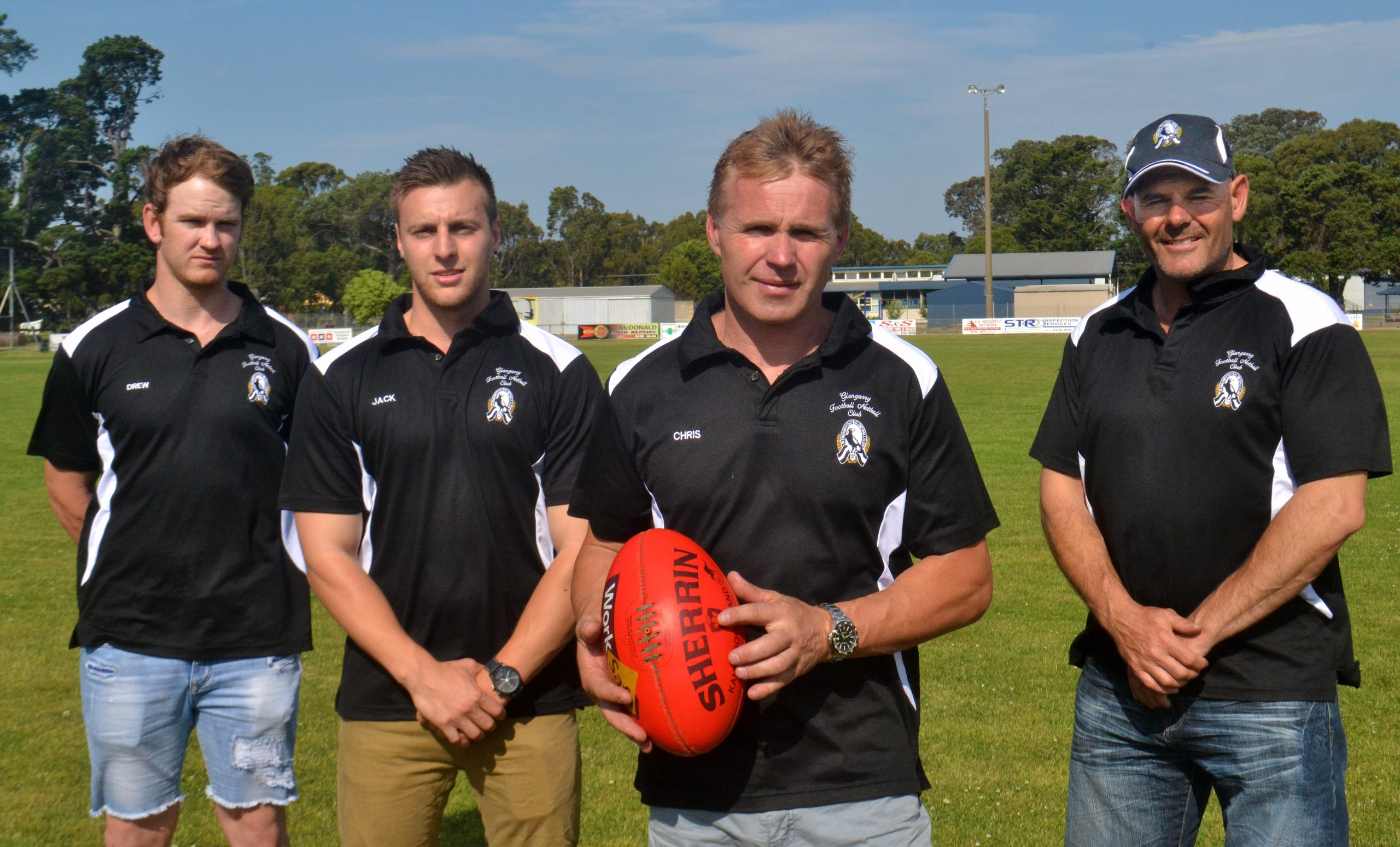 IT'S easy to forget just two seasons ago Glengarry was raising a North Gippsland premiership flag.

A "hangover" year followed the 2013 conquest, in which the Magpies ran eighth with six victories, while 2015 was a disastrous wooden spoon underscored by zilch in the W column.

In the wake of premiership player departures and a subsequent regrowth era at the nest, the club has turned to an entirely new coaching panel to lead it back to the glory days.
Gippsland football veteran Chris Day will assume the senior role flanked by new recruits Jack Wyhoon from Gormandale and former North East Australian Football League player Drew McGrath as assistants.
Day played at Leongatha for eight years and spent as many at Wonthaggi playing and coaching in various capacities, including the top senior job.
He migrated to Mid Gippsland in the twilight of his playing career with Mirboo North, home to his wife, before taking a hiatus from football once he hung up the boots.
Day returned to the fold as director of coaching at Stony Creek in the Alberton League, where he filled the senior coaching role for the past two seasons before moving to the Glengarry area.
Few boast Day's experience in Gippsland football circles, but 2016 will mark his first foray into the NGFNL thanks to the persistence of incoming Glengarry president Dan Reid.
With a new squad at his disposal the 48 year-old said it was too soon to make any predictions about the team he would field, much less ladder position, as he goes back to basics.
"Glengarry has probably suffered from maybe having internal coaches. Reidy saw the opportunity of getting me and I saw the opportunity of giving the club a fresh start," Day said.
"The main focus is to get the guys fit and interested in playing footy again. The challenge with us is to get the guys fit but keep the enthusiasm and the intensity up which can be a fine line to balance.
"I see the potential there as a lot of new faces creates energy and excitement around the club so hopefully some other guys will come back because they see there's a bit happening."
One thing he is certain about is the quality of the club's young stocks, following the thirds' grand final victory this year. It's one of the things that enticed him to take the job, another was the club culture – a major part of his modus operandi.
"What I can bring this club is that team aspect. Play for the team. Obviously it's still country footy so you can't go too over the top. Most of the game plan will be pretty simple that everyone can understand," he said.
"I really want to instil that in the club, that real team-orientated, no individuals – everything is done for the team, I really want to enforce that culture around the club and just make it a good place to be.
"If you can stay together off the field you sort of play for each other a bit more on the field."
It's a concept Glengarry has held dear the past few years on and off the field.
The club became the first in the region to achieve Good Sports bronze accreditation, and will go for silver with a host of compulsory seminars around ice abuse, respect for women, responsible alcohol consumption and more.
President Reid said it was about fostering a sense of community and building a place parents want to send their children, literally and figuratively. The club has been working on a host of infrastructure initiatives, including new decking, renovations and a push for netballers to have own change rooms, shower and toilet facilities, in the form of a $400,000 master plan project slated for 2017.
"We push a real family orientated, friendly club to be at. We like to get the girlfriends, wives and kids (involved)," Reid said.
"We want to make sure juniors want to come here, the parents are happy to bring the kids here and start their senior career here.
Football pre-season has started at Glengarry on Monday and Wednesday nights. Netball began yesterday, with Melissa Lowe coaching A grade and Pauline Little B and C. For more information, visit the club's website or Facebook page.
Glengarry's recruitment targeted new leaders in more than name alone.
The injection of Gippsland locals, Jack Wyhoon and Drew McGrath, into the system as assistants to the experienced Chris Day will see each assigned key coaching duties throughout the campaign.
"A lot of clubs… pull in assistant coaches just to get them on board and don't really give them a role. Jack's really good with the fitness side of things. To take the workload off me, Jack and Drew will be taking a lot of the pre-season work, and that will evolve into a lot of key roles during the season," Day said.
After tearing his ACL twice in as many seasons, McGrath left the North East Australian Football League to return to his Gippsland roots.
Already the transition feels like home.
"Playing at a higher level like (NEAFL) that club culture, on the field it's great but off the field it sort of gets a bit lost. It seems a bit more corporate. It's good just to come back to the country, the first time I came to the club was the presentation and everyone came and introduced themselves," he said.
"Being a country boy… you really do take it for granted before you leave then when you come back it is pretty humbling."
McGrath said the silver lining to his injury woes was a chance to take an unofficial coaching position at Belconnen, followed by a similar role at Wagga Tigers.
He comes to the Magpies hoping to build on that resume, as will his offsider Wyhoon.
"It's really something I'm passionate about and really want to get my foot in the door for future things," Wyhoon said.
"Chris was one of the aspects that brought me out here, he's had a lot of history, a lot of success."
The new triumvirate has begun its campaign to guide Glengarry back to glory, with pre-season underway at the Magpies' nest.