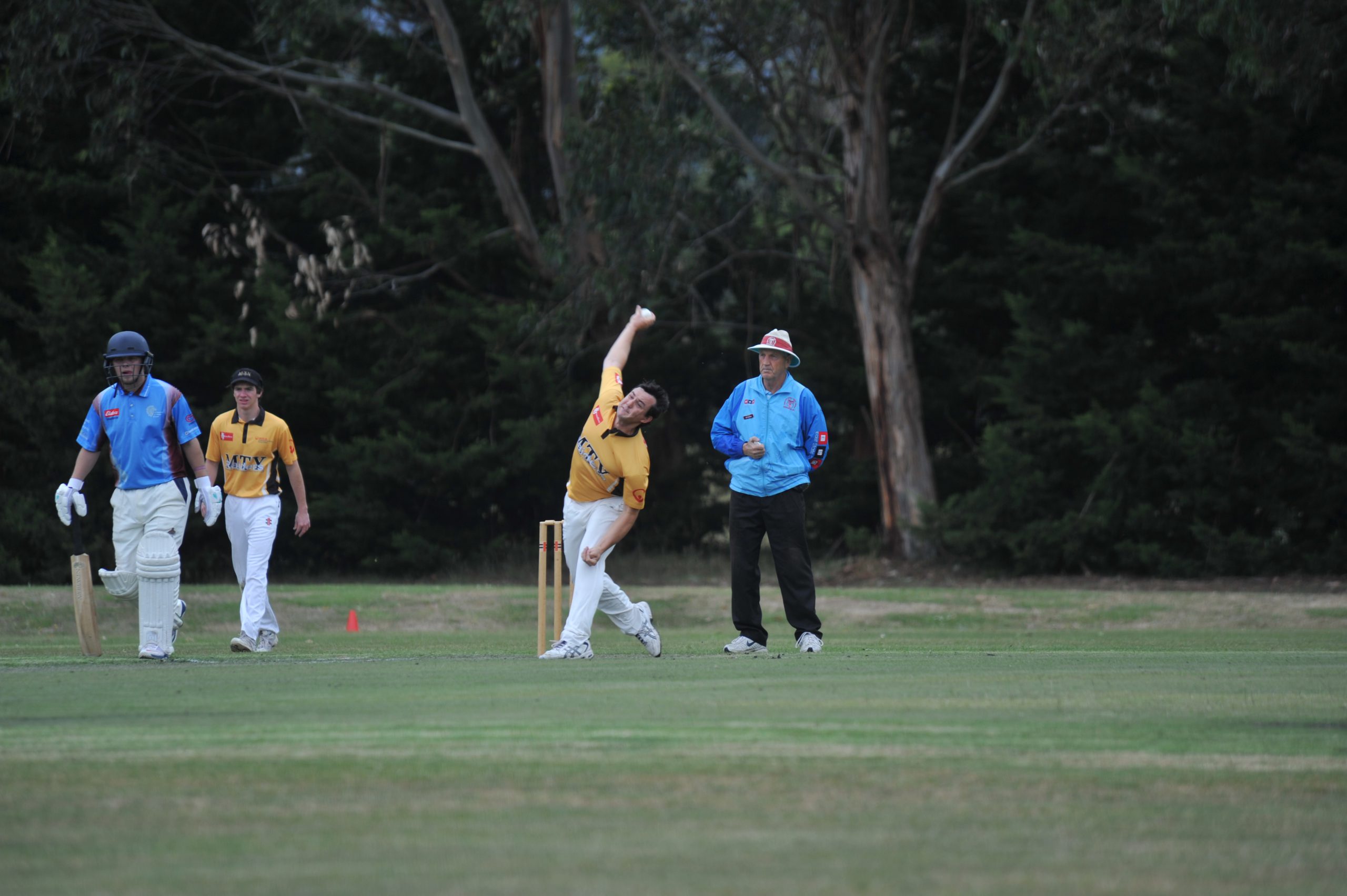 TOONGABBIE produced the first major upset of the Traralgon and District Cricket season by thwarting raging premiership favourite Ex Students in the opening spate of one day matches.

The other highlight of round six was the opening stand between Glengarry's Sam and Frank Marks, who put on a monster partnership of 232 for the first wicket to rewrite the club's record books.
Brad Knowles continued his outstanding year with another six wicket haul, as Centrals this time suffered his wrath.
BRAD Knowles again tore through an opposition batting lineup to lead Raiders to victory.
Centrals felt the brunt of Knowles' punishing spell after winning the toss as they crumbled to be 7/46 then all out for 77 in 27 overs.
No batsmen reached 20 as Brad Knowles tore through the card, sending down 6.5 overs to take 6/18.
Alex Lawson claimed 2/21 and Dave Embleton managed 2/32 to complete the rout.
Raiders were never troubled in the chase and lost only three wickets for 85 after 28 overs.
Matt Dyke and Chris Stanlake both remained 34* at the close of play, as Raiders chose not to bat their remaining overs.
CATS took a big step toward a potential final four berth with a comfortable win over Imperials.
Batting first Imperials lost early wickets before Daniel Hamilton came to the rescue with 60 and, along with Scott Aitken's 38, restored respectability to the score of 7/142 after the allotted 45 overs.
After losing two early wickets CATS recovered and never looked in any danger, finishing at 6/177 off 45.
Ben Julin made 37, Jack Marshall made 39 in a one-off return to the club, while for the second week running Tim Derham top scored with 50*.
Nick Scammell with 3/33 was best against his old team, while Mitch Goodwin took 2/26.
THE reigning premier is back in the leading quartet following a commanding victory over Rovers.
Batting first Sam and Frank Marks recorded the highest batting partnership of all time in A grade for Glengarry with a 232 opening stand.
Sam Marks was brilliant with 103*, while cruelly Frank fell five short of a century for 95 when he was caught and bowled to end a special innings.
Rovers battled hard chasing 238 and it took the Magpies 43 overs to dismiss them for 193.
Dean Gillard was at his best with 82, while extras tallied 29 to help the total.
Cam Graham led the way with the ball for Glengarry with 3/20.
CHRISTMAS came early for Toongabbie as the Rams caused a huge boilover by defeating the highly rated Ex Students.
Batting first the Rams scored a respectable 7/151 off their 45 overs.
In a worrying sign for the Sharks only Stu Anderson picked up multiple wickets with 2, though three run outs may have skewed the card.
After smashing the ball to all parts in their previous outing against Traralgon West the Sharks found themselves floundering at 2/15 with the prize wicket of Greg Munro (10) in the bank.
In form Jordan Gilmore looked capable but was dismissed for 20 and panic began to set in.
Jackson McMahon was stoic to top score with 41, while prized recruit Anderson was devastated at losing his wicket for nought.
In the end Ex Students were all out for a soul destroying 105.
Josh Sandy and Tim Dunn were sensational for the Rams both taking four wickets.
TRARaLGON West sent Gormandale into bat first and produced wholesale chances in the early going.
In farcical scenes reminiscent of a 'Keystone Cops' clip the Eagles had dropped four catches in 20 balls to let the Tigers off the hook.
When Travis Switzer had to retire after tearing his calf muscle however the West was slowly getting back on top.
Limited penetration in the bowling attack allowed the Tigers to recover and post a good score of 7/233.
Shaun Barbour relished the pressure to compile a well made 58 not out, assisted by Kent Hammond (47), Will Cheatley (33) and Brad Wadlan (22).
Rob McGregor claimed 4/38 to lead the bowling attack for Traralgon West.
With Barbour, Barney Webber and Cheatley (four overs) unable to bowl the Eagles were in with a chance of an upset.
An opening stand of 32 by father and son Brenton (17) and Tim Howe (10) set the West on their way.
Some lusty late batting heroics from Tim Fitch (80) put his side in a good spot, capitalising on the second string attack.
Matt Rogers also proved his worth with a solid 29.
Late in the game the equation for the West was to score at eight an over with 36 balls and three wickets left.
Barbour had to bowl two overs of left arm spin but surprisingly the West shut up shop and batted out time to make a respectable 8/208.
Brendan Peavey 23* and Hector Ta'ala 10* were in at the end.
For Gormandale Adam Brady was superb with 4/17 from his nine and luckily for the Tigers he was able to bowl full tilt.