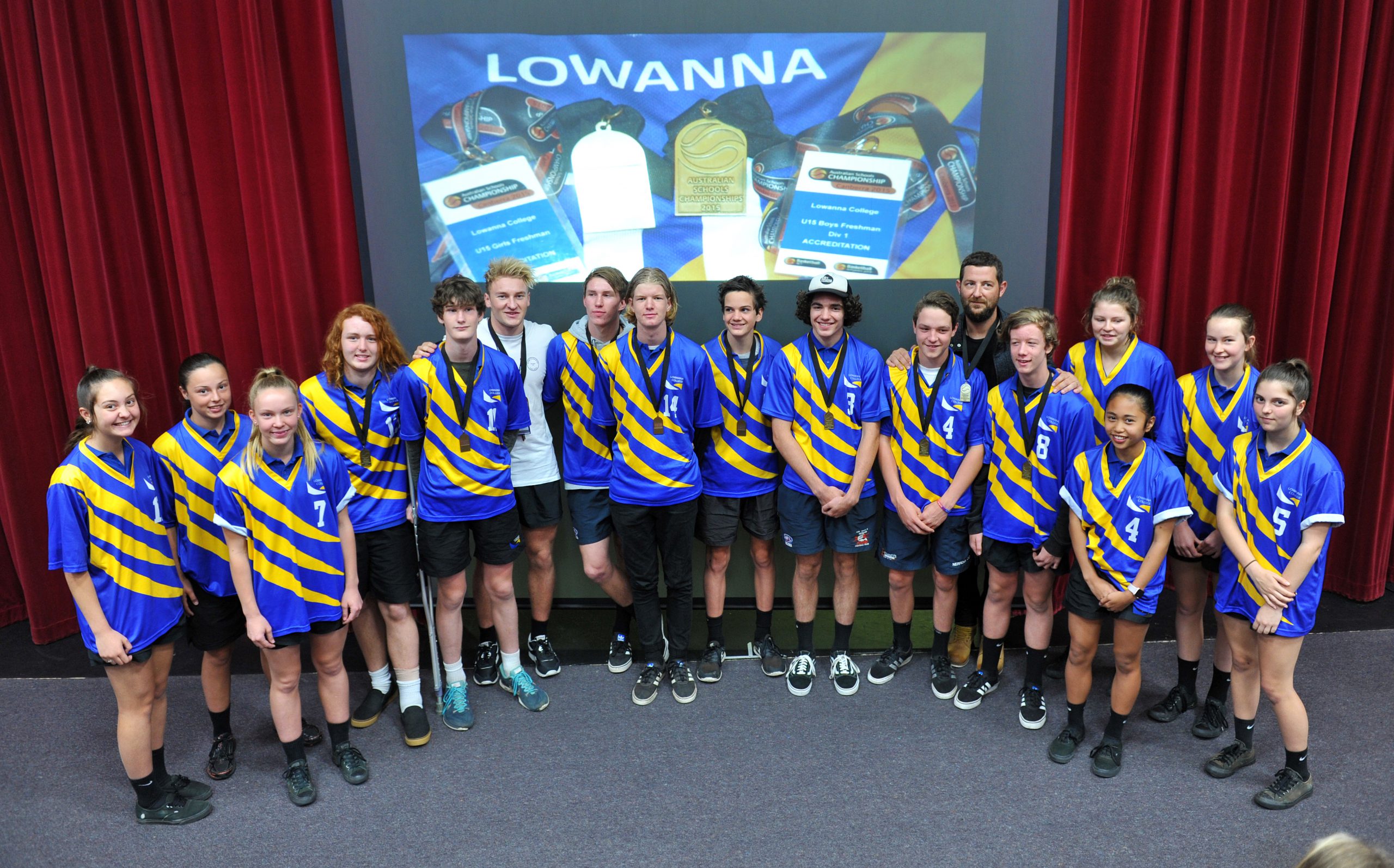 LOWANNA College has taken out the title of best under 15 boys' basketball school in the country at the National Schools Basketball Championships in Canberra.

The side went undefeated throughout the week-long championship before knocking over St Joseph's College FTG 52-43 in the gold medal match.
As one of the smaller schools in attendance team leading scorer Harry Pepper, who racked up a team high total of 116 points at just shy of 20 per game, said it was a thrill to take home the national trophy.
"We didn't expect to do so good as just a little country town coming down and it finished in a way we did not expect but it was an awesome feeling in the end," Pepper said.
"Nerve-wracking, hard in the end. It came down the final two minutes and we decided to actually pull away."
Joined by a host of players familiar with one another by virtue of competing together outside school under Pat Frendo, Pepper was supported by the entire squad at the offensive end.
Brock Smith scored 107 points for the week at better than 17 per game, while Ben Van Dyk and Wade Anderson were also steady contributors. Playing six games in the span of a week proved a taxing, but rewarding experience for the jubilant side, which was congratulated in a special assembly last week.
"You got very sore by the end of it, I could barely walk when I was getting home but in the end it's a lovely feeling taking that gold medal," Pepper said.
"(It was) not just the team (that put in) but the people that came with us. Karen Prestige cooked every night which was amazing, good food as well. Rocky one of the dads who came along looked after us, Mitchell Stanlake helped and the coach Mike Santo did everything for us."
Head coach Mike Santo was wiping the 'dust' from his eyes long after the final siren following the emotion charged triumph.
"I might have shed a couple of tears which people are definitely reminding me about. After a massive week your emotions are running hot and just to see the kids battle back, be challenged… they just showed so much ticker and character to get over the line it was an outpour of emotions at the end of the game," Santo said.
"Super successful, just remarkably successful for the kids. The way they conducted themselves as young people and as young student athletes was a credit to themselves, their parents and the school community."
Lowanna's girls team was also competitive, reaching the bronze medal playoff match where they succumbed to Lyneham High 40-50.
Santo said both groups had plenty to be proud of.
"They stuck together. The boys and girls always came to support each other, it was a massive week, lots of travel but we stuck together," he said.
The results come on the eve of Lowanna's inaugural sports excellence program in 2016 which will target football and basketball development.
Santo said the Australian title was a great endorsement for the program.
"It really couldn't be better (timing) to have this under our belts leading into the first year of the sports excellence program is a remarkable achievement for the school and the boys, we couldn't be prouder of them," he said.