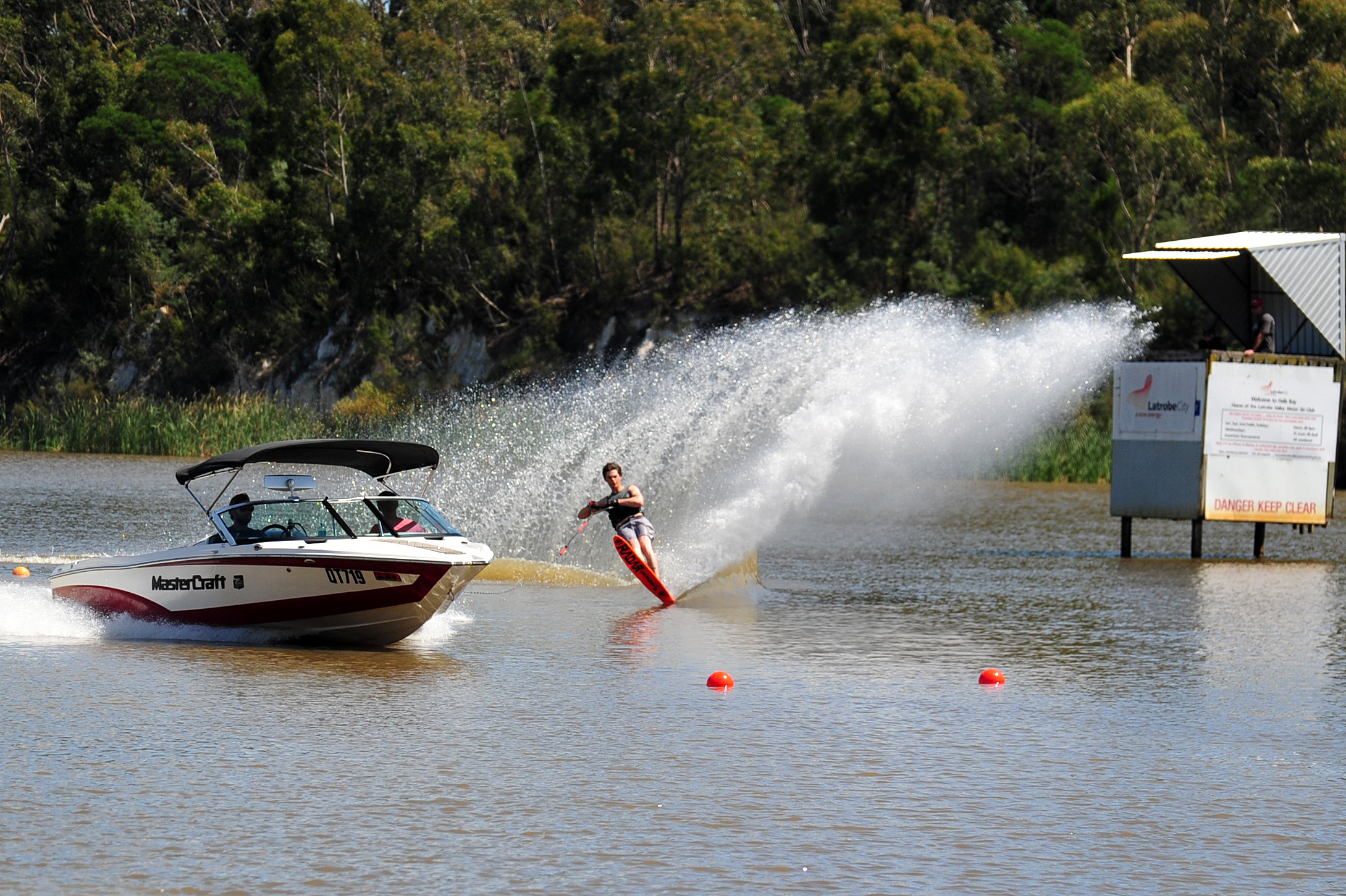 HALL'S Bay was overflowing at the weekend as record numbers converged on Lake Narracan for the thrills and spills of the Victorian State Waterskiing Championships.

More than 70 competitors took to the Latrobe Valley Water Ski Club course to test their mettle including Australia's premier skier Nick Adams, who came just shy of the open men's venue record with a score of 10.25.
World, national and state records tumbled throughout the two day event – the fourth consecutive Victorian Titles staged at Hall's Bay and the club's first major since rebuilding its ski ramp with help from Latrobe City Council funding.
LVWSC president Ray Smith said the championship had been the best to date at the site.
"From our side of it probably one of the best tournaments we've had," Smith said.
"There were a lot of personal bests and we did have one of the disabled skiers break a world record."
With entries at capacity LVWSC had to push the start time forward an hour to 7am which led to about 11 hours of action on Saturday.
A small number of local club members qualified for the national championships at Port Macquarie over Easter after competing against skiers from Mildura, Horsham, Shepparton, Melbourne and beyond in divisions ranging from under 10 to over 65.
Smith lauded Southern Rural Water and the State Government for their assistance in ensuring water levels were appropriate for high class competition at the world-class facility.
"This is one of the best sites and it's run the best and that's why Tournament Water Skiing Victoria keep bringing it back here because they know when they turn up their going to get a great tournament," Smith said.
"This fantastic site here in Hall's Bay – it's a natural area – is really getting used to its maximum, running the Victorian State Championships with some of the biggest numbers ever.
"It's just a feather in the cap of the Valley and a site that wouldn't exist if it wasn't for all the previous members and support of local council, SRW and State Government."
Smith said the championship was the perfect hit-out ahead of the club's hosting of the Latrobe International Invitational – a world-ranked masters slalom event – next month.
"Well and truly (we're ready for the masters). It gave us a chance to test our technical equipment… the whole site ran really well with water levels and (everything else)," he said.
LVWSC will stage the invitational on 19 and 20 March.