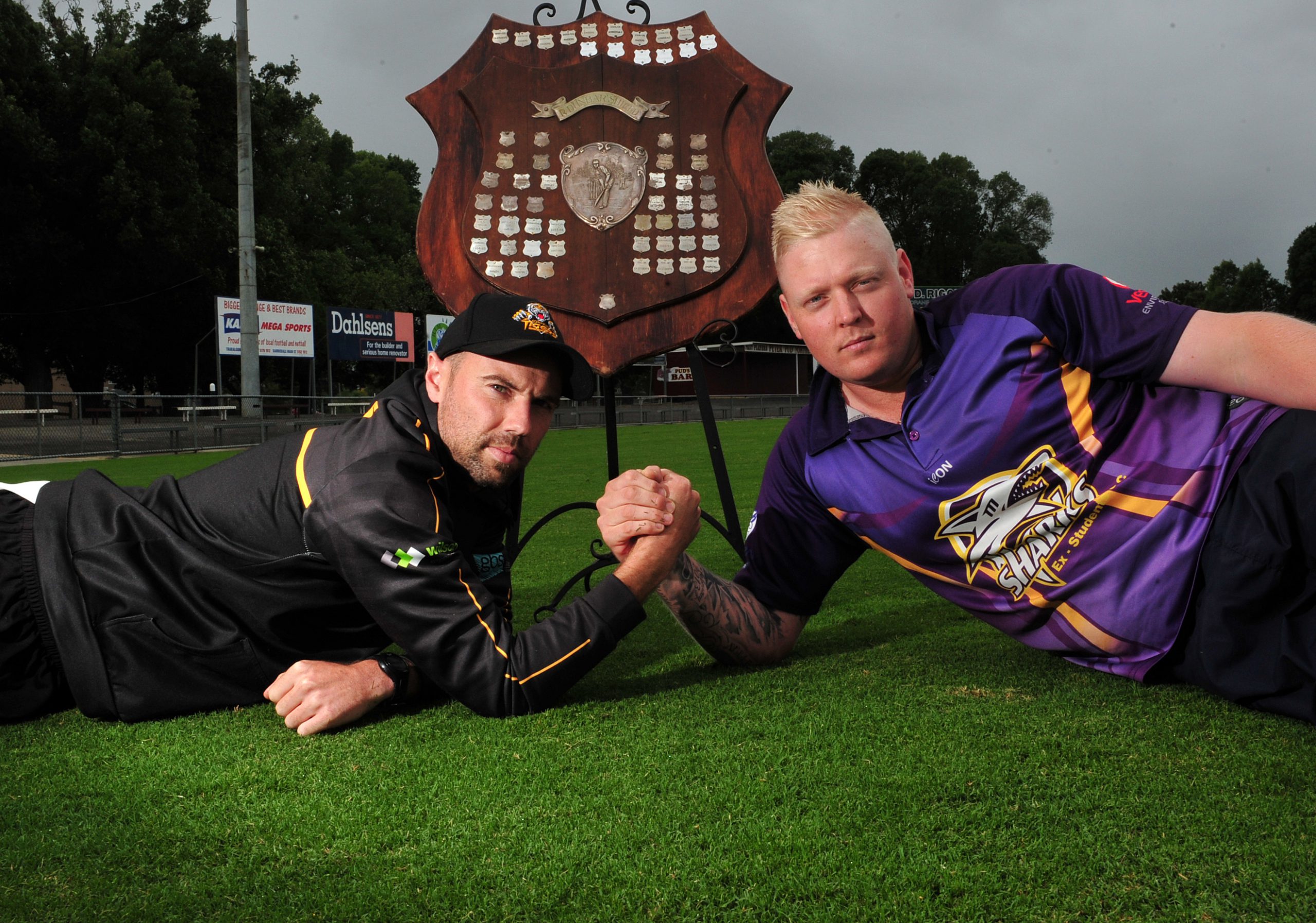 THE heavy hitters of Traralgon and district cricket are set to collide on the main stage once again this weekend.
Power clubs of the past decade Ex Students and Gormandale will reignite rivalries in the grand final at Churchill, both chasing a ninth A grade flag and head-to-head bragging rights.
The ledger is two apiece in four grand final meetings between the fierce rivals ahead of their third premiership showdown in four years.
Ex Students has been a mainstay of the deciding fixture with four consecutive grand final appearances while Gormandale has also been a model of consistency by reaching the big dance 10 times in 12 years.
Sharks captain Michael Warne said despite being a regular fixture in grand finals the club had not settled into a routine approach to the week.
"Absolutely not, you've got to take every year as it comes," Warne said.
"It's good to be in the position we're in, have some consistency and be in finals year-in year-out, but unfortunately we haven't won as many as we'd hoped.
"To have all grades in the grand final is a massive effort and achievement but it means nothing depending on what happens on the weekend."
After a slow start to the season Warne said the back half of the year had brought out the best in a young squad.
"We've got a reasonably young side. We struggled early in the year as results showed, but we really dug in as a group midway through the year and started working for each other," he said.
"When one person has failed, another person has stepped up… we've done all the hard yards to get to finals and it's just a matter of doing the same thing."
The key to this matchup will be whether the Sharks' top order can weather the Tigers' vicious bowling attack.
Gormandale has been menacing with the ball this season and its four leading strikers – captain Shaun Barbour, Adam Brady, Brad Wadlan and Rob Webber – average less than 12 runs per wicket.
Brady, Wadlan and Barbour occupy fourth through to sixth on the wicket-taking tally with 36, 36 and 31 respectively and present a huge threat to the Sharks' middle order.
Greg Munro and semi-final centurion Jordan Gilmore must make runs at the top to deny Gormandale a chance to expose the rest of the line-up.
On the flipside Gormandale's inconsistent batting card could also be fragile in the face of a consistent Sharks bowling unit.
Warne has spun his way to 24 wickets at 15.75 while Rob Voss (21 wickets at 10.86), Andy Matthews (17 wickets at 12.24) and Jimmy Pryde (14 wickets at 15.93) have provided able support.
At their aggressive best the Tigers have been able to score mammoth totals, including an outrageous 422 in 87 overs against Imperials, but have also crumpled to single digit team totals.
Barbour said the 100 over format necessitated curbing the aggression the Tigers had exhibited this season.
"A little bit different with the 100 over game… you have to try and pace yourself. We tried to do that at the weekend… and accelerate toward the end," he said.
"In terms of our bowling it's great that we've got the depth and in a 100 over game rotations will be very important as well.
"We made 264 and nobody made a 50 so hopefully we can change that this weekend and somebody makes a big score."
Gormandale was a notable absentee in last year's finals series and Barbour said the club was keen to make amends for the anomaly.
"It's very important to the club we pride ourselves on being competitive, and to be competitive you've got to be in the finals and in the mix," he said.
Barbour will look to draw on the finals experience of Kent Hammond, Travis Switzer and Brady who have been there countless times before.
In B grade Ex Students will take on Glengarry for the silverware.
Daniel Churchill and Adam Jaensch will be key players for the Sharks, while second highest run scorer Paul Henry (700 at 50) has had an outstanding year with bat and ball for Glengarry.
Along with Henry (32 wickets), James Porter has been the Magpies' main striker with the ball and boasts 27 scalps at 7.44.
Just like their A grade counterparts Ex Students is playing its fourth consecutive final while Glengarry is contesting its first in this grade since 1976.
The Sharks will be out for a TDCA clean sweep with their C grade side also in the finale. Ex Students faces Gormandale in a mirror of the top grade in the Tigers' return year to the C grade competition.
Ex Students will look to Paul Hennessy and Brad Pratt, while the Tigers will be hoping Andrew Heard and Shae Duncan can have big games.
A grade – Saturday and Sunday – 11am start – 100 overs each day
Gormandale v Ex Students – George Cain Oval, Churchill
B grade – Saturday – noon start – 45 overs each
Ex Students v Glengarry – Traralgon Rec Res
C grade – Saturday – noon start – 40 overs each
Ex Students v Gormandale – Old Trafford