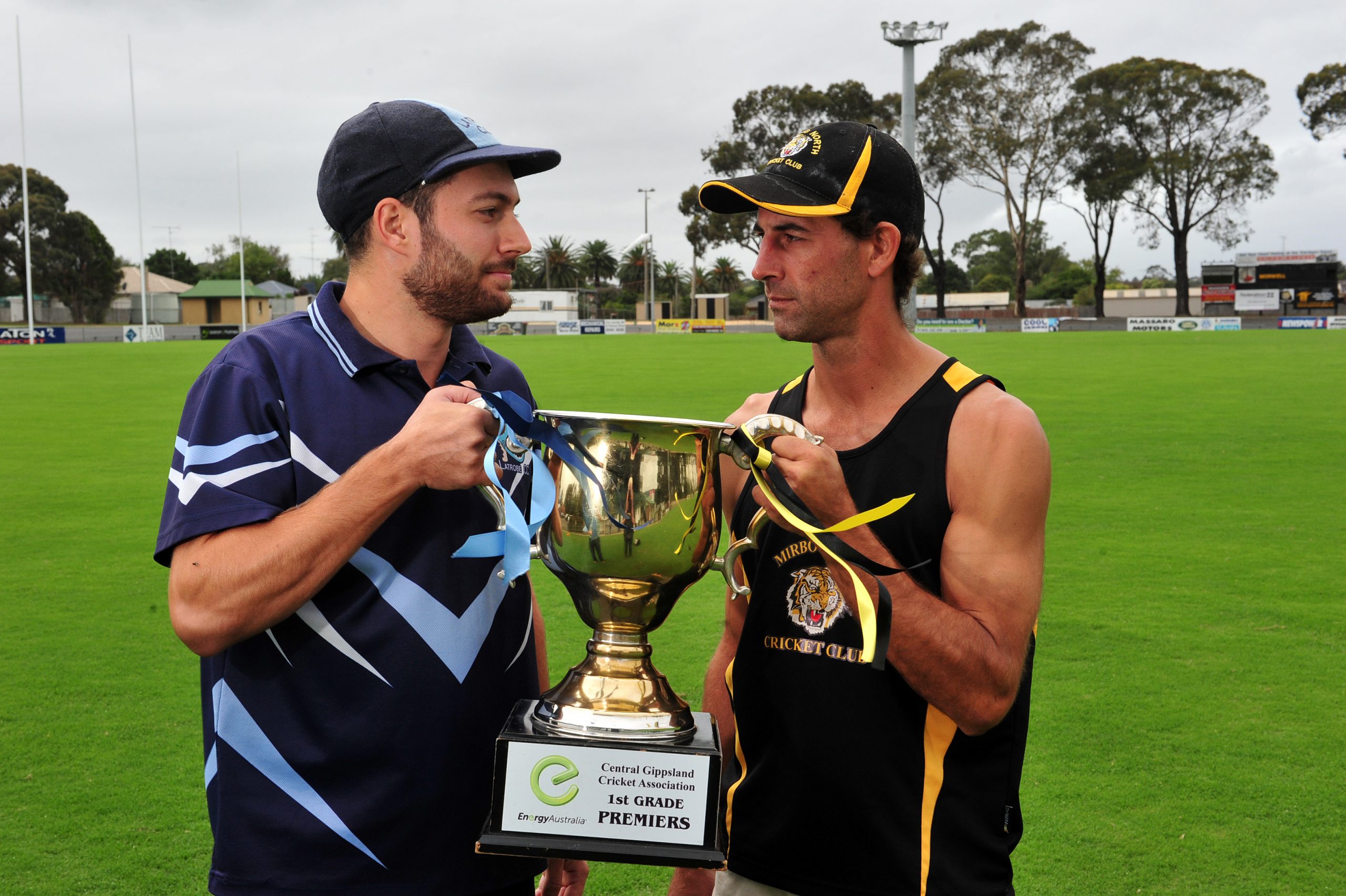 WHEN it comes down to the crunch this weekend's Central Gippsland Cricket Association grand finalists could scarcely be more contrary.
Mirboo North has become renowned for its ability to seize the moment in recent years while Latrobe enters its sixth consecutive grand final with nothing to show for it but bitter memories.
The Tigers snuck into the decider in dramatic fashion on Sunday when big-game player Rob Phoenix hit a six from the final ball of the 200th over against Morwell to engineer an outright semi-final win for the ages.
Latrobe players watching the last session from the stands would have endured flashbacks to the 2013/14 decider when the same man stood up to clinch arguably the greatest final in CGCA history.
In that match Phoenix smacked an unbeaten 125 and put on 87 for the ninth wicket with Dale Banks to chase down Latrobe's 290 in the final over of the match with two wickets in hand.
Mirboo North captain Shane Peters said the astonishing semi-final triumph had the club buzzing ahead of the big dance, with all three grades through to their respective finals.
"We're obviously pretty ecstatic; to not know you've made it until the very last ball of 200 overs of cricket, it was quite an achievement," Peters said.
"It was a perfect end to a perfect day really, we were behind to start the day, but truly all 11 of us never gave up.
"All three sides are in so it's a big week for the club and we're very excited, hopefully we bring home all three."
Phoenix looms as the key to both sides' fortunes this weekend.
Chasing his 12th premiership in 12 years, having missed out for the first time in more than a decade last season, Phoenix has been in fine form all season.
The all-rounder has amassed 363 runs at an average of better than 30, and 21 wickets at 15, but Peters said the Tigers were more than just a one man show.
"You always expect a champion to play champion cricket, but in saying that it's well rounded group so I'm expecting a great team performance," Peters said.
"We lost a home final to miss out last year so that left a bitter taste in the mouth; the boys have been working hard especially over the last six weeks to make it a full on charge in and the reward for effort was on Sunday at about 6.03pm."
While Mirboo North has conjured miracles its opponent has been reduced to a foot note in other clubs' fairytales.
Latrobe conceded three straight finals to Moe as the Lions racked up eight-in-a-row, endured Phoenix's heroics the following year, then watched Trafalgar claim its first A grade premiership from the best seat in the house.
Captain Brendan Evans was adamant the ghosts of finals past would not haunt the Sharks in the hunt for an elusive flag.
"It definitely fuels the fire for the next season (each time you lose). When there's a few in a row it's hard to explain how you approach the next year but that's why we've got the mindset of leaving the past behind and focusing 100 per cent on this occasion," Evans said.
"We've just got to come out with the right mindset, as if it's just another game in the season with 11 close mates… and try not to fear the occasion or fear the result – that's where we've gone wrong.
"There's probably only three or four players who've played in all five so for us it's just about having the right mindset and leaving that in the past."
Evans said the side had not anticipated making another final as it entered a redevelopment phase.
Latrobe fielded two B grade sides this year, one tailored specifically for youth development, and blooded three under 16s – Will Kennedy, Ben Kimpton and Benn Zomer – at the top level.
"It's been a really good experience for them and it's all about the future now for us, blooding all these kids through B and A grade is really setting us up… we're really proud of what we've done as a club this season," Evans said.
"It's another grand final for us but we've exceeded our expectations; this year was about blooding some of our juniors into senior cricket."
The final is shaping as a clash of the best batting unit in the competition against the most potent bowling attack.
Mirboo North bats deep and has superstars in Phoenix and English import Adam Mates, who has scored two tons and 549 runs at 42.2 in addition to wicket keeping duties.
Latrobe's Sri Lankan import, Tyron Gamage, leads the CGCA bowling charts with 30 wickets at 13.47 and economical club coach Chris Johnson has 27 at 10.93.
Captain Evans had a down year by his standards but still has 19 wickets to his name.
The batting has leant heavily on veteran Anthony Bloomfield (411 runs at 45.7) and Latrobe needs the likes of Justin Vajler, Matt Brewer and Tim Cranwell to stand tall in the final.
The A grade grand final will be held on Saturday and Sunday at Morwell Recreation Reserve from 11am.
A Grade – Saturday and Sunday – 11 am start – 100 overs per day
Mirboo North v Latrobe – Morwell Turf
B Grade – Saturday – 12 noon
Mirboo North v Morwell – Peter Siddle Oval
C Grade – Saturday – 12 noon
Mirboo North v Willow Grove – Maryvale Reserve