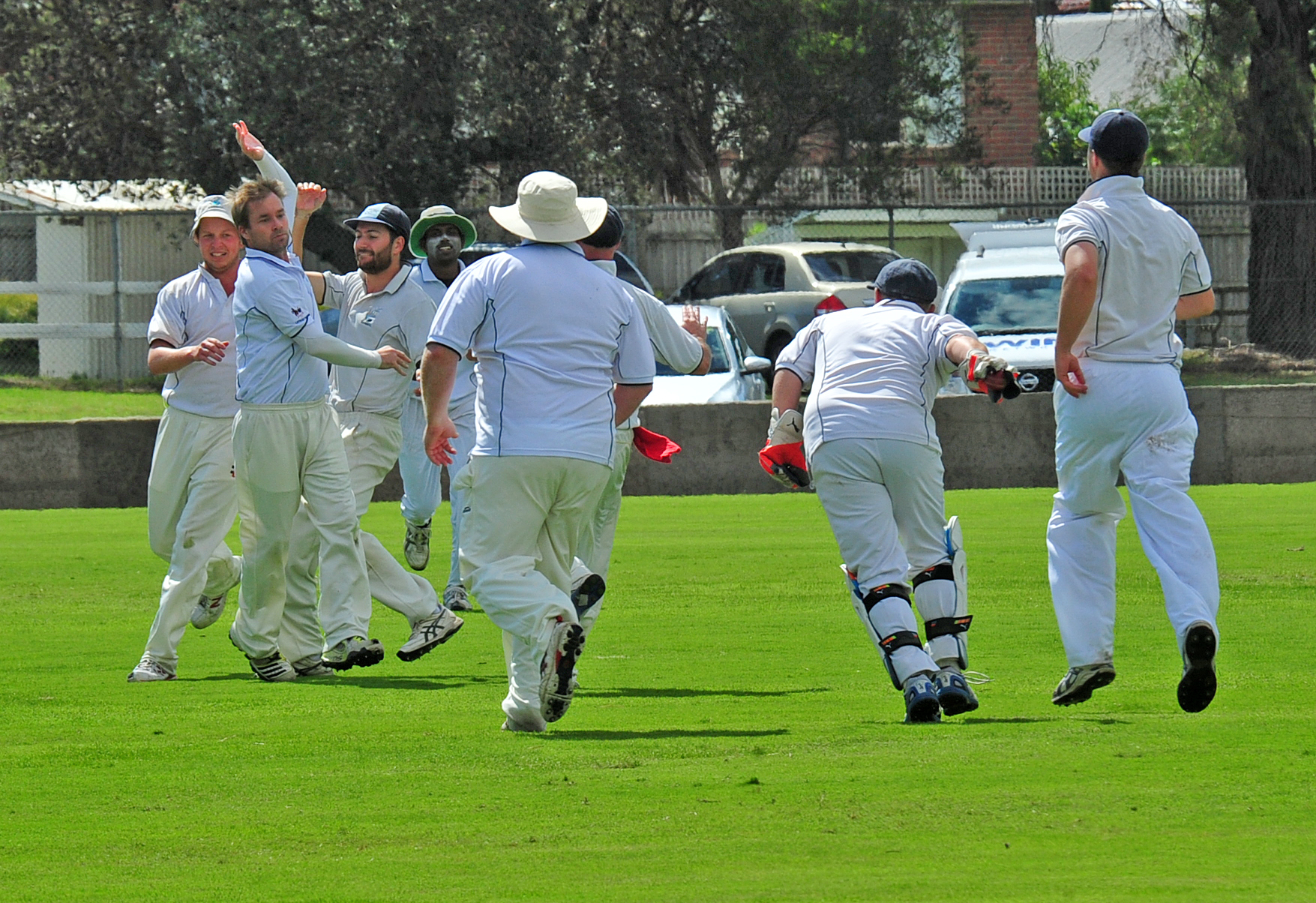 RELATED COVERAGE: Glory for Mirboo North and Willow Grove
THEY'VE been waiting six years for their big moment but the Latrobe Sharks will have to hold out another week in the hunt for an elusive Central Gippsland Cricket Association premiership.
Water seeped beneath the Morwell Turf covers during storms late last week, forcing play to be abandoned on Saturday, and the A grade grand final between Latrobe and Mirboo North hangs in the balance ahead of a belated conclusion this coming Saturday.
The Sharks need another 63 runs to reel in the Tigers' first innings total of 143 with seven wickets in hand and key batsman Anthony Bloomfield (16*) still at the crease with Steven Freshwater (8*).
Latrobe captain Brendan Evans said the match was on a knife's edge heading into an unexpected second weekend.
"It's 50/50 at this stage… it comes down to basically the first hour next Saturday… very evenly poised at the moment," Evans said.
"This pair at the moment they've been batting well together lately so this is definitely a key partnership but in saying that, we do have a lot of good batsmen to come and we bat pretty deep so we're happy with the position we're in.
"They got off to a pretty good start so to get them all out for 140 odd. It is a credit to the bowlers and the fielding effort.
"Not an ideal situation but that's cricket, we've got to come back next Saturday and there'll be a few sleepless nights towards then; we've just got to approach it the same as we did last week… and make sure we prepare right and finish it off."
Evans sent Mirboo North in on the wicket used for last weekend's semi-final but Mirboo North was stoic in the early exchanges and posted 42 runs without loss.
English star Adam Mates failed to fire, bowled by Tyron Gamage for a laborious three, but his opening partner Jesse Giardina picked up the slack with a near run-a-ball 71 after being dropped by Freshwater in the slip cordon in the second over.
Evans tossed the ball to young spinner Benn Zomer who rewarded his skipper with a catch to dismiss the dangerous Giardina at 2/86 before club coach Chris Johnson took control.
The paceman seared through the Tigers' middle order to have Mirboo North captain Shane Peters (seven), Hudson Kerr (1) – who had already survived a stumping chance off Zomer – and star Rob Phoenix (19) all caught behind the wicket.
Jamie Brierly chimed in with a pair of wickets to keep the ball rolling, paving the way for Gamage (3/36) and Johnson (4/12) to polish off the tail cheaply.
Mirboo North was ultimately ousted for 142 in 58 overs to give Latrobe a sniff of a day one victory but the Sharks sensibly opted to take the cautious route in reply.
It was slow and steady as Justin Vajler (33) and Tim Cranwell (eight) put on 40 for the first wicket, which was not without incident despite the sedate pace.
The pair had a running mixup in the 13th over but a poor throw let them off the hook and Cranwell was dropped at point by Kerr.
Eventually both openers fell in quick succession to Phoenix and Liam Smit – who put down a caught and bowled chance from Matt Brewer before the Sharks first drop was caught at the wicket off Jed Alexander, also for eight.
Freshwater and Bloomfield consolidated late in the day as Latrobe reached 3/80 from 42 overs by stumps.
Freshwater survived a half chance off the spin of Dale Banks, dropped at first slip, and a huge shout for caught behind in the penultimate over of the day delivered by Josh Taylor, but held on to fight another day.
Day two of the CGCA final will be staged on Saturday at Morwell Turf.
WHEN Morwell Cricket Club curator Jeff Gniel lifted the covers off the pitch on grand final day he encountered nothing short of a nightmare scenario.
Persistent rain on Friday had found its way beneath the covers on both pitches at the venue for the CGCA premiership match, leading to the loss of a full day's play on Saturday.
"When we lifted the covers up Saturday morning at 8.30am the top of the wicket (at the Travers Street end)… was like a lake," Gniel said.
"The water has run down off the grass… under the cover and just made it unplayable."
The setback forced ground staff to work on the secondary wicket, used the week prior, to get something playable up for Sunday.
"We couldn't play over there… so we had to prepare a different wicket which happened to be the one we used last week in the semi-final.
"(I was here) all day Saturday and here at 7am Sunday to get it ready for play at 11am… It's come up quite well, it's been a good day's play, but it's been stressful and pretty hard work."
Gniel said there was no fault with the covers which were in place but admitted it was an anomaly to get water pooling beneath them.
"Mother nature, there's nothing anyone can do about it; I've never had water leak in under the covers before," he said.
"There wasn't anything wrong with the cover… you get water in grass it just finds its way through."
Ground staff will continue to work on the wicket through the week to prepare for day two on Saturday.