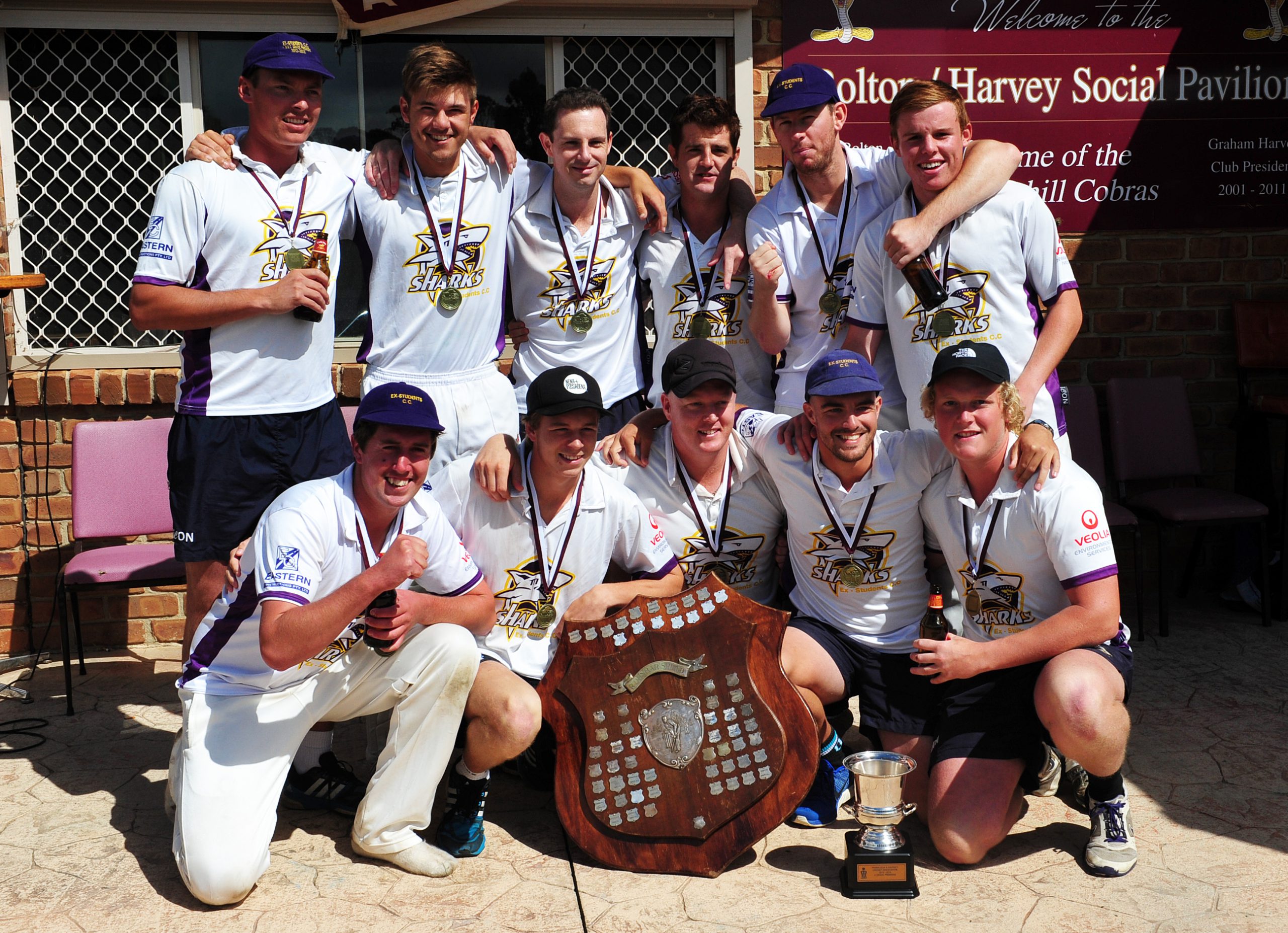 RELATED COVERAGE: Alphabet assault by Ex Students
EX Students' A grade side capped off a perfect weekend for the club at Andrews Park, Churchill yesterday as the Sharks romped to an historic Traralgon and District Cricket Association premiership hat-trick.
A 10 wicket victory over Gormandale in A grade shored up flags across all three senior grades for a record third time, 20 years since first achieving the feat.
Greg Munro (76 not out) and man of the final Jimmy Pryde (33 not out) cruised to the target of 114 in yesterday's first session to claim an emphatic victory and the Sharks' second flag from four consecutive grand final appearances.
Ex Students skipper Michael Warne said the triumph could scarcely have been sweeter.
"To be none down chasing a small total is unbelievable, the way Greg Munro and Jimmy Pryde batted was sensational but it was set up by the boys on Saturday," Warne said.
"That's what we've done well through the year (bowled well as a unit). Our batting's been a little bit up and down… but our fielding and bowling has been consistent.
"The last couple of months we've proven we are a team, we're a tight-knit group and we do everything we can for each other and that's what got us over the line."
The clean sweep of TDCA silverware was the Sharks' second all-conquering season this decade and followed on from the 2012/13 triple-crown.
"We had a past players reunion for the (first) hat-trick two weeks ago and started talking about it. We knew all grades were in finals and we thought 'can we'? You always push for it but it's a bit of a fairytale," Warne said.
"We've done it twice in four years which is a massive effort; the club works hard on and off the field."
The captain said the result was indicative of a group greater than the sum of its parts.
"It's been a team effort a lot of the time; we didn't have a player in the TDCA team of the year, but we've won the final and we've won it easy.

It shows you that guys are willing to dig in and work, it's not about (individual) trophies it's about doing what you can for your teammates to win a premiership."
The final was off to a dramatic start when play was delayed for two hours on Saturday after a savage storm blew the covers off at Churchill early Friday morning.
Sensing a chance to take advantage of the conditions, Warne sent Gormandale into bat first.
The Tigers got off to a steady start of 20 before Barney Webber went LBW for 13.
It was all downhill from there as the Sharks' attack smelled blood in the water.
Al Jenkin was out for seven, Kade Joske went to a blinding catch by Rick Battista for nine, the key wicket of Brad Wadlan cost just five, Kent Hammond made a duck and Rob Darby was dismissed for three.
At 6/40 it was all but over for the Tigers.
In a rearguard effort Will Cheatley added 21 with Conner Little before he went for 14.
Travis Switzer was hoping for a miracle but after a partnership of 37 with Little he departed for a top score of 29.
Shaun Barbour (nine) and Adam Brady (one) rounded out the Tigers' paltry total of 115.
Little was defiant and showed great character to remain 18 not out.
Ex Students' bowling was ruthless; Rob Voss sent down 18 overs to claim 2/26, Andy Mathews picked up 2/40, Kade Duncan made his mark with 2/12 and the star of the show was Pryde, whose 3/11 included the prize wickets of Wadlan and Hammond.
With 22 overs to bat on day one, the Sharks' opening pair set up victory overnight with an impressive unbroken stand of 52.
Munro (38*) and Pryde (9*) finished day one on top and started day two exactly the same way as the Sharks, with the crowd right behind them, reeled in the 63 runs required in a breeze.
Munro showed all his class to dominate the potent Gormandale bowling attack with a magnificent 76*.
Pryde wrote his name into the record books and silenced the critics with 33* to go with his 3/11 to claim the Laurie Blake Memorial medal for man of the match.
A Grade
Grade Champion: Mark Rawson – Centrals CC – 18 votes
Batting Average & Aggregate: Mark Rawson – Centrals CC – 590 runs @ 53.64
Bowling Average: Brad Knowles – MTY Raiders – 39 wks @ 5.72
Bowling Aggregate: Nathan Campbell – Imperials CC – 41 wks
B Grade
Grade Champion: Paul Henry – Glengarry CC – 27 votes
Batting Average: Kyle Taylor – Ex Students CC – 389 runs @ 77.80
Batting Aggregate: Craig Flanigan – Churchill CC – 741 runs
Bowling Average: Luke Hendersen – Gormandale CC – 22 Wks @ 4.5
Bowling Aggregate: Paul Henry – Glengarry CC – 28 Wks
C Grade
Grade Champion: Andrew Heard – Gormandale CC – 73.9 points
Batting Average & Aggregate: Corey Rogers – Traralgon West CC – 383 runs @ 63.83
Bowling Average & Aggregate: Justin Shankland – Imperials CC – 21 Wks @ 12.14
Special Awards
Life Membership: Greg Ross
President's Award: Kristen Webber
GCL Senior player of the year: Ben Julin
GCL Under 18 player of the year: Justin Little
GCL Under 16 player of the year: Ewan Williams
Country Week player of the week – Alan "Pencils" Daniels Memorial: Brad Wadlan
JCW Under 15 Player of the week: Ewan Williams
JCW Under 14 Player of the week: Liam Little
Grey Nicholls Platypus Rising Star: Corey Petersen
Tom Anton Memorial Best Umpire: Greg Ross
Bert Hill Memorial Club Championship: Gormandale & Ex Students CC
All Gippsland Selection 2015/16: Jordan Gilmore, Ben Julin, Ross Whelpdale
TDCA Team of the Year 2015/2016
Mark Rawson – Centrals CC
Tim Fitch – Traralgon West CC
Frank Marks – Glengarry CC
Brad Wadlan – Gormandale CC
Sam Marks – Glengarry CC
Kent Hammond – Gormandale CC
Nathan Campbell – Imperials CC
Brad Knowles – MTY Raiders CC
Stephen Morgan – CATS CC
Adam Brady – Gormandale CC
Callum Stewart – CATS CC
Ji Eccles (WK) – Centrals CC