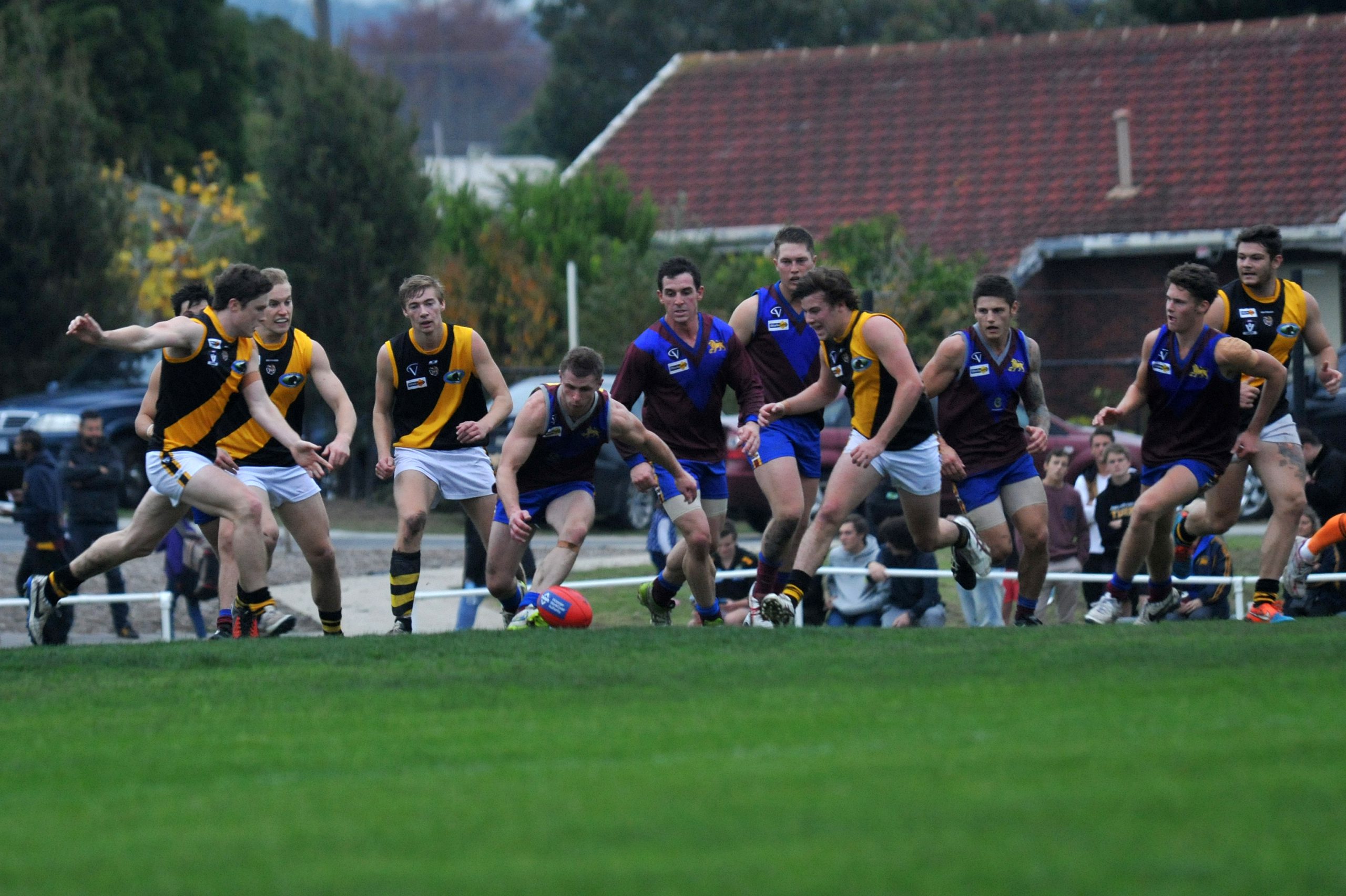 MORWELL will be aiming to crack the ton against Moe in round three of the Gippsland League on Sunday with a chance to notch its 100th victory over the Lions in their 183rd encounter.
The milestone would be mere semantics for Tigers coach Joel Soutar; a first win for season 2016 is the magic number on his mind after two losses to kick off the campaign.
"It would be nice (to get 100) but it'd be nice just to get a win to give the young boys a bit of belief and get back on track," Soutar said.
"It's a really important game for us to get that first win on the board and it's going to be tough against Moe, who I watched against Traralgon and they've got a pretty young side and picked up some new players as well.
"We respect Moe and we think they've gone about it the right way, trying to develop their young players.
"We're going to have to play really well to beat them this week."
Morwell has struggled in the opening two rounds with 35- and 69-point losses to Wonthaggi and Sale respectively.
Soutar said sustained effort would be a focus against Moe.
"First week I thought we were really competitive and just fell down in a few areas but on the weekend we were pretty disappointing," he said.
"Our turnovers have cost us… also we've played 10 minutes of footy here and there and haven't put in a four-quarter performance."
With just a dozen team goals across two games the Tigers are still searching for answers in the forward line.
Target man Dan Musil has missed the season start while overseas and with another few weeks before his return Morwell must find a solution.
Josh Piper has been solid around the sticks and will likely be joined by the returning Brad Brereton this weekend after he kicked a bag of four in the reserves.
"We miss him (Musil) as a target down there but we've just got to try and find another avenue to goal and Brad Brereton will probably be that this week… he'll give us a bit of spark," Soutar said.
"We've got a few options but we just haven't been giving them the opportunity. That's probably one area where we've got to get better, getting that score on the board."
Morwell has won the past seven in a row against Moe – equalling its best streak versus the Lions which came in 1990-93.
LEONGATHA'S brutal gauntlet continues this week with its third big name clash in as many weeks against the high-flying Maffra.
Both sides have started the season on fire and remain unbeaten after two rounds, with the Parrots toppling premier Traralgon and Wonthaggi while the Eagles accounted for Sale and Bairnsdale.
Maffra will get a gauge of where its rebuilding side stands on Saturday against the competition front runner.
Home ground advantage has been a major factor in clashes between the two; Leongatha is 32-19 at home and Maffra 32-17.
With the match to played on Parrot turf it's hard to see Beau Vernon's side dropping the points.
TRARALGON has won 11 in a row against Drouin but faces a stern task to rack up an even dozen on Saturday.
The Hawks have been hardy so far in 2016 and showed grit to hold Warragul off by less than a kick in round two.
The Maroons have the quality and pedigree but could hit a speedbump on the road to a dark horse of the competition.
WHO could forget Wonthaggi's startling 2014 preliminary final comeback against this week's opponent, Sale?
Down by 45 points at three-quarter-time the Power staged arguably the most remarkable comeback in league history to win by two in a frenzied final term.
Heart-stopping finishes have come to typify games between the two and last year's elimination final added another chapter to the saga.
The Power edged out a three-point win on that occasion and will have the mental edge if this one comes down to the wire at Sale, a ground Wonthaggi has come close at frequently without taking the spoils in the past five visits.
Both sides have one win from two rounds – each against Morwell – and will be eager to add a second.
BAIRNSDALE is currently enjoying its best ever streak against Warragul with seven wins on the trot.
The Redlegs snuck home by 10 and eight points last year and will be hard pressed to eke out an eighth successive win on Gulls' home turf.
Leongatha v Maffra
(1969 – 2015)
All matches: Played 109 Leongatha 52, Maffra 57
At Leongatha: Played 51 Leongatha 32, Maffra 19
Last 10 matches: Leongatha 4, Maffra 6
Last win at Leongatha: Leongatha 2013, Maffra 2015
Last 5 years at Leongatha: Leongatha 2, Maffra 3
Last two matches: 2015 (M) Leongatha 9.16 (70) d Maffra 3.8 (26), 2015 (L) Maffra 14.11 (95) d Leongatha 9.9 (63)
Present winning sequence: Leongatha 1
Highest scores: Leongatha 32.19 (211) (1978), Maffra 30.22 (202) (2006 & 2007)
Lowest scores: Leongatha 1.4 (10) (2002), Maffra 1.3 (9) (1997)
Greatest winning margin: Leongatha 177 (1978), Maffra 186 (2002)
Most goals (match) : Leongatha 9 C.Brown (1994): Maffra 14 A.Burgiel (2007)
Sale v Wonthaggi
(1995-2004, 2010-2015)
All matches: Played 43 Sale 16, Wonthaggi 27
At Sale: Played 19 Sale 8, Wonthaggi 11
Last 10 matches: Sale 7, Wonthaggi 3
Last win at Sale: Sale 2015, Wonthaggi 2010
Last two matches: 2015 (W) Wonthaggi 11.9 (75) d Sale 3.11 (29), 2015 (S) Sale 13.9 (87) d Wonthaggi 7.12 (54)
Present winning sequence: Wonthaggi 1
Highest scores: Sale 30.15 (195) (1996), Wonthaggi 26.19 (175) (2001)
Lowest scores: Sale 3.11 (29) (2015), Wonthaggi 5.4 (34) (2012)
Greatest winning margin: Sale 125 (1996), Wonthaggi 132 (2004)
Most goals (match): Sale 12 M.Ferguson (2011): Wonthaggi 10 G.Noonan (2004)
Warragul v Bairnsdale (Sunday)
(1960 – 1998, 2011 – 2015)
All matches: Played 88 Warragul 53, Bairnsdale 35
At Warragul: Played 43 Warragul 31, Bairnsdale 12
Last 10 matches: Warragul 1, Bairnsdale 9
Last win at Warragul: Warragul 2012, Bairnsdale 2015
Last 5 years at Warragul: Warragul 1, Bairnsdale 4
Last two matches: 2014 (B) Bairnsdale 34.20 (224) d Warragul 3.4 (22), 2015 (B) Bairnsdale 10.10 (70) d Warragul 9.6 (60)
Present winning sequence: Bairnsdale 7
Highest scores: Warragul 22.30 (162) (1985), Bairnsdale 34.20 (224) (2014)
Lowest scores: Warragul 1.9 (15) (1963), Bairnsdale 1.13 (19) (1998)
Greatest winning margin: Warragul 130 (1985), Bairnsdale 202 (2014)
Most goals (match): Warragul 11 M.Cumming (1997): Bairnsdale 8 J.Gibbs (2014 – twice), S.Pickett (2014)
Drouin v Traralgon
(1910, 1936-40 (CGFL), 1960-64, 2005-2015)
All matches: Played 46 Drouin 12, Traralgon 34
At Drouin: Played 21 Drouin 7, Traralgon 14
Last 10 matches: Drouin 0, Traralgon 10
Last win at Drouin: Drouin 2011, Traralgon 2015
Last 5 years at Drouin: Drouin 1, Traralgon 4
Last two matches: 2014 (D) Traralgon 30.27 (207) d Drouin 0.1 (1), 2015 (T) Traralgon 16.19 (115) d Drouin 6.9 (45)
Present winning sequence: Traralgon 11
Highest scores: Drouin 17.20 (122) (1936), Traralgon 30.27 (207) (2014)
Lowest scores: Drouin 0.1 (1) (2014), Traralgon 4.9 (33) (1962)
Greatest winning margin: Drouin 53 (2010), Traralgon 206 (2014)
Most goals (match): Drouin 7 J.Hoskins (1936): Traralgon 9 T.Johnston (2014), L.Stockdale (2014)
Morwell v Moe (Sunday)
(1932-53 (CGFL), 1954 – 2015)
All matches: Played 182 Morwell 99, Moe 80, drawn 3
At Morwell: Played 89 Morwell 55, Moe 33, drawn 1
Last 10 matches: Morwell 7, Moe 3
Last win at Morwell: Morwell 2015, Moe 2011
Last 5 years at Morwell: Morwell 4, Moe 1
Last two matches: 2014 (Moe) Morwell 7.16 (58) d Moe 5.6 (36), 2015 (Moe) Morwell 14.12 (96) d Moe 5.9 (39)
Present winning sequence: Morwell 7
Highest scores: Morwell 44.15 (279) (1997), Moe 23.13 (151) (1994)
Lowest scores: Morwell 1.3 (9) (2001), Moe 3.2 (20) (1953)
Greatest winning margin: Morwell 233 (1997), Moe 106 (2001)
Most goals (match): Morwell 13 D.Jorgenson (1954), R.Taylor (1997): Moe 14 K.Rainsford (1994)