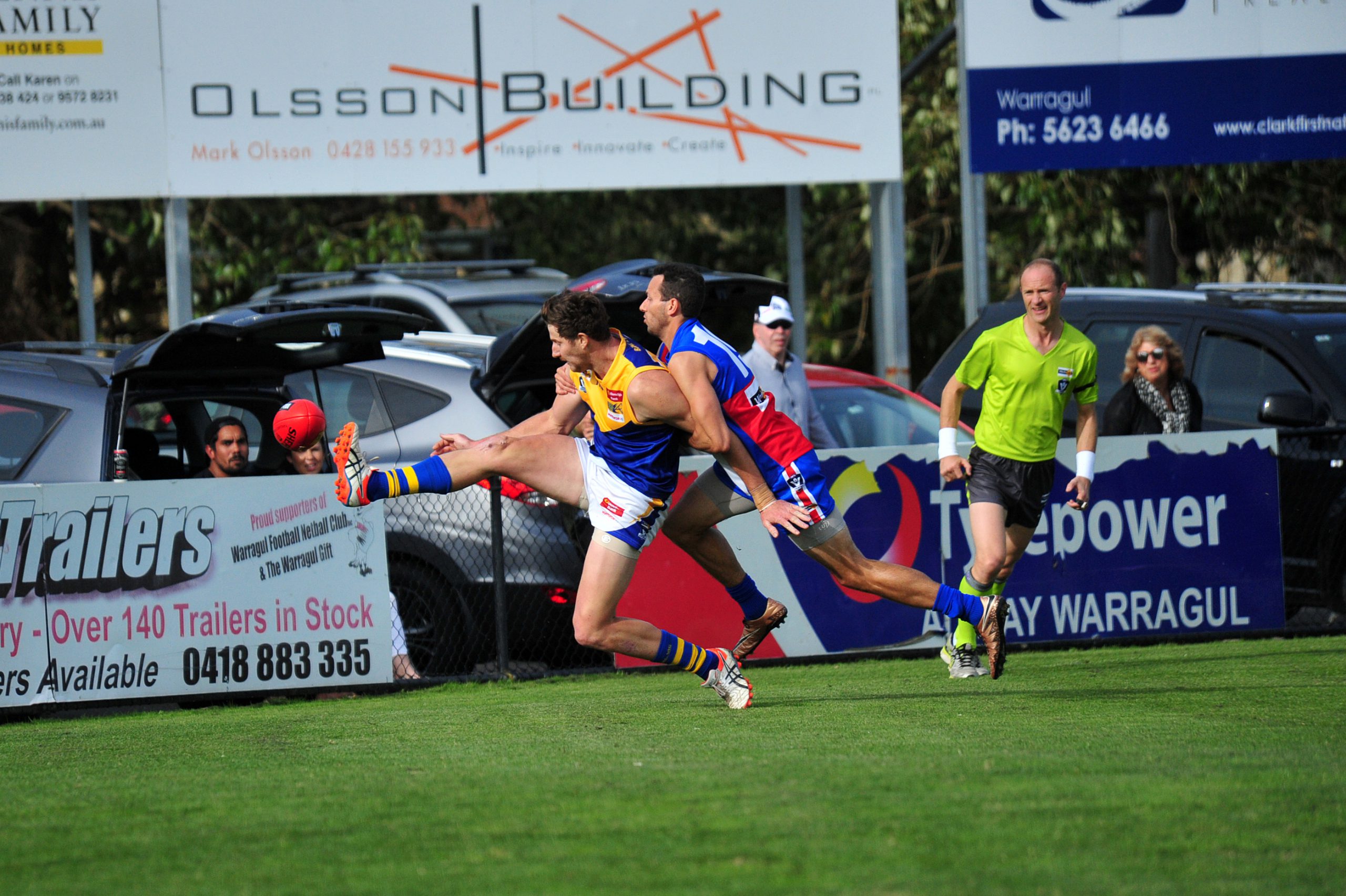 A RARE chance to host interleague nemesis Bendigo was not enough to help the Gippsland League across the line in Saturday's community championships match at Western Park, Warragul.

The host was outmatched in front of an underwhelming crowd as costly turnovers and a gulf in class became increasingly telling as the match wore on.
Gippsland was valiant in defeat but ultimately went down 12.7 (79) to 17.8 (110).
"I thought we had our opportunities but they just had too much pressure for us around the footy, and when we had possession we just coughed it up too many times which was disappointing," coach Steve Hazelman said.
"We definitely had our chances, we were more than competitive, they were probably a bit cleaner with the footy and had some forwards that took some inside 50 marks which we weren't able to do.
"I was happy, we were trying to follow instructions and implement what we spoke about, but the game was definitely finals-like in terms of intensity and some of our guys haven't played at that level and just didn't cope with it."
Bendigo came out with purpose and set about building a healthy quarter-time buffer with 3.4 (22) on the board to Gippsland's 1.1 (7).
Hazelman said 19 inside 50's to Bendigo's nine in the second term proved his side could match it with the higher ranked opposition despite an inability to convert consistently.
"We started off really slow, they came out firing and had a really good first quarter," he said.
"We worked our way back into the game, we just couldn't get much reward on the scoreboard."
Trailing by three straight kicks at half-time, Gippsland edged ever closer in an arm-wrestle of a third quarter, with 14 the difference at the final change.
The see-saw scenario gave way to free-flowing footy in the fourth as Bendigo capitalised when the game opened up in lieu of tiring legs.
Six goals to the visitor in the final term put an end to the flagging Gippsland's hopes.
Traralgon coach Mark Collison stood out to be named best on ground for the Gippsland League at his former home ground.
League best and fairest Bob McCallum (Drouin) battled hard to win plenty of it in the ruck, while Chris Dunne (Leongatha) booted five goals on an otherwise off day for the Gippsland forwards.
Nate Paredes and Adrian Slottje also turned in strong individual performances, however the support cast was a touch lacking.
"There was too much of a gap between our really good players and the rest of us – we just didn't fire on the day," Hazelman said.
"It was a strong side, we had a few out, but we thought we had a good enough side to win the game.
"We prepared really well, did our homework on the opposition, it was just the pressure they applied on us was too much and we didn't perform under pressure.
"By the time we got ourselves back in the game the game was probably over."
Despite few spectators Hazelman said the ground was outstanding and Warragul was a great host for the match.
The Gippsland League will drop back to 13th and is set to battle last year's opponent Yarra Valley again to defend its place in the rankings.
Bendigo FNL
3.4, 7.5, 11.8, 17.8 (110)
Gippsland League
1.1, 4.5, 9.6, 12.7 (79)
Bendigo FNL
Goals: D. Johnstone 4, T. Toma 2, H. Morcom 2, N. Lang 2, H. Conway 2, A. Baird 2, J. Geary 2, I. Miller.
Best: T. Donnan, B. Conforti, J. Geary, D. Johnstone, C. Ryan, T. Toma.
Gippsland League
Goals: C. Dunne 5, R. McCallum 2, J. Gooch, B. Scalzo, B. Amberg, S. Hawking, T. Hams.
Best: M. Collison, R. McCallum, A. Slottje, C. Dunne, N. Paredes, B. Scalzo.