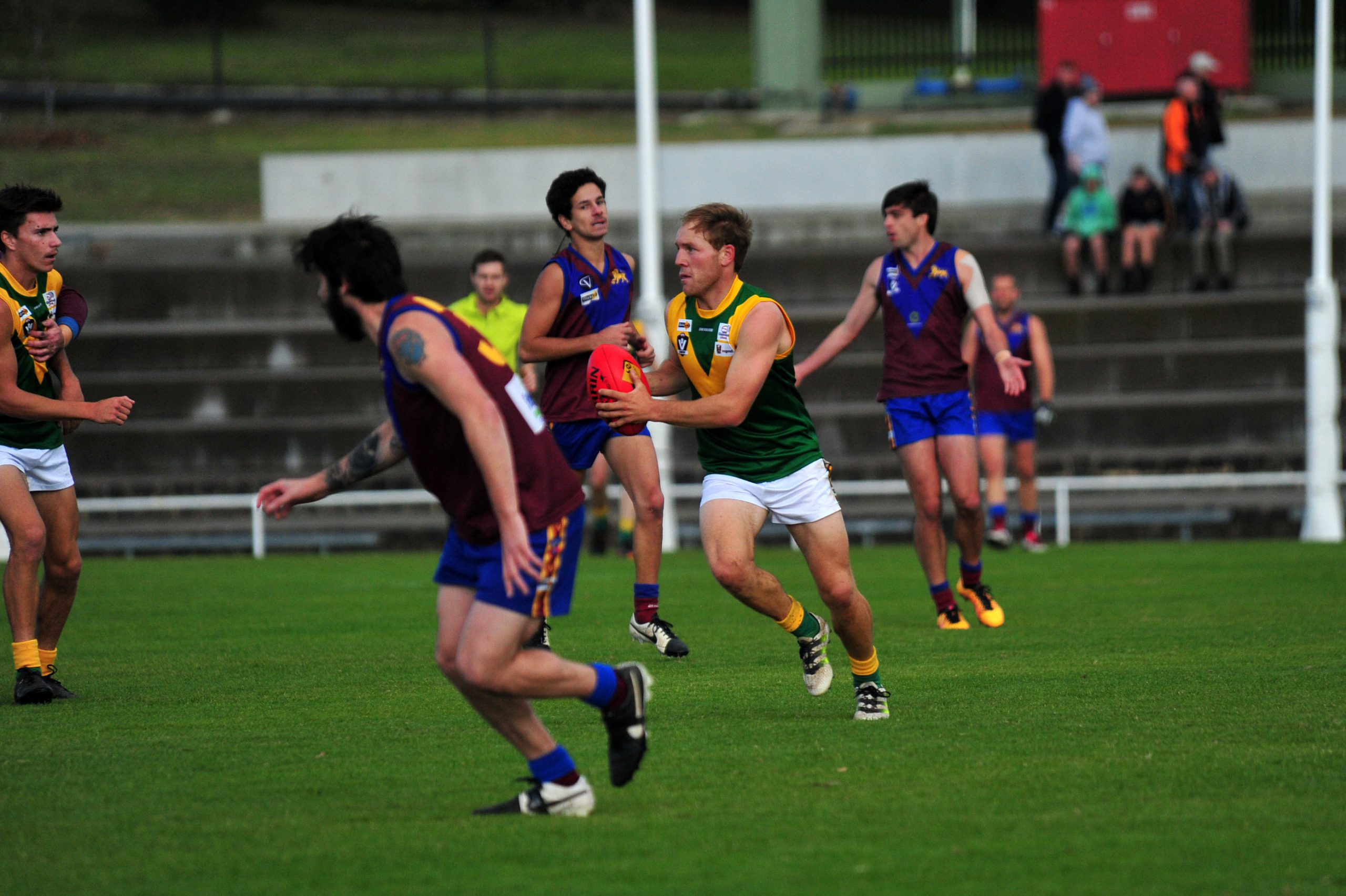 PETER Ainsworth booted a pair of goals to celebrate his 300th senior game for Moe on Saturday but Gippsland League ladder leader Leongatha spoiled the party by the full-time siren.

The premiership favourite Parrots again proved they were a class above the field at present with a comprehensive 105-point win over the Lions at Ted Summerton Reserve.
After some encouraging results of late, including a string of three wins on the trot, the Lions were brought firmly back down to earth by a high-flying Parrots unit.
Moe coach James Blaser said despite the heavy loss there was plenty to be taken from the match.
"It's a bad day for the loss but it's a terrible day if we don't learn anything from the outcome," Blaser said.
"So we as a group, match committee, playing group and club learnt a fair bit from playing a side like that.
"We weren't completely horrible, they're just a very good side and a few levels above where we are at the moment."
Ainsworth started the day on a bright note for Moe when he ran through the triple century banner with his daughter, but Leongatha quickly killed the mood with a 7.4 (46) to 2.1 (13) first term.
The Parrots piled on the pain in the second with another five goals four to a single behind for the Lions to go into half-time with a 66-point advantage.
Leongatha showed no signs of slowing doing after the half with another seven goals to one term, but the Lions were not content to lay down in the fourth.
Moe matched the Parrots across the park and although they finished the match 105 points in arrears, the home side held its own in the last with 2.2 (14) to Leongatha's 2.3 (15).
"We fought the game out well. In the past at Moe we probably would have laid down at half-time and really let it blow out. 105 points is a big margin but they won the last quarter by one point which says we didn't give up," Blaser said.
"You can't get too disheartened by it but they were a class above anyone else we'd played so far."
Blaser said the Parrots were flying high at the moment and on track for a senior flag.
"They've got probably 30 very good senior footballers at their club and they're really ready for a premiership I suppose and we're just rebuilding," he said.
"As a group we realise that's the benchmark."
The Lions were missing a handful of key senior players, but one man who rarely misses a match was milestone man Ainsworth.
The 36 year-old was among Moe's best on ground in his 300th senior appearance and Blaser paid testament to a true servant of the club.
"He's a champion of the club, he's kicked a couple, 300 games and still playing. He's 36 and still playing like he's 27, every week it's the same effort from him," he said.
League leading goal kicker Chris Dunne continued his hot form in front of the sticks with five majors for the visitor, a tally matched by teammate Aaron Hillberg.
MORWELL broke its duck for season 2016 with a 21-point win over Bairnsdale at home on Saturday.
The Tigers' 15.6 (96) to 10.15 (75) victory was engineered by a fast start, with 5.1 (31) to 1.4 (10) on the board at the first change.
Coach Joel Soutar said it was a relief to get the monkey off the back after coming so close last round in a draw against Drouin.
"We were really close two weeks ago; the boys were really disappointed we couldn't get that win," Soutar said.
"We trained hard over the break, went out Saturday in the first quarter and really put that score on the board and we were able to maintain that.
"A couple of weeks we've had that score on the board and let it slip so it was good; the young boys stood up and played well so it's good to get a win and get their confidence up."
Four quarter efforts have been a focus for the Tigers after several lapses throughout the season, but Morwell turned it around against the Redlegs.
The Tigers led at every change in a pleasing turn of events for the coach.
"We were up at quarter-time, half-time, three-quarter-time and I don't think we've done that all year, I think first quarter against Maffra was the only quarter we've been up all year so that's what we've been trying to focus on, start well and keep that high level of pressure and intensity," Soutar said.
"It's important to get a good start, especially with a young group to get that belief early so it always helps when… you convert early on and you take your opportunities."
Ryan Tatterson collected a bag of four for Morwell, but the host shared the loot around with nine individual scorers.
Soutar said having multiple avenues to goal was a product of a team-oriented plan.
"We talk about that… giving the best shot. It doesn't matter who kicks the goals as long as the team's getting that score on the board," he said.
"We work on (creating) the best shot and get around whoever kicks that goal."
In another positive for the youthful Tigers Max Linton became one of about half a dozen players to have come up into the top grade this season when he made his senior debut for the club.
Morwell now faces last year's grand finalists, Leongatha and Traralgon, in consecutive weeks in what looms as a huge task.
MAFFRA knocked off reigning premier Traralgon by 14 points on Maroons' home turf on Saturday.
The Eagles stunned the host in the first with 5.5 (35) to 2.1 (13) and never relinquished the advantage.
The Maroons issued a mighty challenge in the last, kicking four goals to two to reduce the margin, but couldn't get over the line.
Mitch Bennett booted five for the visitor in its 13.14 (92) to 12.6 (78) triumph.
The Eagles are now second on the ladder, a game clear of Traralgon.
A no nonsense second quarter from Wonthaggi buried Drouin's hopes of a win on the road to the Power.
After a close first term the host slammed on 5.4 (34) to a single behind to set up a big lead by the main break.
Wonthaggi was never challenged thereafter and posted a 14.12 (96) to 7.6 (48) win.
THE much improved Warragul fended off Sale on home turf in a low scoring grind.
The Gulls led by five points at the first change before going on a rampage ahead of half-time.
They kicked six goals in the second to Sale's one and ran the game out 8.16 (64) to 5.6 (36).
Matt Rennie kicked three goals for the host.